This article first appeared in The Edge Malaysia Weekly, on October 8, 2018 - October 14, 2018.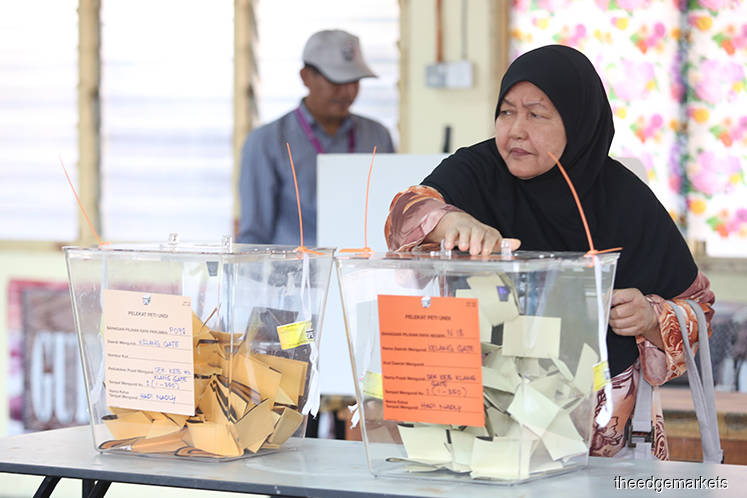 BET you have heard the talk that Tun Dr Mahathir Mohamad is being vague about when he is going to relinquish the premiership. Or rather, that he does not want to hand it to Datuk Seri Anwar Ibrahim.
This is despite Mahathir's assertion that Anwar is his successor and that he will make way for the PKR president-elect when the time comes.
The prime minister has been asked this many times. The latest (at the time of writing) was when he was in the UK and the US recently.  And Mahathir has been consistent with his replies.
But the talk has not stopped and is continuing to cause excitement.
Mahathir's remarks in the recent interview with the BBC that he never apologised to Anwar for their fallout in 1998 have been interpreted in various ways. Anwar's response that he never asked for an apology from Mahathir in the first place and is "happy we're working together" did not put an end to the speculation.
Simply put, there is speculation and conspiracy theories aplenty. The Port Dickson by-election, which is due on Oct 13, is a gripping narrative.
Let's be frank: Anwar is set to win in PD.
But conspiracy theories have it that "certain forces" are out to embarrass Anwar to a sufficient extent that Mahathir can justify not passing the baton to him.
Enter former Anwar aide Mohd Saiful Bukhari Azlan. His mere presence in PD will trigger "memories" of the Sodomy 2 allegations that landed Anwar in jail, only to be granted a royal pardon following the change of government. Yes, Saiful has promised not to use it in his campaign, but many have doubted that, and they are somehow right.
So we have talk that Saiful is sponsored by some people who are not named to do just that. He has denied the accusation and has appealed to the people of Port Dickson to donate to his campaign as he does not have the resources for the contest.
We hear also of a bolder allegation that Mahathir is behind former FELDA chairman Tan Sri Mohd Isa Abdul Samad contesting in PD as a "wild card" — an allegation Isa has denied.   He is quoted as saying in the New Straits Times, "No, I am not planted by Dr Mahathir. I never met him before or after GE14. I don't have a reason to meet him. It is normal [for people to start rumours] about political plants. I don't need to be planted."
But the shrewd politician that he is, Isa has accused PKR leaders of spreading stories that he has been planted to "make things spicy".  He retorted, "Even if anyone wants to plant me, is there any problem with that?"
There is also talk Isa has been planted by Umno or, at the very least, that his candidacy has received the party's blessings despite Umno (and BN) boycotting the by-election.
Umno is said to be quietly hoping for Isa to do the impossible but at the same time, does not want to appear "hostile" towards a man who could be prime minister.
Isa and Saiful are among five independent candidates vying for the PD parliamentary seat. Apart from Anwar, there is also retired Royal Malaysian Air Force officer Mohd Nazari Mokhtar from Pas — making it a seven-cornered fight.
Political analyst Dr Sivamurugan Pandian views the by-election as the most interesting for 2018. He says he was not surprised that there is a crowded field with numerous candidates of different backgrounds. However, he admits that "it was shocking to see Saiful submit his nomination form".
Another political analyst, Dr Oh Ei Sun, sees the presence of many independent candidates this way: "Some do it for glamour. Yes, it's true, though you may not believe it. Others do it for money. At least for one, that is obviously so."
But he did not name who he meant.
The independent candidates, on their part, have put forth their agenda. Among their claims are that they are doing it for the nation to ensure that the voices and grouses of the people are heard, as well as the pursuit of good governance.
Despite such noble objectives, they will not be able to win the by-election.
As an old friend and veteran journalist Zin Mahmud posted on his Facebook page: "If fighting Anwar is the real objective, then it must be a straight fight. The candidates ought to be united and choose Isa, the Pas candidate or Saiful even. I feel they are not serious to fight Anwar."
In a nutshell, PD is about Anwar and his pursuit of the prime minister's post to succeed Mahathir.
Thus, former minister Datuk Zaid Ibrahim wants to see Mahathir going to PD. In an article published on the FMT news portal, Zaid says the prime minister does not usually campaign in by-elections, "but this is no ordinary election. This one gives the certificate to his successor".
Mahathir has now confirmed that he will campaign for Anwar in PD. That ought to put speculation and conspiracy theories to rest.
Save by subscribing to us for your print and/or digital copy.
P/S: The Edge is also available on Apple's AppStore and Androids' Google Play.