This article first appeared in The Edge Malaysia Weekly, on December 3, 2018 - December 09, 2018.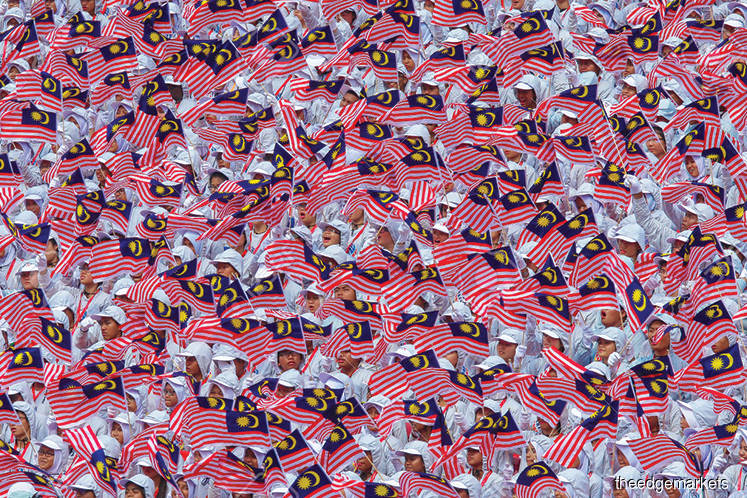 BASED on reports this is what we know about the Seafield Hindu temple dispute, just to put things into perspective.
Plans to relocate the temple in Subang Jaya surfaced in 2007, when developer One City Development Bhd bought the land on which the temple was built.
In 2014, a consent judgment was entered in court where One City and two rival camps vying to take control of the temple agreed to relocate it to a plot of land 3km away.
One City was said to have made a donation of RM1.5 million as part of the settlement.
But devotees resisted the relocation as it is said the temple has been a Hindu prayer site since 1891.
Yes, it has always been a complicated issue. Yes, it involves religion and its sensitivities. But no, it has never been about pitting one religion or one race against another, what more in a violent manner.
It wasn't supposed to come to that, but it did turn violent.
As I write this an invitation is being spread via WhatsApp calling on Malays to "bangkit" or rise and attend a "jihad" gathering. For all you know it could very well be fake.
There is the dissemination of messages on clashes in Kedah involving Malays and Indians. All false, as the police have clarified.
We are also getting news of what many believed to be pieces of pork thrown into two surau in Melaka.
And on social media we hear rumours of the condition of firefighter Muhamad Adib Kassim who is in hospital being treated for injuries sustained when he was attacked by a mob at the Seafield temple.
We hear also of news that Malay motorcyclists passing by the temple were being stopped and set upon by groups defending the temple.
Also, we are constantly advised not to go to such and such a place at such and such a time as there would be trouble, supposedly based on "information from a highly placed Bukit Aman source who is a friend of a friend whose friend is a friend". You get the picture.
In short, there is all sorts of nonsense going around. We know the message underlying the news that is being spread.
Obviously, there are instigators at work. It is clear there are people who want to create racial tension in the country. However, whoever they might be, they are presented with a situation which can and in fact has already been exploited.
There are so many wrongs in the situation.
According to Home Minister Tan Sri Muhyiddin Yassin, police investigations found that lawyers of the developer had hired a group of Malay men to barge into the temple and take control of it before the developer and police could arrive to facilitate the land transfer on the morning of Nov 26.
To Muhyiddin, those linked to the developer have not followed the legal process to take over the land as planned in accordance to the law.
The developer has strongly denied any involvement in hiring the men who intruded into the temple.
To say that the hiring is wrong is a gross understatement, no matter who did the hiring and who they hired. What more paying for a group of Malay samseng to go into the Hindu temple.
And of course the Malay group was dead wrong to come into the temple wanting to take control, as the authorities said. But hired samseng do what their paymasters tell them to do, no matter how wrong it may be.
As for the devotees in the temple when the intrusion happened, well, they should have called the police instead of taking things into their own hands, although admittedly this is easier said than done, considering the circumstances and situation then.
But the other groups — the so-called defenders of the temple — were wrong in rioting and committing vandalism even after the initial trouble was brought under control by police.
They were wrong in blocking police vehicles, creating massive traffic jams on the LDP causing difficulty to and frightening passing motorists. And they were dead wrong in attacking Muhamad Adib — although there is now another version as to what allegedly took place.
It is sad that people continued to gather in the temple and the vicinity despite the police asking them to leave. Their continuous presence aggravated matters.
But the group of Malay youths that turned up near the temple on the night of Nov 27 was also wrong. They had no business marching towards the site, stopping some 50m from the temple.
According to Malaysiakini, the youths claimed they wanted to assemble peacefully and did not come to attack any temples or places of worship. Instead they claimed they had come to say "do not trample on the Malays".
Police ordered them to disperse. Some did, others were defiant. When police moved into action, as reported by Malaysiakini, some of the youths shouted "you are arresting Malays". We know what that meant.
As far as the temple incident goes, the police (even the government for that matter) have been accused, unfairly I would say, of all sorts of things. From being late to respond to making ambiguous statements and being soft.
And even of showing bias. There are Malay groups accusing police of using kid gloves on Indian groups and the government is being accused of bowing to Indian demands.
Addressing the issue in the Dewan Rakyat, Prime Minister Tun Dr Mahathir Mohamad said that with Pakatan Harapan being a new government, there are bound to be weaknesses in its administration, which some quarters would latch onto. But this can be overcome if the rakyat know the background to the incident and do not listen to rumours.
On the other hand, there are Indian groups accusing police (and the government) of favouring the Malays, simply because a majority of the men in blue and in the administration are Malays.
There is a silver lining though. Many of us — peace-­loving and law-abiding Malaysians — are not getting drawn into that game. Many are doing their part to ensure peace and harmony continues to prevail in this beloved country of ours. A big thumbs up.
Naturally there are lessons to be learnt. A big one is let us not make assumptions and jump to conclusions. Let the authorities do their job.
Mahathir said the government is committed to freedom of expression but will take action if what is being said is not true and threatens the peace and security of the nation.
Hats off to the police and Muhyiddin for calling a spade a spade in tackling the sensitive issue of identifying the temple intruders. Revealing that they were Malays is not saying that the entire Malay community is on an anti-Hindu spree.
Credit also to the many Indians who are against the violence carried out by the so-called defenders of the Seafield temple.
And Malay Mail Online reported that some 300km away, hundreds of people, presumably Indians, thronged the Johor Baru North and Kulai district police headquarters to lodge reports pertaining to the Seafield temple incident.
They have every right to lodge police reports, regardless of how many people want to do so and how many reports they want to file. And it is not wrong for them to be accompanied by relatives, friends or anybody else.
But considering the present situation, it would be good to limit the number of people accompanying those making reports. Large accompanying groups can send the wrong signal, which can be exploited by certain people. And this will not help matters, as I see it.
One thing to remember — we should not, knowingly or otherwise, indulge in fear-mongering and helping to spread provocative messages and what not. I will stop here lest I be accused of preaching.
But one final thing before I sign off. What is there to be gained out of this racial tension? And who stands to gain most? Give it a thought.
God bless us all.
Save by subscribing to us for your print and/or digital copy.
P/S: The Edge is also available on Apple's AppStore and Androids' Google Play.