This article first appeared in The Edge Malaysia Weekly, on December 17, 2018 - December 23, 2018.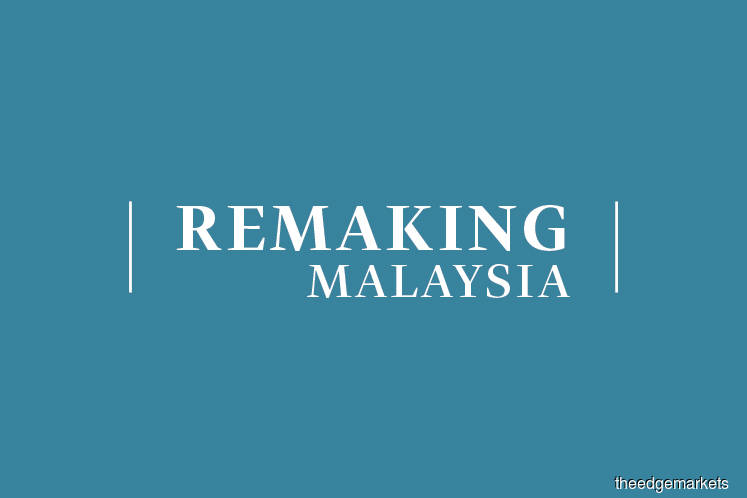 FORMER Umno Youth head Khairy Jamaluddin wants more government ministers to speak out on the current tensions with Singapore. Responding to a news report quoting Singapore minister Chan Chun Sing as saying that the "risk of escalation cannot be underestimated" in the maritime dispute between the two countries, Khairy tweeted: "Come on, we need to go into talks, having made a robust public case and rallied public opinion. Stand up for Malaysia".
To be fair, our ministers have been standing up for Malaysia, although I agree with Khairy for making the call, considering the seriousness of the issue at hand.
Granted, this involves the nation's sovereignty. Still, rallying public opinion can complicate matters, considering the long-held belief among many that most Singaporeans feel they are generally superior to Malaysians. Even if they don't, most Malaysians think that they do — and that is enough to set things off. Well, at least that's what observers of Malaysia-Singapore ties have been saying all this while.
I don't know if it's the Pemuda Umno streak in Khairy that prompted the tweet. Still, I don't think he was reminiscing about the Umno Youth demonstrations in 1997 against Singapore's then prime minister Lee Kuan Yew for saying Johor "is notorious for shootings, muggings and car jackings". Why he said that is another story.
He would later apologise for the remarks but the Umno Youth demonstration then saw Lee being called names so abusive that Datuk Seri Zahid Hamidi, the Umno Youth chief at that time, saw it right to apologise that his charges had used such derogatory words. His apology, however, earned him brickbats from his own people, although he insisted it was for the words used and not for the staging of the anti-Lee demo. That's another story, too.
But here's the thing — Malaysia and Singapore have experienced difficult relations for ages, even when Singapore was part of Malaysia. And we know where the problems back then led to in 1965.
I have always believed that Lee planned it all along, wanting Singapore to break free from Malaysia — a sort of free ticket to independence. And he did enough to get Tunku Abdul Rahman riled up to grant the island state separation.
In short, I used to say that Singapore was not actually kicked out of the federation, unlike what Lee wanted everyone to believe.
However, I was told by many experts that I was wrong. Even Singaporean political detainee Dr Poh Soo Kai told me Lee did not expect Singapore to be expelled. He was devastated and shell-shocked. And, Poh said, the tears Lee shed during a press conference to announce the separation were real. He was so overcome by emotion that the press conference was ended abruptly.
All this is from a man who is no big fan of Lee, as it was Lee who put him behind bars twice, without trial, for a total of 18 years.
Khoo Ying Hooi, senior lecturer at Universiti Malaya's Department of International and Strategic Studies, puts it in a nutshell: "Both countries share thorny relations historically and it continues until today."
The thorny relations have been used often by both sides to issue fiery statements for domestic consumption — the classic bogeyman play.
In Singapore, the Chinese majority are told that only a strong PAP government can stand up to and prevent the republic from being "swallowed" by the Malays of neighbouring Malaysia and Indonesia.
In Malay-majority Malaysia, the former Umno-led BN government loved to use the island republic as the momok (that's bogeyman in Bahasa Melayu), warning the Malays that without Umno, Malaysia "will be like Singapore — ruled by the Chinese".
Khoo may be right in saying that what we have now are "issues that are old in nature, as in who owns what and how do we divide it" but there are quite a number of Malaysians who suspect the current bravado could be related to next year's elections in Singapore and the need for a strong PAP government.
The threat against Malaysia by Singapore Transport Minister Khaw Boon Wan that the republic's armed forces will not hesitate to take firm action over the maritime waters issue is fuelling speculation that it is grandstanding. Did you know that Khaw was formerly a Malaysian? Never mind.
The current Pakatan Harapan government on its part, has not until now used Singapore as a bogeyman to whip up public support. Why should it? After all, it just won power recently to rule Malaysia.
But there is talk, rightly or wrongly, among Malaysians that Malaysia-Singapore ties were better during the premiership of Datuk Seri Najib Razak compared with that of Tun Dr Mahathir Mohamad.
People who agree say this is because Singapore had it easy with Najib and got what it wanted in negotiations, whereas Mahathir has always stood his ground and is not the type to kowtow, regardless of when he was the fourth prime minister or now, as the seventh.
To that, Khoo says: "During Mahathir's first administration, he was always vocal in Malaysia-Singapore relations, and looking at that record, it is not unusual that he uses such an approach."
But then, she adds, it is not just Singapore but some other countries as well that Mahathir continues to be critical about.
As to whether Malaysia-Singapore ties have improved or worsened, Khoo thinks "it is important for us to note the difference in the foreign policy approach taken by Mahathir. In short, this is not about Pakatan Harapan or BN but about Mahathir's approach".
Political analyst Asrul Hadi Abdullah Sani puts it this way: "Under Najib and Singapore Prime Minister Lee Hsien Loong, both countries enjoyed a warm bilateral relationship and I do not think the relationship will unwind under the current Malaysian administration."
To Asrul, it is unfair to say bilateral relations will return to the period when Mahathir was the fourth prime minister as "the dynamics and politics have changed. For Malaysians, Najib and not Singapore is the bogeyman".
Anyway, as for the current Malaysia-Singapore spat, where do we go from here?
Like Khoo, political analyst Dr Oh Ei Sun reminds us that territorial disputes are not uncommon between Malaysia and Singapore.
But, according to him, "past experience indicates that there is an almost established pattern as to their resolution. Usually, it is public proclamations of violation of sovereignty followed by intensive bi­lateral negotiations, failing which it would be mutual submission for arbitration or adjudication".
That, he says, "actually sets a very good example as to how neighbouring countries could resolve their territorial disputes maturely and peacefully".
Singaporean Surekha A Yadav, in her column in Malay Mail Online, comments that there are ways and means to resolve these issues minus the tough talk, drama and Facebook spats. There's no need for an outpouring of nationalism, resorting to grandstanding and so on. What is needed, she says, is to fix it as quickly and smoothly as possible and to introduce a mechanism so that this sort of disruption does not recur.
To her, Malaysia and Singapore have never played a zero-sum game and "we win and have always won through co­operation and respect".
I fully agree with you, dear Singaporean.
Save by subscribing to us for your print and/or digital copy.
P/S: The Edge is also available on Apple's AppStore and Androids' Google Play.