This article first appeared in The Edge Malaysia Weekly, on October 1, 2018 - October 07, 2018.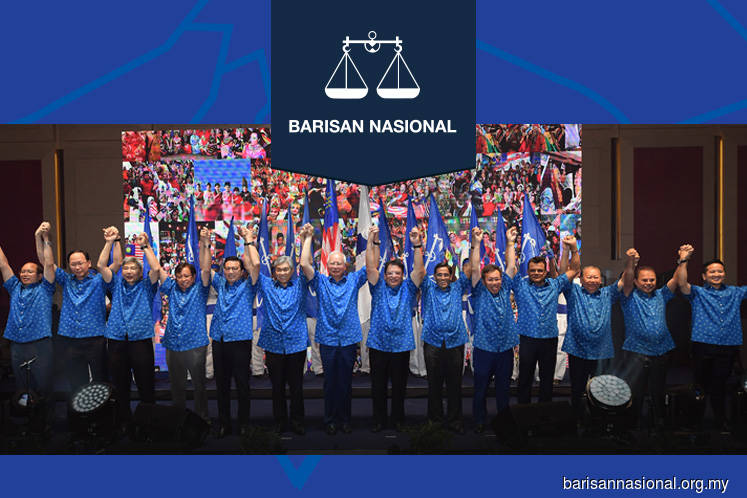 BARISAN Nasional (BN) has unveiled its shadow cabinet but Pekan MP Datuk Seri Najib Razak is not in it. Why? According to Umno secretary-general Tan Sri Annuar Musa, who announced the line-up, it was felt that "Najib's participation was unnecessary".
But Baling MP Datuk Abdul Azeez Abdul Rahim, who was remanded for four days for alleged corruption and money laundering last Wednesday, is in it.
Ironically, Abdul Azeez was named as a member of the shadow cabinet on the same day he was picked up by the Malaysian Anti-Corruption Commission (MACC). In all probability, he had been selected before he ran into trouble with the MACC .
The Baling MP has been assigned the Entrepreneur Development portfolio.
The shadow cabinet consists of MPs from Umno, MIC, MCA and Parti Bersatu Rakyat Sabah.
Annuar said the BN had adopted a portfolio committee system, with at least two MPs assigned to each portfolio. The committees "will play a check and balance role for each ministry and will serve as a policy watchdog and formulate alternative policies to compete with Pakatan Harapan", he had added.
The concept of the shadow cabinet comes from the British system of government. The UK Parliament website states that it consists of "a team of senior spokespeople chosen by the Leader of the Opposition to mirror the Cabinet in government. Each member of the shadow cabinet is appointed to lead on a specific policy area for their party and to question and challenge their counterpart in the Cabinet. In this way, the official opposition seeks to present itself as an alternative government-in-waiting."
Based on that, the BN got it right in outlining the role of its shadow cabinet.
When the media reported it, quite a number of Malaysians shared their views — predictably mixed — on various news portals.
Some said the move would keep PH on their toes and make it "clean and efficient" while others questioned its effectiveness as "the members are all tainted".
There were also those who are rather sceptical about the BN's "real" intention.
This unforgiving lot — and I must say there is a substantial number of them — have not forgotten or forgiven the ills and sins of the BN and suspect it is out to create "a lot of nuisance and irritation by bringing up baseless accusations against the PH government".
When the BN was in power, the then opposition parties were not too keen on a shadow cabinet, preferring to bring up major issues to raise public attention.
But it could also be due to concerns that the BN would exploit it by playing the racial and religious cards, fanning sentiments and raising fear among Malays that they would be overwhelmed should a non-Malay be named to oversee a portfolio seen as important to the community's well-being. It is a sort of preview of the reaction we are getting now.
This would make the opposition lose a lot of time "fire fighting" — valuable time that should be spent on more important matters. That was the belief or perception, although the opposition did not admit it then.
Anyway, we now have the BN, as the opposition, coming up with this idea of a shadow cabinet.
Umno's Khairy Jamaluddin, the MP for Rembau, has urged the government to "institutionalise" the system.
Khairy is in the finance committee, and to him, the post GE14 environment "is a good opportunity to implement long-lasting institutionalised reforms, such as parliamentary reform.
For the record, PH has vowed to push for parliamentary reform and PKR leader Datuk Seri Anwar Ibrahim has expressed his desire in wanting to help initiate it.
Be that as it may, Khairy was quoted as saying, "We have announced a shadow cabinet and the ball is now in the government's court to institutionalise the shadow cabinet. If you go to England's Westminster system, it is institutionalised. They have resources at their disposal to help them to do their jobs".
By resources, he could very well mean allocations, a budget or simply money.
A number of Malaysians took to the comments section of new portals to point out that the BN had never showed any interest in a shadow cabinet — what more provide any allocation for it — when the coalition was in power .
Some want BN to "use your own money" to fund it.
As for the other reforms, such as those involving the media and the electoral system, I have personally heard some folks asking why PH should allow a level playing field and make things easy for BN when it made things very difficult for the opposition when it ruled the country.
To them, a level playing field would make things easier for the BN to regain power.
In short, I would not be wrong in interpreting that to mean they want BN to suffer as PH had suffered then. That, to them, would be fair.
They do have a point. But in the big picture, reforms are sorely needed and would be good for the country in the long run. The shackles put in place by the BN have be dismantled and done away with.
Yes, the BN would benefit from the unshackling and the reforms.
And it is true that would not seem to be fair, especially to the people who had suffered during the BN's rule.
But then, life itself is not always fair.  
Save by subscribing to us for your print and/or digital copy.
P/S: The Edge is also available on Apple's AppStore and Androids' Google Play.