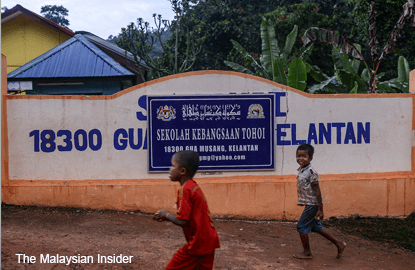 (Oct 9): The skeletal remains recovered near Sungai Perias in Gua Musang, where the two missing Orang Asli children were found alive, have been identified as nine-year-old Ika Ayel, Star Online reported today.
Quoting state police chief DCP Datuk Mazlan Lazim, the portal reported that her parents identified the remains at 5pm.
"The body identification was done at the Gua Musang Hospital this afternoon. She was believed to have died four days ago."
Bernama reported that the couple identified the body of their daughter by the beaded bracelet and sport attire donned by the girl.
Mazlan was quoted as saying by Bernama that the location where the bodies and survivors were found was still within the search area and the children were probably afraid and hid themselves from the rescue team.
Aside from Ika's remains, search parties found Norieen Yakob, 10 and Miksudial Aluj, 11, alive earlier today.
Bernama reported that the girls were found to be dehydrated and they had to eat grass and wild fruits found around the area to survive.
"It is learnt that the surviving victims had pushed the bodies of their friends into the river. However, the case is still classified as missing persons," said Mazlan.
The children were among seven missing for six weeks after it was reported that they left their school hostel near SK Tohoi after getting caught swimming in the nearby river without permission.
The search continues for the other missing children – Juvina David, 7, Linda Rosli, 8 and Haikal Yaakob, 8.
On Wednesday, the decomposed body of eight-year-old Sasa Sobrie was found in Sungai Perias.
A part of a child's skull and rib bones were found about 500m from the site where Sasa's body was found. The identity, however, has yet to be identified.
The police were still waiting for the post-mortem report from the patologist at the Raja Perempuan Zainab II Hospital. – The Malaysian Insider