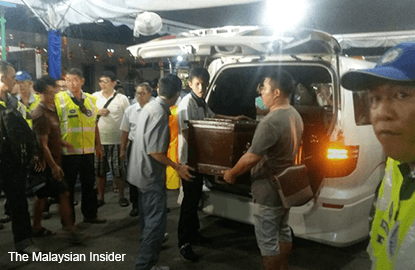 (Aug 21): The remains of the fifth Malaysian who died after a bomb exploded in Bangkok on Monday arrived at the Penang International Airport at 10.20pm last night.
The casket carrying Lim Soo See's remains were accompanied by relatives as it arrived on board Thai Airways Flight TG425.
It was taken to Lim's mother's house in Taman Dedap, Butterworth, arriving at around 12.13am amid heavy downpour.
The remains of four other members of Soo See's family, who were also killed in the blast, arrived home the same night.
They were her sister Saw Gek, 49, nephew Neoh Jai Jun, 20, Saw Gek's son-in-law Lee Tze Siang, 35 and his daughter Lee Jing Xuan, 4.
Saw Gek's husband, Neoh Hock Guan, 55, and daughter Ee Ling, 33, were the only ones who survived the blast.
Meanwhile, Bernama reported that at least 10 people were involved in the bomb blast near the Erawan shrine in central Bangkok on Monday.
Thai police chief General Somyot Pumpanmuang said the group which was based there had spent months planning the blast.
He did not disclose the supposed location.
"They were working as a team, surveyed the place, acted as guards, and provided materials as well as assistance to escape from the scene. I believe no less than 10 people were involved," he said.
The South Bangkok Criminal Court issued a warrant for the bomber and the police identified him as a "foreigner" in applying for the warrant.
Somyot believed the suspect was still in Thailand. – The Malaysian Insider