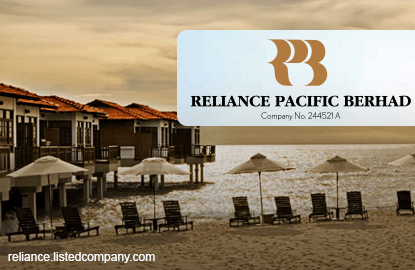 KUALA LUMPUR (July 11): Reliance Pacific Bhd's chief executive officer Datin Irene Tan and her husband, who is the company's founder, Datuk Gan Eng Kwong are no longer substantial shareholders in the loss making travel and tour company.
According to filings with Bursa Malaysia today, the couple had disposed of 37.34 million shares representing a 4.35% indirect stake in the company held via Reliance Holdings Sdn Bhd and through nominees to Mazmur Capital Sdn Bhd, a vehicle of Reliance executive director See Ah Sing.
The shares were disposed of to See at 22.5 sen per share on July 8, a 39% discount to Reliance closing market price of 37 sen today. After the disposal, Tan and Gan are both left with 14.69 million shares, or a 1.7% stake, in the company.
See, an associate of former finance minister Tun Daim Zainuddin, now holds some 248.18 million Reliance shares, or a 28.91% stake.
Daim's son Datuk Md Wira Dani Abdul Daim had emerged as a substantial shareholder in the company on April 12, and is now Reliance Pacific's largest shareholder with a 30.96% stake.
Reliance Pacific also operates the Avillion Hotel Group, which boasts a chain of luxurious hotels and retreats in Port Dickson, Melaka, Kuang, Janda Baik and Kuala Lumpur, as well as Bali in Indonesia.
The company's shares ended the day up 1 sen or 2.8% at 37 sen, for a market capitalisation of RM317.66 million.