This article first appeared in City & Country, The Edge Malaysia Weekly, on July 27, 2020 - August 02, 2020.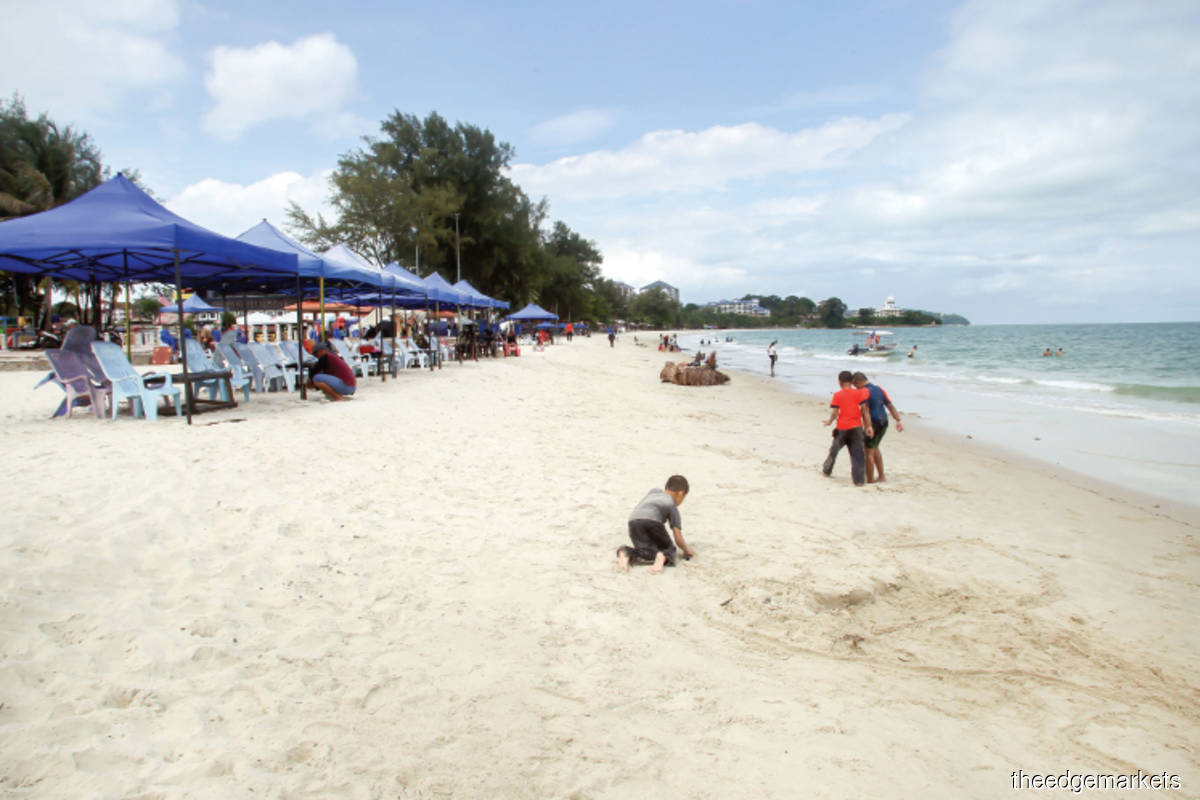 Port Dickson has long been the go-to destination for many who want to escape the hustle and bustle of the city. Located in Negeri Sembilan, it started as a coal mining town and later became a seaport.
According to CBRE I WTW managing director, Foo Gee Jen, petroleum processing and tourism are the two main economic pillars of the district today. He notes that there are two refineries — Hengyuan Refining Company (HRC) and Petron — and other small-scale industrial activities in the area.
Zerin Properties managing director and CEO Previndran Singhe says in the 1980s and 1990s, Port Dickson was highly sought-after as a beach resort destination on weekends and school holidays. Holiday bungalows, mostly owned by companies and banks, and resort-type hotels were popular.
"After a decline in tourist arrivals (both local and international) in the late-1990s due to dirty beaches resulting from pollution, Port Dickson is seeing a revival as efforts are being made to capitalise on the growing economy and improving the tourism scenario in general," says Previndran.
Foo notes that the authorities and tourism industry have been cleaning up the long stretches of beaches, aiming to welcome back both local and international tourists. "[In recent years], tourist arrivals in Port Dickson have been consistent at more than four million arrivals per annum, accounting for about 75% of total tourists visiting Negeri Sembilan. The workforce is predominantly made up of locals who support industrial and tourism activities, while foreign workers are usually employed on a contract basis during peak seasons. Moving forward, the industrial and tourism activities shall remain the steadfast drivers of Port Dickson's economy and property market."
Previndran says based on the Department of Statistics Malaysia's census for 2019, Port Dickson's population was 130,600, an increase of about 1% from the 129,300 recorded in 2010. About 96% of the population are Malaysians, with Malays making up slightly more than 50%, followed by Chinese (26%), Indians (20%) and others. Roughly 60% of the population falls within the 15-64 age group.
"There has not been a drastic change in the demographics as there were no significant changes in terms of employment opportunities. Nevertheless, the average annual population growth between 2015 and 2018 of 4% can be associated with renewed interested [in the area] due to the influx of tourism, property developments such as PD Waterfront by TSR Capital Bhd and the Malaysia Vision Valley (MVV), as well as announcements of infrastructure projects. These denote a positive outlook for growth in employment opportunities," says Previndran.
Spearheaded by Sime Darby Property Bhd, the MVV project is aimed at creating a new growth corridor of 153,411ha in the districts of Seremban and Port Dickson.
"While there is migration of the youth to the Klang Valley for better employment opportunities, there has also been increased purchasing interest from young homebuyers who are seeking affordable homes and/or investment properties," adds Previndran.
An affordable holiday destination
Foo attributes Port Dickson's popularity among foreign tourists to the proximity to Kuala Lumpur and KL International Airport, while on the domestic front, it is popular among families and corporations that conduct team building programmes and incentive trips.
"Port Dickson is a considerably affordable holiday destination. Apart from accommodation and water activities, tourists can enjoy leisure and recreational moments offered by its vast coastal landscape at minimal spending," says Foo.
Previndran notes that in the last five years, things have been favourable for Port Dickson's tourism and hospitality sectors with many projects making the headlines frequently. "Over the past few years, Port Dickson has undergone a transformation in the economy and property market, spurred by mega developments through collaborations between the government and private developers.
"The changing economic landscape is due to the growing commercial developments such as premium hotels and resorts and retail spaces, which is in line with the government's aim to transform Port Dickson into an international beach tourism and wellness destination. The cleaning and beautification of the beaches are also expected to significantly restore the interest of domestic tourists in Port Dickson as a weekend or holiday destination," says Previndran.
Among the noteworthy developments and announcements are the possibility of declaring Port Dickson as a duty-free zone; potential revival of the Seremban-Port Dickson rail line; potential extension of the KLIA ERL service to Port Dickson; and the development of Lexis Hibiscus 2 by KL Metro Group by 2024, shares Previndran. 
Newer entrants such as Lexis Hibiscus, D'Wharf Hotel and the upcoming Hard Rock Café can be regarded as an upgrade for Port Dickson's hotel market as they are in the luxury category, with chalet and serviced-apartment types of accommodation, opines Foo.
"Such more-luxurious accommodation is sought by affluent foreigners from the Middle East, China, South Korea and others. D'Wharf Hotel and Lexis Hibiscus are seen to be doing well. The former offers serviced apartments, which is a rather new experience in Port Dickson, while the latter has recorded a high booking rate," says Foo.
Hotels that have had a long presence in Port Dickson such as Ancasa Residences, Grand Beach Resort and Avillion Admiral Cove, as well as mid-range hotel brands are still relevant in the market, adds Foo.
"It is interesting to note that there are some smaller accommodations/resorts owned by government-linked corporations (GLCs) for their staff's use and corporate events, that also support the local tourism and commercial activities. Looking ahead, moderate incoming supply is observable. This will provide some resilience to the market," notes Foo.
Previndran agrees that the newer branded hotels, especially those with meetings, incentives, conferences and exhibitions (MICE) facilities, will add to the appeal of Port Dickson. "They will elevate Port Dickson's tourism and hospitality markets to international standards, attracting not only leisure travellers but also business travellers and MICE-related activities. This will lead to higher revenue-generation for hotel operators and the state government," says Previndran.
According to Zerin Properties, from January to November last year, Port Dickson recorded 4,498,083 local and international tourist arrivals, an increase of 15% from the 3.9 million tourists recorded in 2016. Data from the Negeri Sembilan chapter of the Malaysian Association of Hotels shows there were about 200 hotels and resorts in Port Dickson in 2018, with hotel occupancy averaging 80% on weekends and 40% on weekdays.
Upcoming supply of hotels include the 700-key Quest Hotel, which was originally slated to open last year; Lexis Hibiscus 2; and hospitality real estate private equity firm Conduit House's joint venture with Dasar Prisma Sdn Bhd, says Previndran.
Announced in October 2018 and set to launch next year, the 250,000 sq m Conduit House project comprises hotel and branded residences and will offer buyers a 15-year leaseback programme.
However, Previndran cautions that some projects may be delayed or deferred due to the pandemic. "Earlier this year, Avillion Bhd reported that it had received an unsolicited offer from China-based Guangxi East Hangyang Investment Group to acquire six parcels of land in Port Dickson. Also, TSR Capital said that it had received enquiries from Taiwan, Hong Kong and Japan investors looking for joint-venture opportunities in Port Dickson and Langkawi. This shows strong foreign interest in Port Dickson's real estate."
Landed property preferred
Landed homes, in particular single-storey terraced houses, are the most common residential properties in Port Dickson, says Foo. He says the average prices of such homes range from RM250,000 to RM280,000 in the primary market and from RM150,000 to RM180,000 in the secondary market.
Previndran notes that new landed projects in Lukut and Teluk Kemang are seeing good demand.
Data from Zerin Properties shows that between January 2015 and December 2019, 949 transactions were for terraced houses and the popular areas were Taman Intan Duyung, Taman PD Utama, Taman Vista Jaya and Taman Selasih.
A total of 137 transactions of other landed residential types was recorded during the same period. Meanwhile, there were 217 transactions of non-landed properties, comprising condominiums, flats and serviced residences, from January 2015 to November 2019.
Upping its appeal
Foo believes tourism will continue to underpin Port Dickson's economy and its industrial landscape is expected to remain focused on petroleum refinery. "Going forward, more diversified economic opportunities will be a boon to Port Dickson. This will help to boost its industrial and commercial vibrancy to be on par with surrounding locations like Senawang, Seremban 2 and Nilai. Increases in economic opportunities and the subsequent population growth will spur Port Dickson's residential sector, which, at present, is mostly reliant on more passive spillover effects from other growth factors."
Previndran believes that there are a few potential boost factors for Port Dickson. Among them are building quality and functional MICE facilities that are effectively marketed; integrated tourism developments offering various activities and experiences that cater for families and solo travellers; the rejuvenation of old and abandoned tourism attractions; developing affordable and quality resort-type housing townships to attract local professionals; and promoting Port Dickson under the Malaysia My Second Home programme.
There is also a need to do more green initiatives such as landscaping, and beach and flora fauna protection, adds Previndran.
Foo agrees with Previndran, noting that one of the main shortfalls of the west coast, compared with the east coast, has always been water quality. "The Straits of Malacca is polluted due to tourism, land reclamation and shipping activities. Therefore, environmental protection measures have to be taken to enhance the sustainability and credentials of Port Dickson's tourism [industry]," he comments.
The positioning of Port Dickson as a wellness and agrotourism destination in MVV 2.0 and the proposed railway connecting Seremban, Nilai, Port Dickson and KLIA will benefit Port Dickson, adds Foo. "There will be catalysts for the local industrial sector. It has to be noted that the progress of these plans remains to be seen."
He feels that several developments beyond the state boundaries will benefit Port Dickson. "The construction of the Seremban-Port Dickson Highway, which is also linked to the North-South Expressway, has shortened travelling time to the Klang Valley. Linked to the West Coast Expressway, it extends the reach of Port Dickson's industrial market to the north and enhances the movement of people and freight by road in general.
"Near Port Dickson and sharing the same coastline are two proposed water theme parks. One is being developed by Meridian Bhd as part of the Malaysia Tourism City in Kuala Linggi, Melaka, and the other is by Sentoria Group, which recently purchased land in Morib from Pemodalan Nasional Bhd. The latter's development will include a safari park and a boutique hotel. Both theme parks are still in the pipeline, so the impact remains to be seen," says Foo.
Like everywhere else, Port Dickson has been affected by the Covid-19 pandemic. Foo believes the outlook for the tourism and hotel market will be subject to development at the macro level, like many other industries.
"Tourism and hospitality are among the hardest hit by the pandemic. Generally, we expect tourism and hospitality to have a challenging time ahead and may see a longer recovery path. This is due to the low consumption confidence and it is unlikely to improve overnight given the economic uncertainty in the rest of this year.
"Compared with international tourists, local travellers would still be the low-hanging fruit but domestic tourism is expected to be soft in the short to medium term. Vacations might not be high on the list for most consumers due to financial and health concerns," says Foo.
Previndran is more optimistic and expects Port Dickson's tourism and hotel market to stabilise and flourish once the catalyst projects are implemented.
"We anticipate that Port Dickson will enjoy significant growth in domestic tourism once the outbreak is contained. It will benefit from the cautious sentiment towards international travel, which is estimated to last until early to the middle of next year."
The origins of Port Dickson
Port Dickson is named after Sir John Frederick Dickson, a British High Officer stationed in the Straits Settlements at the end of the 19th century. Owing to its location in a small bay, the town was known as Tanjung among local Malays, while the local Chinese and Indians named it Alang or Arang, which means charcoal, after a nearby island known for its coal mines.
Seeing how fast the town grew, Dickson turned it into a seaport and a retreat for British officials and farmers. The port allowed the British to profit from the trading of spices, tea and silk between India and China. In 1891, plans were drawn up for a 39km railway track linking Tanjung and Sungai Ujong (now known as Seremban) to enhance the effectiveness of the seaport.
The British brought in labourers from India to construct the track. In conjunction with the opening of the railway line, the British formally changed the name of the town to Port Dickson. In 1893, about 600 ships from Singapore and Port Klang docked at the seaport to unload goods that were later transported to Sungai Ujong by train. Owing to the rapid development and increasing transportation of goods from inside and outside Port Dickson, a customs and immigration inspection centre was set up in 1894.
Thanks to the success of the seaport, development made its way to the city centre. Wooden shop houses were replaced with brick masonry buildings.