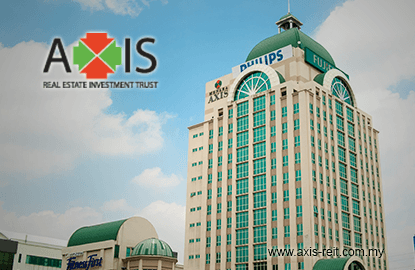 KUALA LUMPUR: The real estate investment trust (REIT) sector is still going strong in the local stock market, despite the slumping ringgit and political uncertainties swamping the country, said Axis REIT Managers Bhd chief executive officer Datuk Stewart LaBrooy.
And notwithstanding the weaker consumer sentiment in the first three months after the goods and services tax (GST) was introduced, LaBrooy said share prices of most REITs are still holding up "very well".
"Looking at our charts, we are ahead of Bursa Malaysia in terms of performance. Based on our charts, we are performing on Bursa Malaysia as a sector. It's a reasonably good performance, but for a few weeks when the GST took some toll on retail REITs," said LaBrooy.
"But I think we are going to see them [sector] come back again over time because there are still very good assets. So, I think the sector will see positive growth … probably not as great as it was, but it's been a difficult year for everybody," he said.
He said when the oil and gas sector "fell off the cliff", it took many other sectors with it, including the property sector.
"Many property developers are struggling right now. So, in a difficult year, the REIT sector is still standing up. It's a good, solid, stable investment. By and large, the REIT sector has performed extremely well and [is] rather resilient in this volatile environment," said LaBrooy.
He added that Axis REIT (fundamental: 0.9; valuation: 0.15), which is primarily in commercial and office/retail real estate, had also seen its share price holding up well vis-à-vis the stock market.
In the past  year, Axis REIT's share price has gained as much as 1.2% to RM3.44 yesterday. Similarly, share prices of other REITs have also fared well despite the volatile market conditions.
Pavilion REIT's share price, for example, has gained 14% from levels of RM1.36 a year ago to RM1.55 yesterday, while Sunway REIT's share price has also gained 9.2% from RM1.42 a year ago to close at RM1.55 yesterday. YTL Hospitality REIT has also gone up 10.3% from 97 sen to RM1.07.
In comparison, the FBM KLCI has fallen 8.1% in the same period to close at 1,723.73 points yesterday.
However, not all REITs sparked investor interest. Office-space focused Tower REIT, for example, has seen its share price fall as much as 10.8% in the last 12 months, from RM1.39 to RM1.24 amid a decline in its financial performance.
Meanwhile, on Axis REIT's outlook for the remainder of the year, LaBrooy voiced his hope that the political issues in Malaysia will end soon, and that the REIT manager is now looking for acquisition opportunities, particularly in Johor.
"If the Singapore government continues with its programme of moving their port over to our side, a lot of the industrial land will be taken back. Singapore manufacturers will then have to come to Johor, and the industrial sector there will do well.
"They're going to hold back as long as they can, but I think there will be a strong migration across the Causeway. And I think with the ringgit being so weak, it will represent a tremendous 'buy' opportunity for the Singaporeans," LaBrooy said.
He also added that Axis REIT is working closely with the Iskandar Regional Development Authority to make the shift more amenable and make it easier to get the Malaysian and Singapore governments to cooperate on this matter.
Another aspect that Axis REIT is looking to venture into is cold chain logistics.
"It's a good industry to get involved in as there are very few entry points to actually cater to the cold chain supply. If you think about it, how many cold chain suppliers do you know? As people are getting more affluent, they will want their Haagen-Dazs (ice cream) and fast food like KFC.
"These (food service sector) cater to that market and a lot of frozen goods come with it. We're looking to get involved in that sector," said LaBrooy.
This article first appeared in digitaledge Daily, on August 5, 2015.