This article first appeared in The Edge Malaysia Weekly, on December 21, 2020 - December 27, 2020.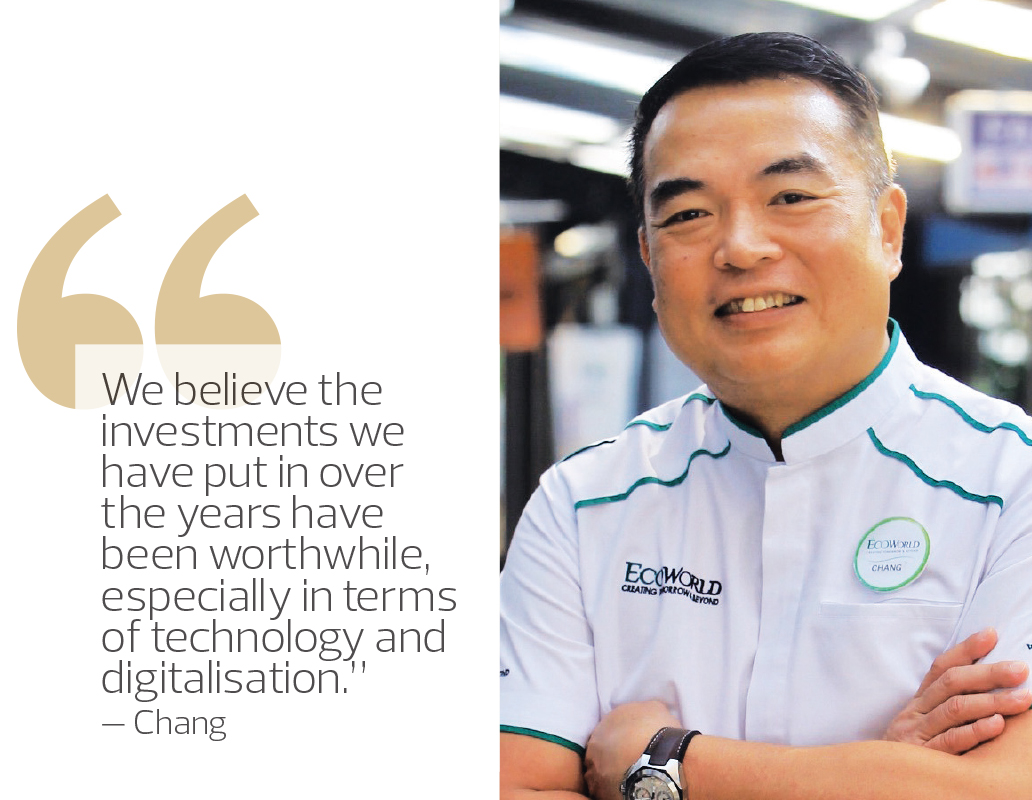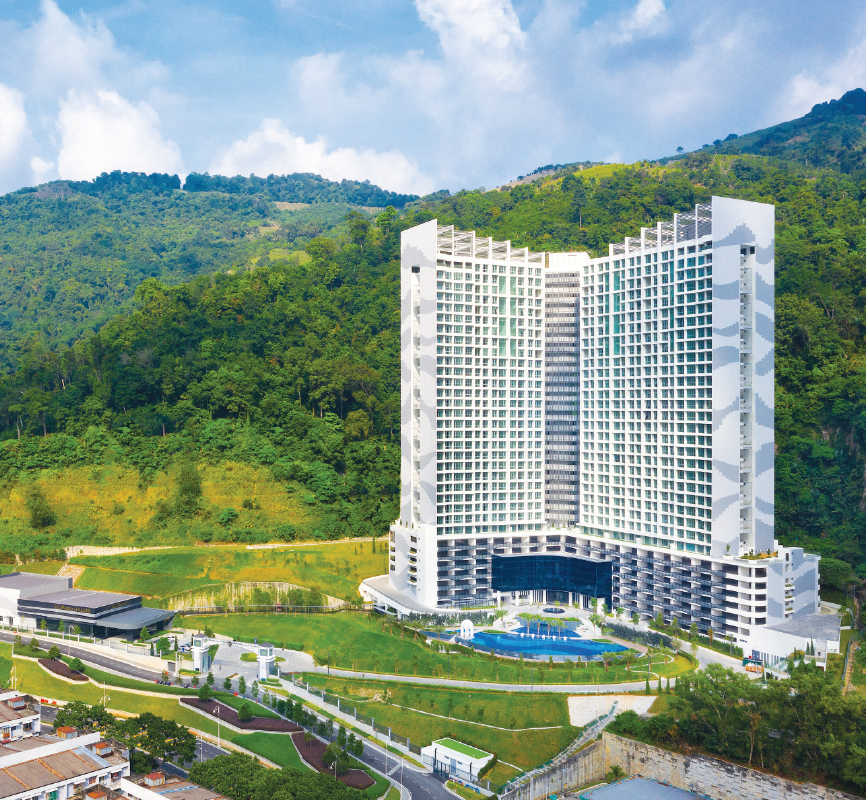 Eco Terraces is a completed residential development in Penang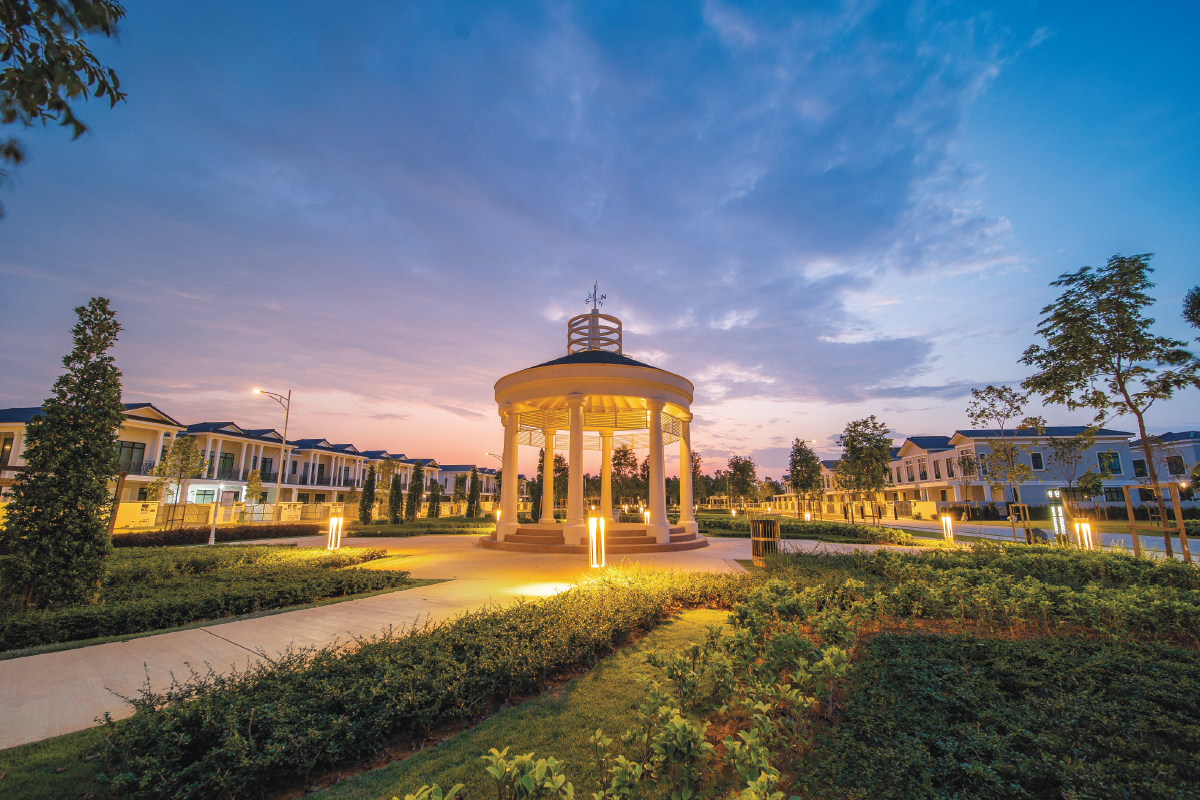 Millsgate Phase 2 in Eco Tropics, a RM3.4 billion township development in Johor


No. 8 | Eco World Development Group Bhd
 
2020
2019
Overall
8
9
Quantitative
7
8
Qualitative
6
6
Although it is work from home for many, it is business as usual for Eco World Development Group Bhd (EcoWorld Malaysia) president and CEO Datuk Chang Khim Wah, who is at the office during the Zoom interview, dressed in the developer's signature crisp white shirt with accents of green.
"It has been a tough year," he says. "The pandemic has changed the lives of everyone, but I think it has given all of us time to reflect, reprioritise and reinvent."
Established just seven years ago, EcoWorld Malaysia is one of the fastest growing property developers in the country, now with 20 projects in the Klang Valley, Iskandar Malaysia and Penang, and 8,325.3 acres of landbank with a total gross development value of RM89 billion. Through Eco World International Bhd (EcoWorld International), the brand has extended its presence to the UK and Australia.
Since 2016, EcoWorld Malaysia has been ranked among the best performing companies at The Edge Malaysia's Top Property Developers Awards. As of August, the company had handed over 16,700 units to customers and its portfolio ranges from affordable, upgrader and luxury homes to integrated high-rise developments and green business parks.
Some of its completed developments include Eco Sky in Kuala Lumpur, Eco Terraces in Penang and Saujana Glenmarie in Shah Alam, Selangor.
"It is an honour to be in the Top 10 again this year. An important thing for us today is that we've completed a lot of our projects. These are our living 'show units' where customers today can view the actual products we are offering, including the overall maintenance of the developments. This is very important for us and for our customers to have confidence in what they are buying," says Chang.
"With that, no matter how tough the market is, which we expect next year to be, we believe our strategies and what we've done so far will see us through 2021. Of course, we still need to work very hard."
He shares with City & Country the company's plans and strategies in the wake of the global pandemic.
City & Country: How has the year been for EcoWorld Malaysia?
Datuk Chang Khim Wah: This year has been very challenging, not just from a business point of view but also from the changing market needs. People's priorities have shifted, and that has really changed the way we think about our business.
Despite the challenges, it has been a good year for EcoWorld. We find the team to be so agile, innovative and willing to fight for the day. We've made so many changes and overcome so many challenges. A lot of feedback from the residents has also been good.
Like our health frontliners, we also have our own EcoWorld heroes on the frontlines, namely our auxiliary police and maintenance and landscaping colleagues providing essential services to the residents of the township. This has really been quite rewarding for the whole team.
While it has been difficult for people to visit our show villages during the Movement Control Order (MCO) period, we are very lucky to have started digital marketing and interacting with our purchasers via the various social media platforms we have over the last few years. The young team at EcoWorld that is spearheading this transformation has done a fantastic job, and our social media and digital marketing campaigns have been particularly successful this year.
Meanwhile, we find that homebuyers are certainly more decisive post-MCO as they have spent a lot of time browsing online and shopping virtually, so they know exactly what they want in a home. An interesting story would be of a customer in Eco Majestic, Semenyih who came to our sales gallery and booked a bungalow in under 15 minutes right after the MCO period. This is just one of the many good stories this year. This highlights a new way of doing business and the importance of our customers' confidence in our products and services.
So far, our results are looking encouraging, and we believe the investments we have put in over the years have been worthwhile, especially in terms of technology and digitalisation. We're so glad we have brought ourselves forward so we can handle the challenges today.
What about launches over the last 12 months? Are you satisfied with what has been achieved?
EcoWorld Malaysia achieved RM1.25 billion in sales in the four months post-MCO despite the challenging market. This has also resulted in a steady improvement in the company's net gearing position from 0.70 on Oct 31, 2019, to 0.64 as at July 31, 2020.
Most of our launches have performed very well. We're also very lucky to have expanded our reach to the younger M40 segment of the market since mid-2019. We found that close to 70% of our purchasers are below the age of 40. In line with that, we have introduced new products such as vertical apartments under our duduk campaign, with a starting price of below RM400,000, as well as landed products priced between RM500,000 and RM800,000.
We are also offering smaller shops and commercial units for young entrepreneurs to start their businesses. This has made our townships very vibrant.
How has the reception been for EcoWorld  Malaysia's duduk campaign? Are there more projects in the pipeline under this brand?
Officially launched in September, duduk is an interesting campaign that we began exploring sometime in the last quarter of 2019 to cater for the M40 market. The name duduk is inspired by the common Malaysian saying "duduk kat mana?", which translates to "where do you live?".
By end-2019, everything was in order to launch duduk and we began introducing the brand to the market in early 2020. To date, we have launched two projects under duduk — Huni @ Eco Ardence and Se.Ruang @ Eco Sanctuary, both offering semi-furnished 1,000 sq ft apartments with starting prices of below RM400,000. The projects have attracted many young home buyers and they have since enjoyed take-up rates of around 65%.
We will definitely come up with more duduk projects because we believe what we are offering with duduk is really attractive and ideal for the younger population.
What targets is the company setting for next year and what are your strategies to achieve them?
Next year, we will focus on re-innovating and improving on our existing projects, which are sustaining our business really well. Our townships have continued to attract a growing number of customers. We will also continue to offer products to the younger demographic.
Based on a survey we did among our existing customers during the MCO to understand their needs better, we found that all of our existing projects meet a lot of their criteria such as having good internet connectivity; enhanced security features; ample space for me-time and family time; healthy, clean and green living environment; well-maintained and well-equipped communal and public spaces; and ample amenities within a 10km radius from home. Based on that, we will continue improving on our products without needing to make drastic changes and to make sure the important aspects, such as maintenance of the overall environment at our developments, are well taken care of.
Internally, the company will continue to optimise our resources more efficiently and to modernise all aspects of our business as much as possible.
Please tell us more about EcoWorld Malaysia's upcoming projects.
Apart from duduk, we also have Eco Botanic 2, comprising landed homes for around RM500,000 to RM800,000, which is very affordable for young M40 families. Based on our initial marketing, we expect the project to be a success and we are preparing to launch it by year end.
We are also preparing to launch our Co-Home concept in Eco Grandeur and Eco Horizon, and we are looking at another one to two more townships for this innovative, new-to-market product. With Co-Home, customers can opt for single-level living on the ground floor or the first floor of a 2-storey landed house. It's a wonderful product for those who prefer to live in a low-density development but don't mind sharing facilities. Units are about 1,000 sq ft. There are three bedroom and two bathroom layouts, and there is enough space to park two cars.
We are also looking at garden homes with smaller built-ups at several projects in the Klang Valley and Iskandar Malaysia and are currently combing through our townships to see where we can place more duduk projects. I believe we should be confirming that in the next few months.
What would you say is the key to navigating the challenges dealt by the pandemic? What opportunities do you see available in the market?
Going forward, the key is to understand the needs of our customers and for us to keep innovating from there. We also need to optimise our resources and be cost-conscious without compromising on the quality of our products and services.
Under Budget 2021, the National Economic Recovery Plan (Penjana) incentives to promote foreign direct investment have been further expanded and extended by another year until Dec 31, 2022 and a substantial sum has been allocated to support the development of the domestic supply chain and increase the production of local products. This is quite encouraging for us and we are glad that the government has really given the industrial sector some thought.
Post-MCO, our industrial park business seems to be picking up and doing quite well. We are seeing a lot of new logistics, warehousing, stocking and post-packaging businesses coming up quite strongly. We also see a great future for customised factories, and we are getting a lot of interest from China for these properties. We are currently working with them virtually.
Despite the pandemic and challenging global economic conditions, we are looking at a strong year ahead. In addition to the strength of our online marketing, we believe the ongoing Home Ownership Campaign and low interest rates will continue to drive the business as we have the products to suit some of these incentives.
In your opinion, what needs to be done to spur the recovery of the economy and property market?
We think more can be done for the Malaysia My Second Home (MM2H) programme, especially since the incentives under Penjana encourage foreign investments. Rather than looking at MM2H as a key to attract people to come and live in Malaysia, we should look at it in a more holistic way — together with foreign investment. I think it is also a great way for foreign investors to come and appreciate the country for its good infrastructure, as well as the legal and delivery systems that we have in place.
Foreign ownership is currently still quite low at below 2%, and in places like Kuala Lumpur city centre, an influx of a small percentage of foreigners can really bring up the spending power that can help our businesses like restaurants, retail, housing and transport. I hope we can make MM2H even more attractive and convenient, which will help not only the housing sector but also the overall economy.