This article first appeared in The Edge Financial Daily, on June 28, 2019.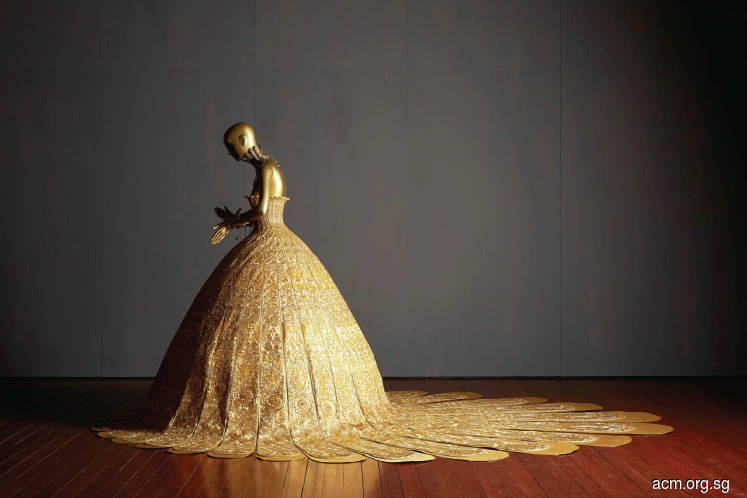 In a collaboration with world famous couturière Guo Pei, the Asian Civilisations Museum (ACM) presents, for the first time, art through couture in a juxtaposition of masterpieces created centuries apart. The exquisite showcase examines the relevance and impact of Chinese art, and how Chinese aesthetics and traditions are being reimagined for the world today.
Guo Pei: Chinese Art and Couture opens the museum's Season of Chinese Art, which will explore the best of the genre presented for a contemporary, international audience. With 20 Chinese art masterpieces from the museum's collection and 29 dresses by Guo Pei, this blockbuster exhibition spans two galleries and is part of the museum's commitment to examining the diverse cultural heritage of Asia, interconnections within Asia and Asian connections with the rest of the world.
Kennie Ting, the director of the Asian Civilisations Museum and Peranakan Museum, explained, "Guo Pei: Chinese Art and Couture is significant to our visitors for two reasons. It is our first special exhibition dedicated to fashion and is representative of our shift to the contemporary domain. Our aim is to make a point as to how heritage and tradition are very much relevant to the contemporary — that heritage and tradition can be remarkably sexy and alluring. Every masterpiece in the exhibition is a unique blend of contemporary and traditional design, material and craft.
"Second, the exhibition has been designed to give visitors a simple and visually arresting overview of Chinese art history — imperial art, export art and folk art. We wanted a show that would introduce visitors to aspects of Chinese art — materials like silk and porcelain, the craft of embroidery, motifs like peonies and phoenixes — in a completely unexpected and, hopefully, very memorable fashion."
The exhibition begins with a dramatic display of Magnificent Gold, the iconic cape worn by Rihanna to the 2015 Met Gala. A symbol of Guo Pei's breakthrough to an international market, the dress also represents a moment in time when the world encountered and engaged — through countless reactions, conversations and memes — with a masterwork inspired by imperial China. The main exhibition space features three sections. In Gold is the Colour of my Soul, Guo Pei's signature yellow and gold works reflect the historical significance of colour, techniques and materials strongly associated with imperial China. Through China and the World, Guo Pei's hybrid designs parallel Chinese export art in blending Chinese imagery creatively with Western silhouettes and tailoring.
In Treasured Heirlooms: Chinese Bridal Dress, Guo Pei's works continue and modernise traditional Chinese bridal style, with strong Peranakan connections, and they have found relevance with celebrity brides today, including Angelababy, Liu Shi Shi and Tang Yan. Every sight line in the exhibition space emphasises a visual dialogue between the historical and the contemporary through deliberate juxtapositions of Chinese art masterpieces and Guo Pei's masterworks.
Each pairing shows off the best of Chinese traditional craftsmanship as well as modern couture techniques in the expression of creativity and storytelling. Just as how in the past Chinese export art garnered demand around the world, its reinvention and modern interpretations continue to fascinate the world today and provoke visitors to consider how the past continues to inspire the future.
One dialogue can be found in the Gold is the Colour of My Soul section of the exhibition, through a pairing that explores prevalent Buddhist symbols in Chinese art, which Guo Pei has delicately incorporated into Magnificent Gold. The dress has been hailed by the China National Silk Museum as "the birth of haute couture in China" for its technical mastery and incorporates elaborate embroideries, similar to the kind used to produce thangkas (paintings or embroideries on scrolls) depicting Buddhist deities and scenes. Guo Pei's team of artisans study the embroidery on historical thangkas like this to refine their techniques.
In another dialogue, in the China and the World section, we see classic Chinese patterns of flowers, crests and clouds, not just on the precious blue-and-white porcelain, but also incorporated, using the same method of brush painting blue pigment, on Guo Pei's sculptural masterpiece, Blue-and-White Porcelain.
The continuation of Chinese artistic traditions and culture by the Chinese diaspora is evident in the many cross-cultural masterpieces in this exhibition. Guo Pei's bridal collection, which has been embraced by Chinese celebrities and other wealthy clients, was inspired by historical bridal ensembles made in China, but imported to Southeast Asia and worn by Peranakan Chinese brides here.
One of her creations, shown in the Treasured Heirlooms section, was the genesis of this collaboration between the museum and Guo Pei. The couturière saw a bridal ensemble in the Peranakan Museum's travelling exhibition of Peranakan Chinese art in Paris back in 2010.
As part of the exhibition, there will be a series of complementary family-friendly programmes, guided tours, lectures and weekend festivals. This includes a Chinese opera-themed Asian Culture and Music Series (today and tomorrow), with traditional performances and modern renditions, workshops and a chance to be dolled up in iconic opera make-up.
---
Guo Pei: Chinese Art and Couture will run until Sept 15 at the Asian Civilisations Museum, 1 Empress Place, Singapore. For more information, visit www.acm.org.sg