This article first appeared in City & Country, The Edge Malaysia Weekly, on October 7, 2019 - October 13, 2019.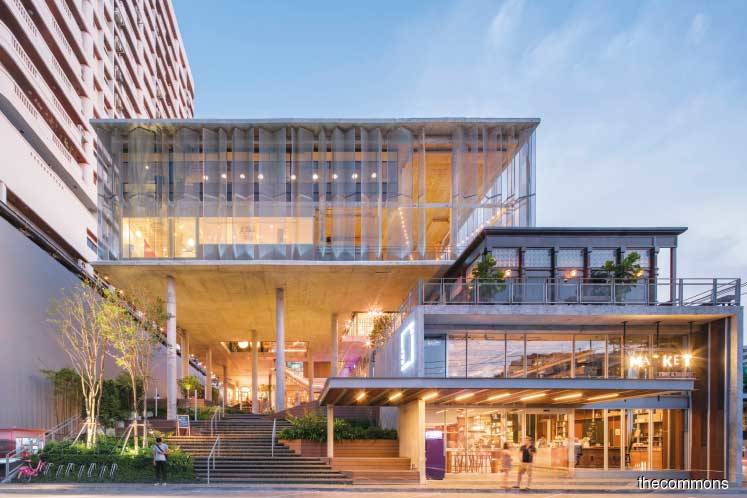 theCOMMONS, a community mall in Thonglor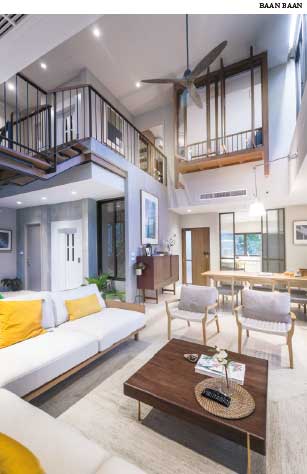 Baan Baan Residences is designed for multigenerational living

Lai (fifth from right, front row) with participants of the tour and representatives of TCDC
Our spirits were high as we set off from Bangkok's The Westin Grande Sukhumvit on a hot, muggy day. Traffic, as expected in the famously congested city, was challenging but it did nothing to dampen our excitement.
Representatives of more than 40 developers attended Rehda (Real Estate and Housing Developers' Association) Youth's two-day Bangkok International Tour. The tour, spearheaded by organising chairman, Ethan Lai, is in line with Rehda Youth's objective to explore and learn more about property developments domestically and internationally. The developments are chosen through recommendations.
"The purpose of the tour is to visit recently completed community centric commercial and retail projects," says Lai.
Our first stop was BaanBaan Residences in Vibhavadi 20, where four-storey houses are designed for multigenerational living and have an urban Thai style that is suitable for the hot and humid weather. Two houses have been built and are being used as show houses while 12 will be built eventually.
The airy ground floor is called TaiThun, (which means "space under the house" in Thai). There are three parking spaces, an open Thai-style kitchen and a maid's room. On the first floor are two multipurpose rooms with double-height ceilings, the third floor has the master bedroom and a storage room and on the top floor is Dadfa (space on top of the house), an outdoor space as well as two bedrooms.
According to the developer, BaanBaan Residences was conceived by founder Neramit Srangiam to explore the relationship between Thai local wisdom and construction engineering. The end result is a marriage of different ideas and innovations such as the Thai-style long eaves that offer sun and rain protection and living rooms with double-volume ceilings that result in lower temperatures.
The house is designed for city dwellers who long for nature. Special importance is given to maximising the limited green areas. The aim, says the developer, is for all rooms to have views of the trees and ample cross ventilation. This is achieved by strategic positioning of large trees and architectural openings.
Our next stop was Idin Architects' new 3-storey office building in the Ratchadaphisek area. The firm was founded by Jeravej Hongsakul in 2004,.
The structure sits among unassuming buildings and is certainly the most modern one. The concept, says Jeravej, was to create a private office space while hiding from the diversified context.
With clever use of materials, space and light, the building is aesthetically pleasing, artistic, welcoming and warm. It is spilt into three zones — the office, which takes up most of the space, a recreational area for staff and a private residence for Jeravej — and a café that serves coffee and cakes and is open to the public and doubles as the firm's reception.
And why would an office building have a café? "Because I love gourmet coffee," Jeravej says with a laugh.
The narrow parcel meant that the building had to be aligned with the land's depth, which increases the open spaces between each space and trees. Terraces and courtyard are inserted between the areas, allowing more connection with green area and natural light.
The architects' working space has lovely light streaming through the tall Low-E glass windows and a relaxed, inviting vibe that makes you wish you had an office just like it. Jeravej's residence, which he jokingly calls his man cave, is a comfortable space with a living area and a pantry on the lower floor and a bed on the upper floor, which is where he keeps his collection of toys and action figures, from Star Wars to Japanese anime. "I keep them here, away from my wife," he jokes.
One the interesting features of the building is the main feature wall that covers the exterior and interior space. In line with the concept of creating a place that is hidden from its surroundings, dark burnt cedar wood was chosen for the exterior, giving the building a striking look.
Top of the world
In the afternoon, we headed to the historical district of Bang Rak to visit the Thailand Creative and Design Centre (TCDC), housed in the Central Post Office building. The imposing building was designed and built in 1940, during the era of Art Deco. Two large Garuda sculptures sit on top of the building, as if they are guarding the place. The lobby is spacious with several sparkling chandeliers, all very grand for a post office.
The building is the brainchild of architects Sarto Sukkayang and Jittasen Apphaiwong and is one of the last reminders of former prime minister, Plaek Pibunsongkhram. Plaek served as prime minister twice — from 1938 to 1944 and from 1948 to 1957. One of his lasting legacies are the modernist buildings constructed during his tenures.
The building is located in Charoenkrung  Road, which was built during the reign of King Mongkut (1862-1864) and was once Bangkok's main road. It was the first to be built using modern construction methods in the country.
TCDC's portion of the building is very modern, contrasting with the main building. Relocated to the building in 2017, the centre was formed to integrate the ingeniousness of Thai society and culture with modern technology and knowledge under the purview of the Office of Knowledge Management and Development. This is accomplished through workshops, talks, exhibitions as well as its resource centre.
Our last stop of the day was one of Thailand's architectural landmarks, King Power Maha Nakhon. The 78-storey mixed-used building, which was opened in late 2018, was designed by renowned architect Ole Scheeren. It has glittering stacked surfaces, terraces and protrusions that create an impression of digital pixilation while echoing the irregularity of mountain topography.
Its components are Mahanakhon Square, an outdoor public plaza, Ritz-Carlton Residence, King Power Duty Free & Retail and the main attraction, the Skywalk.
The 314m Skywalk is Thailand's highest observation deck and offers a 360° panoramic views of the city. Needless to say, the view was spectacular. The experience was made better with cocktails from the bar. For the adventurous, the glass tray is where the action is. There is nothing like looking down through clear glass from a height of 310m to get your knees knocking. There is also a restaurant, which, to our disappointment, was fully booked.
Sustainability at its heart
Our first stop the next day was Sansiri Public Co. Ltd's T77 Community in Sukhumvit. The over 50-rai (more than 19 acres) development comprises residential, commercial, retail and hospital components.
Turning in from the busy street, it felt like another world. Gone were the noise, congestion and somewhat chaotic atmosphere. In its place were tree-lined little streets surrounded by a range of different contemporary buildings. Landscaped, green, clean and quiet.
There are six condominiums — Blocs Sukhumvit 77, The Base Sukhumvit 77, The Base Park West, The Base Park East, hasu Haus and mori Haus — and a townhouse, Garden Square. Also within T77 is Bangkok International Preparatory and Secondary School, popularly known as Bangkok Prep, and the 24-hour Dental Hospital Bangkok Sukhumvit 77, which is frequented by the royal family.
In the middle of the development is Sansiri's first community lifestyle mall — Habito Mall. Its purpose is reflected in its name, which is a combination of habitat and bito, the Japanese word for people.
The mall offers a range of organic options as well as sustainable and ethically produced products for urbanites. The retail and F&B segments include Japanese brands to cater for the largest expatriate community in Thailand, which is estimated at more than 150,000 people.
According to Sansiri, 70% of Habito's customers are between the ages of 25 and 40. More than 90% of them are university graduates and about 40% of them have families. Half are entrepreneurs and executive-level workers and more than 75% of them have household incomes of more than 70,000 baht per month.
A highly popular community event in T77 is the annual Winter Market Fest, which is held every year-end. It features kiosks selling a wide range of goods, ranging from fresh food to fashion accessories. Last year, it drew 40,000 visitors.
T77 is also an example of the successful integration of sustainability into the community's daily life, in line with Sansiri's Green Mission, which will incorporate the concept into all of its new projects.
Together with its partner, energy firm BCPG Ltd, Sansiri provides peer-to-peer energy trading services for the T77 community. BCPG is a leading renewable energy player with businesses in Thailand, Japan, the Philippines and Indonesia.
Using blockchain technology, clean and renewable energy produced by solar panels provides up to 20% of T77's needs. The community has an integrated solar bus stop in front of Habito that allows people to recharge their phones while waiting for the shuttle. Residents can also rent an electric car or e-scooter via a ride-sharing service and a plastic bottle recycle machine that rewards redemptions that can be donated to charity.
From T77, we headed to theCOMMONS, a community mall in Thonglor. The four-storey mall was founded by siblings, Vicharee and Varatt Vichit-Vadakan, and opened its doors on Feb 18, 2016. Their idea was to build a space in which everyone can share things, values and memories, contributing to a sense of community.
With a total area of 5,000 sq m and a leasable area of 2,000 sq m, theCOMMONS is divided into four areas, each fulfilling different needs. On the ground floor is Market, which is inspired by public markets around the world. Eighteen vendors offer a range of F&B — from Mexican dishes to slow-smoked meat.
A collection of little shops in a garden setting sits on the first floor. This is The Village, which boasts a florist, a hair salon and a clothing store, among others. One floor above is Play Yard, which is dedicated to both adults and children.
Finally, on the top floor, Top Yard, is the popular Roast, an all-day dining restaurant serving comfort food. Also on the floor are a grass lawn and herb garden and theCOMMONS Kitchen & Bar, where one can also attend fun classes and workshops such as soap making and acrylic painting.
"Some of the selected projects showcase their respective approach to enhance and foster community building, while others demonstrate the progressive design trends in Bangkok," says Lai.
All in all, it was a fruitful and interesting trip that showcased Bangkok's different developments. Rehda Youth's Lai hopes that the key takeaway from this tour is the importance of placemaking.
"I believe the adoption of such an approach — to integrate the local community into the planning, design and operation — is key in creating a destination for a project," concludes Lai.