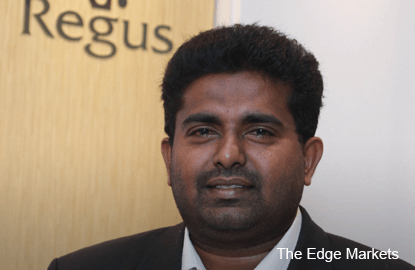 KUALA LUMPUR: Regus plc, the world's largest provider of flexible workspace, has expanded into Johor, riding on the robust investment activities in the southern state.
Regus Management (M) Sdn Bhd (Regus Malaysia) opened a business centre in Johor Baru City Square office tower in April this year.
"We are targeting the manufacturing, logistics, biodiesel business and other project-based business," Regus Malaysia country manager Vijayakumar Tangarasan told The Edge Financial Daily in a recent interview.
Measuring about 8,000 sq ft, he expects demand to come from multinational companies (MNCs), small and medium enterprises (SMEs) and start-ups.  
Vijayakumar said business activities have started to pick up in Johor, which is also seeing an improvement in its infrastructure.
He noted that there is massive development in the state, not only in Iskandar Malaysia, but also Senai, Skudai and Pasir Gudang.
"We did not see a slowdown in Iskandar Malaysia last year, but we expect investments to pick up due to the tax relief and other benefits provided," he explained.
Despite the glut and overdevelopment in Iskandar Malaysia, the robust activities in Johor are  expected to provide opportunities for local SMEs and MNCs.
Vijayakumar sees Johor being developed into a logistics hub over the next three years and Petroliam Nasional Bhd's (Petronas) Refinery and Petrochemical Integrated Development project in Pengerang boosting demand for serviced offices.
Regus provides more flexibility to its clients in terms of the tenure and the rental space, enabling cost savings for businesses.
Its other services include virtual office (VO) and business lounge membership. VO provides it clients a business address in the right place, a local contact number answered in their company name, and a team that manages calls and handles mails. Regus' Businessworld exclusive membership scheme allows its clients to access its business lounges across its network.
Describing it as the "right time" for Regus to expand into Johor, Vijayakumar said some of the project-based companies do not look for conventional office space, but smaller and more flexible workspace like what Regus has got to offer.
He also pointed out Johor's proximity to Singapore has played a role to increase demand for serviced offices in the state where rental costs and labour costs are comparatively lower.
"We are going into Iskandar Malaysia in a year's time. The demand is already there," he added.
Regus Malaysia is also looking to expand into Pasir Gudang, Skudai and Tampoi.
Apart from Johor, Vijayakumar said Regus Malaysia is also eyeing places like Melaka and Ipoh.
"We don't have a target, but will continuously grow," he said, adding that Regus Malaysia has been growing aggressively in recent years and it has expanded from six business centres in 2012 to 23 now. 
Currently, Regus Malaysia occupies 24,000 sq ft of office space across the Klang Valley, Penang, Kota Kinabalu, Labuan and Johor, and the overall occupancy rate is at 80%. Most of its business centres are located in the Klang Valley.
He said most of the company's clients are from the oil and gas and informtion technology industries. Its products are also popular among project-based engineers, legal firms and start-ups.
He added that 60% of its clients are locals, while 40% are MNCs.
Commenting on the oversupply of office space in the Klang Valley, Vijayakumar noted that property developers are adding more offices to the market even though the occupancy rate is about 82%.    
He explained that as the company is providing small spaces, the impact is less on its business, adding that most of the rooms Regus provides are mostly for three to four people.  
On competition, Vijayakumar said price war does happen as there are similar providers locally.
"Competitors are not there yet, not at this (Regus') scale. They (local workspace providers) are still a long way from us," he said, adding that he is confident of the global network Regus has and the services it provides.  
Regus, which is listed on the London Stock Exchange, now has 3,000 business centres in 900 cities all over the world.
In 2014, Regus reported a profit after tax of £69.9 million on revenue of £1.68 billion. It has a market capitalisation of £2.44 billion. 
This article first appeared in The Edge Financial Daily, on July 6, 2015.