This article first appeared in The Edge Malaysia Weekly, on June 20, 2022 - June 26, 2022.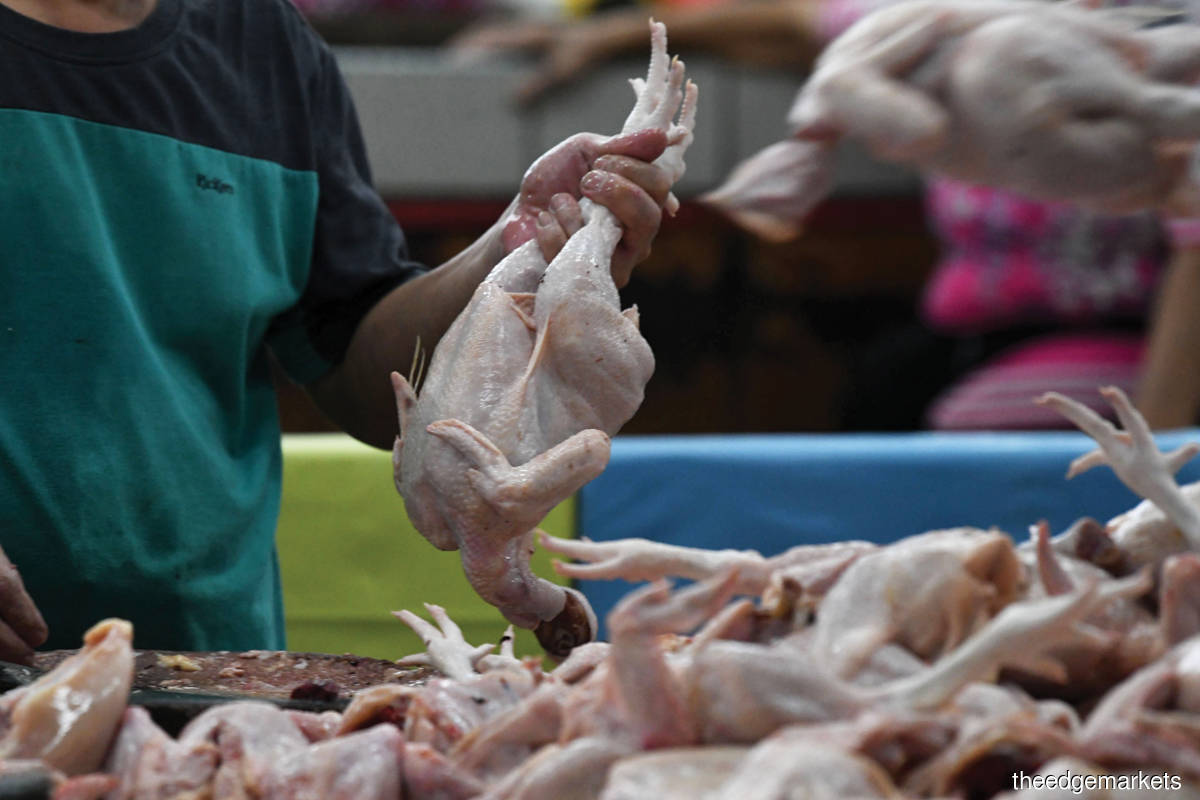 REGIONAL chicken suppliers will not be able to fill the gap left by Malaysian exporters in the Singapore market following the chicken export ban announced on May 23, say analysts. This is because local poultry players have the advantage of supplying live chicken, which is in high demand compared with frozen ones from Thailand.
Malaysia's decision to stop exporting chickens from June 1 is a result of a shortage in the domestic market, which has caused prices to soar. Poultry farmers, squeezed between higher feed costs and the government-imposed price ceiling for standard chickens, have had to reduce feed to save costs or even shut down.
The ban has halted the export of 3.6 million whole chickens a month, which make up more than a third of Singapore's imports of chickens. In 2021, the city state imported almost 73,000 tonnes of chicken from Malaysia.
RHB analyst Soong Wei Siang tells The Edge that the ban will not lead to a straightforward market gain for poultry players in Thailand and Indonesia.
"Singapore imports a lot of fresh chicken from Malaysia, mostly from farms in Johor. It makes sense to do so because of the travel time. Proximity-wise, it will be difficult to import live chickens from Indonesia or Thailand.
"[If] this chicken ban to Singapore is enforced for the longer term to protect our food supply, then there could be some arrangements [by] Thailand and Singapore to export directly to Singapore. But I don't think at this point that it's a feasible plan," Soong says.
The Thai Broiler Processing Exporters Association in a forecast said shipments will expand to 950,000 tonnes this year from 930,000 tonnes in 2021. Poultry is Thailand's second largest food export after rice.
Shares in Thailand's largest poultry group Charoen Pokphand Foods PCL have risen 2.97% from THB25.25 on May 23 — when Malaysia's export ban on chicken was announced — to THB26 on June 16, 2022.
Meanwhile, shares of local poultry players Leong Hup International Bhd and Lay Hong Bhd have been mostly flat since the announcement. The share prices of PWF Corp Bhd, CCK Consolidated Holdings Bhd and CAB Cakaran Corp Bhd, however, have contracted 7.4%, 3.44% and 3.77% respectively. QL Resources Bhd, which has a more diversified business, surged 8.87%.
Soong cautions that Malaysian poultry players could suffer if the ban is prolonged and Singapore looks for alternatives and diversifies its chicken supply sources to ensure sufficient supply in the country.
"If Singaporeans are happy to consume more frozen chicken, then there could be a possibility of a market share gain for Thailand's or even Indonesia's poultry players. But the thing is now, the chicken shortage is happening not only in Malaysia but all over the world.
"However, from a cost perspective, I don't think the price of chicken from Thailand or Indonesia is as competitive as Malaysia's for live chicken that is transported from Johor and slaughtered in Singapore. I don't think any other country will be able to do that," he says.
MIDF Research agrees, saying Malaysia's proximity to Singapore is an advantage, although the ban will have an impact on local poultry breeders as their overseas customers source for chickens elsewhere.
"We believe that Malaysian poultry breeders have a slight advantage for live chicken, where the chicken is slaughtered and chilled in Singapore, given Malaysia's proximity to the city state. Hence, we opine that demand for Malaysia's chicken exports may return once the ban is lifted."
The ban on chicken exports is likely to be a double whammy for export-oriented local poultry suppliers, says Sunway University economics professor Dr Yeah Kim Leng.
First, such restrictions mean earnings evaporation for local poultry companies that could export their products at a higher price. But the overarching impact of the ban would also be reduced production capacity and efficiency, he says.
"It will be very damaging for the long-term prospects of the industry and, more critically, it will result in loss of production capacity if the ban continues. Export-oriented poultry producers may not be able to survive and may shut down permanently. That's the concern," Yeah says, adding that the loss of production capacity will worsen the supply and demand imbalance in the country.
Moreover, the ban would defeat the aim of enhancing efficiency and reducing the cost of production, which would lead to lower prices for consumers, he stresses.
"The way to fight inflation and shortage is to encourage more-efficient production rather than restricting their operations in the form of a ban, or not rendering them support in the face of rising input prices," Yeah says.
Eventually, poultry companies could also lose out in terms of economies of scale as they will be forced to reduce production capacity because of the inability to supply to other markets.
"If that's the case, then the long-term prospects are very dim and we may see some poultry players even exiting the market. The domestic market is very saturated and their growth will be very limited," he explains.
Not only that, Yeah warns that the ban would result in reputational damage for local companies. "The longer the ban is in place, the harder it will be for companies to forge long-term contracts. Typically, food supply contracts are undertaken on a long-term basis because consuming countries want a reliable and secure supply. Bans should only be used as a last resort and kept only for the short term."
Last week, Malaysia eased the ban, allowing live kampung and black chicken to be exported to Singapore.