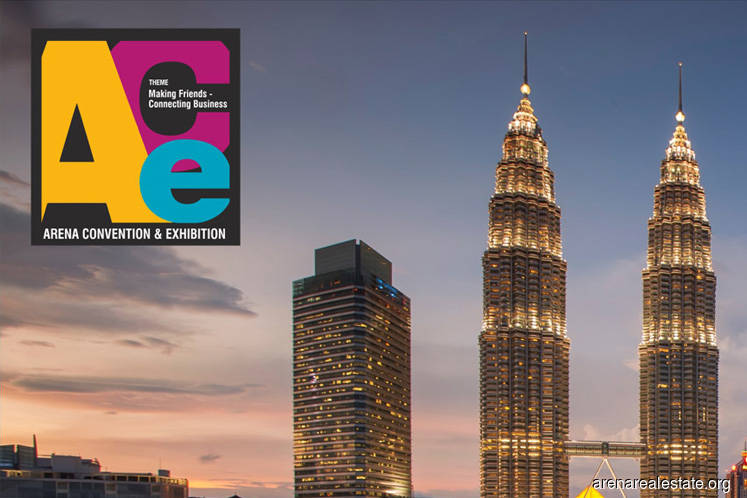 PETALING JAYA (Aug 10): The Asean Real Restate Network Alliance (Arena) Convention and Exhibition (ACE) 2017 is expected to draw over 600 participants from Southeast Asia, the US and UK.
"We have 568 registered participants so far and we expect a full house when the conference starts," said Arena Council of Presidents chairman and Malaysian Institute of Estate Agents (MIEA) president Eric Lim in a press conference today.
Themed "Making Friends and Connecting Business", ACE 2017 will be held from Aug 25 to 27 at Berjaya Times Square, Kuala Lumpur. MIEA is the chair and secretariat for this year's event.
"Arena was formed on the basis of facilitating cross-border property transactions and fostering connectivity in the region. Another purpose is for real estate practitioners within Asean to network with each other.
"Asean is a huge market with eight countries and 600 million population. We [real esetate practitioners] should tap into the regional market before we move to the global level," said Lim.
Organising chairman and secretary-general for ACE 2017, Soma Sundram, hopes the event will be able to help form an Asean model for the regional real estate industry.
"Real estate practitioners shouldn't be focusing just on their own countries. We could extend our services regionally. We want to be a centre to promote networking and a centre of learning for estate agents in the region, as well as promote greater trade within the real estate fraternity," he said.
Property developer Malaysian Resources Corp Bhd (MRCB) vice-president of sales and marketing Angeline Neoh said MIEA plays a huge role in reaching out to the regional real estate practitioners via the Arena platform.
"When it comes to cross-border transactions, there are many regulations to adhere to. We hope that MIEA will be able to assist us in providing all these regulatory info to their partners in Asean," she said.
Speakers for the three-day convention include AREA Management Sdn Bhd senior advisor Kumar Tharmalingam, Asean Legal Alliance founding member Datuk Seri Matthew Yeoh, Thai Appraisal Foundation president Dr Sopon Pornchokchai and Leading R vice-president for global operations Chris Dietz.
ACE 2017 is supported by MRCB and Bukit Bintang City Centre by Eco World Development Group Bhd.