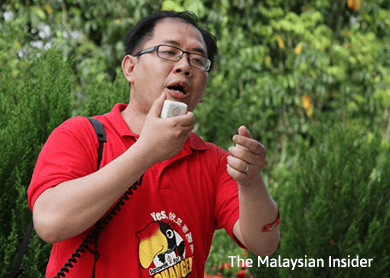 (June 16): Datuk Seri Reezal Merican Naina Merican has given DAP's Tanjong MP Ng Wei Aik seven days to make a public apology and retract his claims that trustee company Amanah Raya Berhad (ARB) allegedly released a RM2 billion loan to troubled 1Malaysia Development Berhad (1MDB).
The Barisan Nasional Kepala Batas lawmaker said he had served a letter of demand to Ng yesterday in Parliament but the first-time MP refused to accept it.
The letter of demand was then sent to Ng's office.
It was also sent to two online news portals, The Malaysian Insider and Free Malaysia Today, which had reported the matter.
"He has made a very serious allegation as though ARB is giving a bailout to 1MDB. It is a slanderous, wild allegation which has no basis.
"It gives an impression as though I am a bad person. Ng's accusation is malicious and this cannot be allowed without any legal redress," he told reporters at the Parliament lobby today.
Citing "highly confidential information" from "insider sources", Ng had on June 10 alleged that ARB last week released the RM2 billion loan after Reezal Merican was appointed chairman of the company on January 1 last year.
He also said ARB's former top executives, ex-chairman Datuk Dusuki Ahmad and ex-managing director Datuk Ahmad Rodzi Pawanteh were "forced" to leave the trustee company because they refused to give the loan to 1MDB, and that the loan was only released after Reezal Merican came on board.
However, Ng did not reveal any documentation to back up his claims.
Hours after Ng's allegation, Reezal Merican and 1MDB issued statements denying his allegations.
Duzuki in a Facebook posting also issued a denial, and described Ng's claims as a "big lie".
"I resigned after 10 years as chairman and Datuk Rodzi resigned with my permission as he wanted to run his family's business," Duzuki wrote.
Reezal Merican said today he had no choice but to serve the legal notice as Ng's allegation had affected both his and ARB's image and integrity.
He exclaimed surprise over Ng's refusal to accept the letter of demand in Parliament yesterday.
"If he is bold enough to make such an allegation in Parliament, why can't he be bold enough to receive the letter at the same place?" he asked.
He said Ng had never sought him out for clarification before or after the news was published. Even his DAP's colleagues were surprised by Ng's actions, he added.
"I am here, he has all the chance to come and ask me but he never did. So I can't help but conclude that it is an accusation made with ill intentions," he said. – The Malaysian Insider