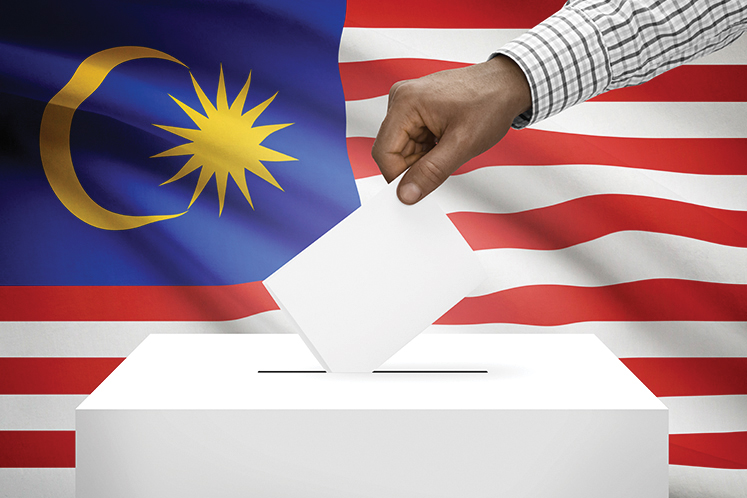 KUALA LUMPUR (March 28): The Dewan Rakyat today passed the motion on the redelineation of electoral boundaries, with 129 parliamentarians voting in favour and 80 against it.
During the debate on redelineation report, Opposition MPs argued that the exercise encourages ethnic polarisation and was gerrymandered in favour of the ruling coalition, Barisan Nasional (BN).
They also pointed to disproportion in voter count per constituency, and argued that the Election Commission failed to take into consideration all objections from voter representatives prior to the drafting of the final report.
Hence the tabled report was incomplete, they asserted.
"We feel that today is a sad day because the re-delineation report was bulldozed to be passed," said Opposition Leader Datuk Seri Dr Wan Azizah Wan Ismail.
"This seems to be in favour of the people in power.
"But as we said, we are hopeful, and we pray that Malaysian voters are sensitized, [and will] open their eyes and vote for change," she said.
Deputy Prime Minister Datuk Seri Ahmad Zahid Hamidi, wrapping up the debate, said the power to table the final report by the EC falls under the discretion of the Prime Minister, in line with Section 9, Schedule 13 of the Federal Constitution.
"So what was done [the tabling of the EC report] was in line with the Constitution," said Zaid.
Datuk Takiyuddin Hassan (PAS-Kota Bharu) questioned the process of debating the EC report this time around, which concluded with debates from 14 MPs who were allocated 10 minutes each.
"The last time a re-delineation report was tabled, we were given four days to debate," argued Takiyuddin. "Now we are given a quarter of a day."
Nurul Izzah Anwar (PKR-Lembah Pantai) urged the government to allow a Commonwealth observer group to monitor the upcoming general election, as was done by former Prime Minister Tun Dr Mahathir Mohamad during the 1990 general election.
The last time a constituency re-delineation was conducted in Malaysia was in 2003, ahead of the 2004 election.
The latest re-delineation uses the voter list as gazetted on Sept 6, 2016.
Apart from Schedule 13 of the Federal Constitution, the EC also underlined four criteria when conducting the re-delineation review, including a constituency's geography and topography; the level of development in a constituency; demographics, population and voter density; and basic infrastructure such as roadways and communication systems.
The BN won 85 seats and opposition parties 80 seats in Peninsular Malaysia in the last election held on May 5, 2013.
It was reported that at the time, the average size of Parliamentary seats won by the BN was around 48,000 voters compared with 79,000 for opposition seats.
Between 2003 and Sept 6, 2016, the number of registered voters which was gazetted in all States in the peninsula and the Federal  Territories increased  36% to 11.38 million from 8.35 million previously.
The biggest increase in voter count by percentage was in Putrajaya — up 247% to 17,627 in 2016 from 5,079 in 2003.
This was followed by Terengganu with an increase of 62.7% to 669,546 voters from 411,453 previously. Voter count in Selangor rose 51.8% to 2.08 million from 1.37 million, whereas Kelantan took fourth place with an increase of 43.5% to 940,591 from 655,602.
Since 1994, Kelantan only saw one addition to its Parliamentary seats while Terengganu had none.
Despite the addition of some 3.03 million registered voters, the EC did not recommend any addition to the number of Parliamentary seats in this report, unlike in each of the previous five re-delineation exercises.
The changes comprise re-delineation of existing Parliament and State constituencies as well as renaming of certain constituencies.
Johor retained the biggest number of Parliamentary seats in Peninsular Malaysia with 26 seats comprising 1.65 million voters, which are more than the 22 Parliamentary seats in Selangor, which has 2.08 million voters.
This is despite Selangor being home to seven out of ten constituencies with the biggest voter count, compared with two from Johor. The Parliamentary constituency with the largest voter count is also in Selangor, namely Damansara with 150,439 voters.
All in all, Selangor leads the states in West Malaysia in terms of average voter count per Parliamentary seat with 94,468 voters, followed by Terengganu (83,693) and Negeri Sembilan (69,642).
Kelantan, which has around 940,591 voters, also has a higher average voter count per constituent (67,185) compared with more developed states such as Perak (58,647), which has 1.41 million voters in total.
Perak has the third lowest number of average voter count per constituency among all peninsular states, behind Pahang (52,858) and Perlis (45,699).