This article first appeared in City & Country, The Edge Malaysia Weekly, on December 21, 2020 - December 27, 2020.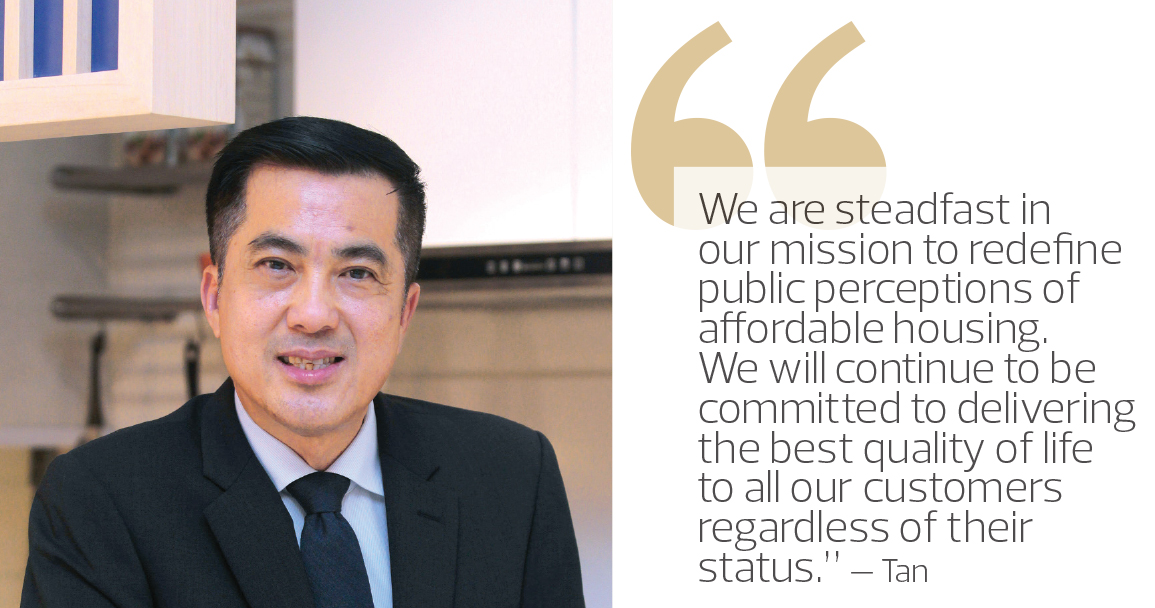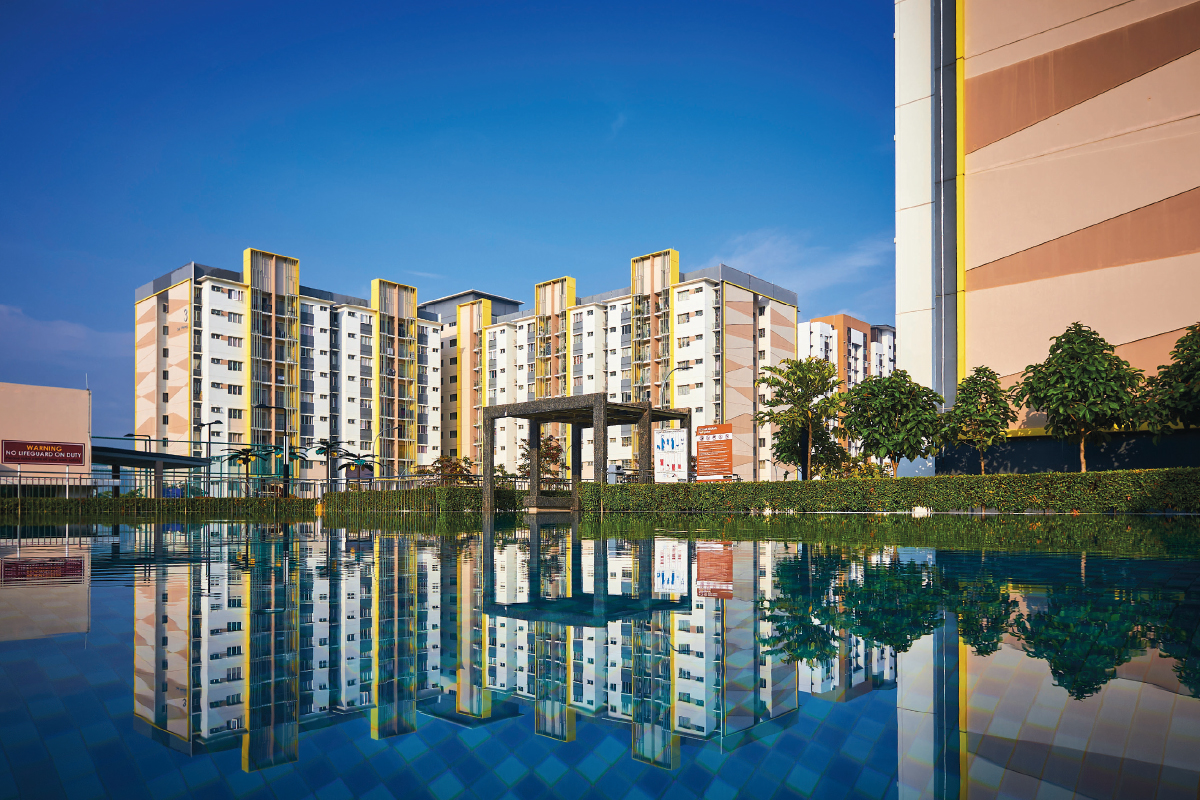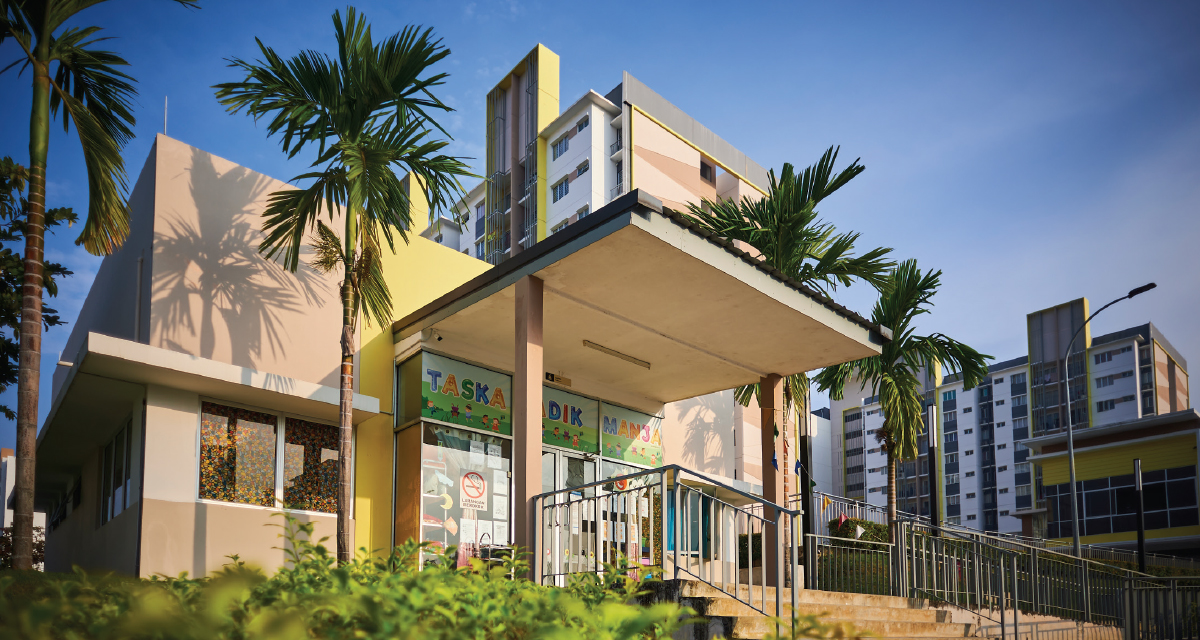 Taska Adik Manja Seri Pinang is one of the many amenities in the project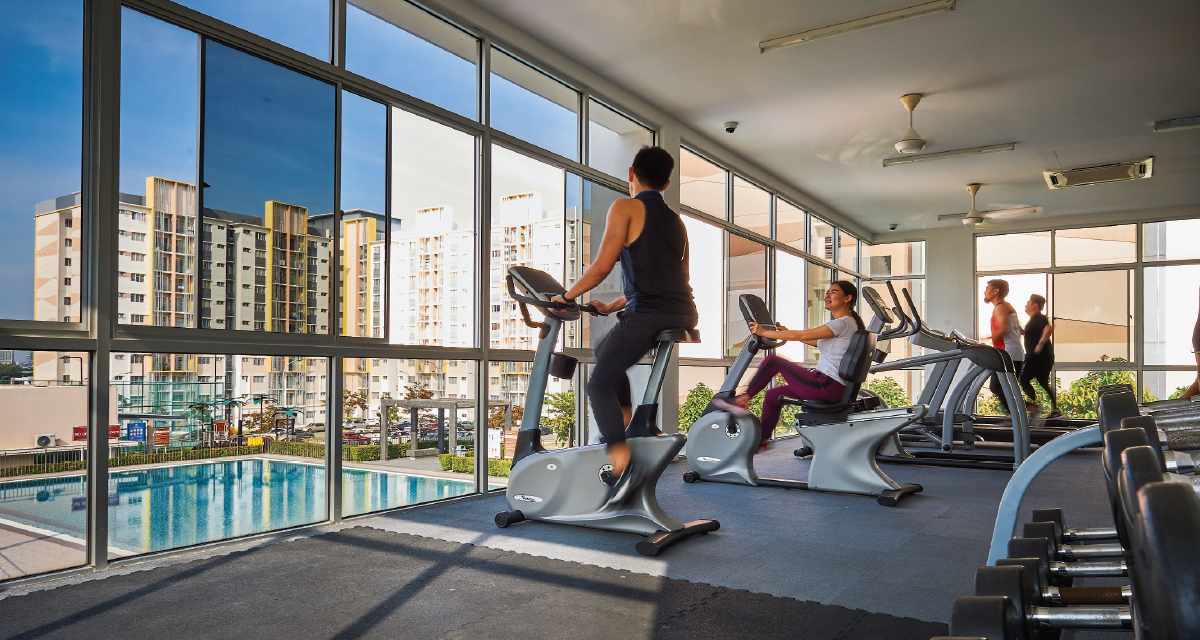 The ample facilities include a swimming pool, gazebo, children's pool, playground, surau, badminton court, futsal court, function hall and gym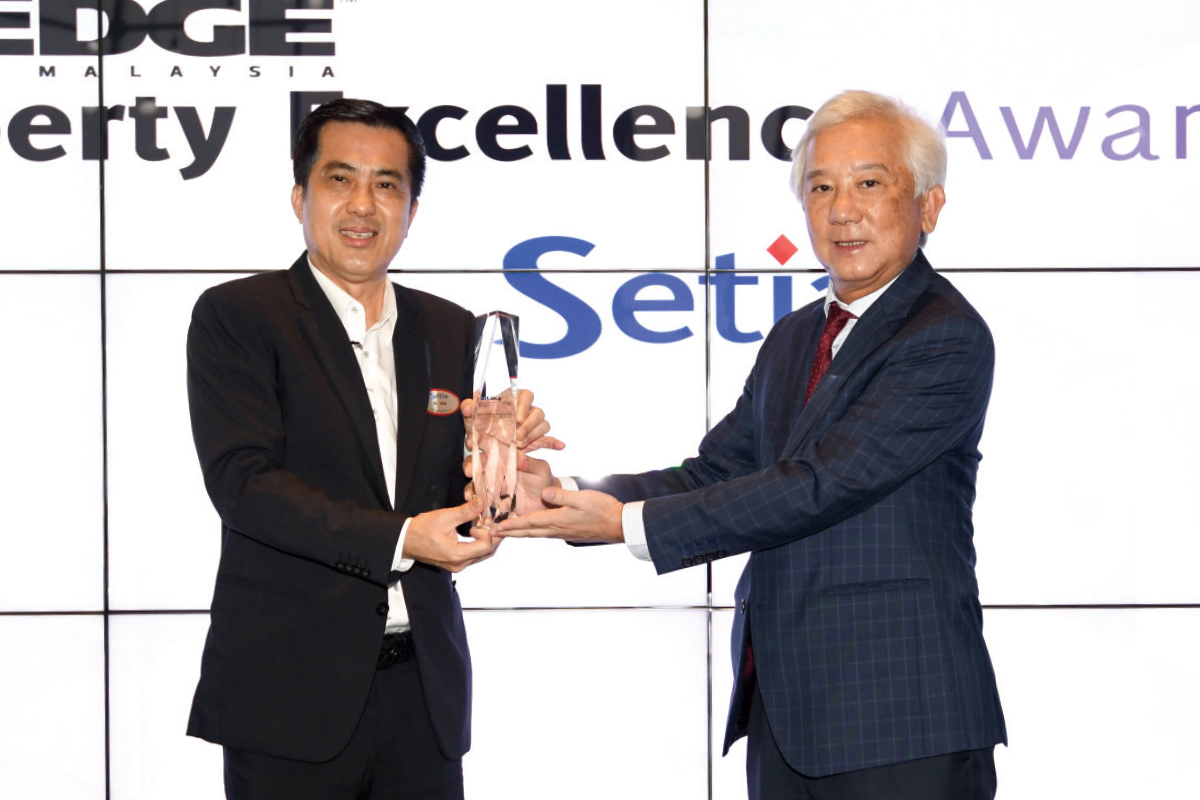 Tan receiving the award from The Edge Media Group publisher and group CEO Datuk Ho Kay Tat
Joint Winner | Seri Pinang Apartment | Bandar Setia Alam Sdn Bhd
On a sunny Thursday afternoon, S P Setia Bhd executive vice-president Datuk Tan Hon Lim recounts his conversations with purchasers of the Seri Pinang low-medium-cost apartments in Setia Alam.
"They are really happy to live there. It is rare to find a development within this price range (RM247,000 to RM251,000) that offers comprehensive condominium facilities and value appreciation. This range is certainly popular in Setia Alam," says the affable Tan via a Zoom call with City & Country.
Despite being affordable housing, Seri Pinang shows the same level of meticulousness and standards that the developments of S P Setia Bhd are known for. Seri Pinang can boast a strategic location apart from good planning, design and construction, and is unsurprisingly a recipient of The Edge Malaysia Affordable Urban Housing Excellence Award 2020. Introduced in 2014, the award aims to identify and encourage the private sector to provide more and better-quality affordable housing.
"We are steadfast in our mission to redefine public perceptions of affordable housing. We will continue to be committed to delivering the best quality of life to all our customers regardless of their status," says Tan.
Covering an 11-acre tract in Setia Alam, Seri Pinang has a gross development value (GDV) of RM133.61 million and comprises 550 units of low-medium-cost apartments in total. "In terms of density, it is about 50 units per acre, thus the 550 units (on an 11-acre tract) is achieved using this guideline," says Tan. Its ample facilities include a swimming pool, gazebo, children's pool, playground, surau, badminton court, futsal court, function hall and gym.
The units, spread over three 11-storey blocks, come in a 3-bedroom, 2-bathroom layout. Measuring 849 sq ft, every unit has a decent-sized balcony. Launched in March 2015, the units were balloted and fully taken up. Completed in 2017, they were priced from RM247,000 to RM251,000.
"Seri Pinang units have seen good appreciation value. The selling price was RM247,000 when they were launched in March 2015. After vacant possession in July 2017, the sub-sale price was RM340,000 — a 38% increase. Prices have stayed at this level, with continued high demand," says Tan.
"Our target market for Seri Pinang was mainly upgraders from nearby towns such as Meru, Kapar and Klang. We also targeted working class folk who work in the nearby factories, shops and small entrepreneurs."
He adds that the group is committed to having a genuine mix of people from all strata of society to ensure the long-term vibrancy of the Setia Alam township.
IBS and challenges
Seri Pinang appears to strike a good balance between cost and quality. According to Tan, this was achieved, along with a decent profit margin, via the industrialised building system (IBS).
"We adopted IBS to improve cost efficiency, and increase construction speed and labour intensiveness. More importantly, IBS ensures consistent, high quality standards," Tan explains.
"Last year, we received the highest IBS score in the country, of 93.95%, for the construction of Kementerian Kesihatan Malaysia's (KKM) government quarters building in Setia Federal Hill in KL."
Tan recalls the challenges faced in constructing Seri Pinang, one of which was "to include car park bays in the restricted land space". There are 1,320 car park bays in total to accommodate 550 apartment units.
 "We had to plan our land layout carefully. We resolved this by building a multi-storey gym and made the internal roads single direction so that the land could be used for many other facilities and open spaces to maximise the enjoyment of our purchasers," he explains.
Meanwhile, about 87% of the development is allocated for utilities and green space. "This is important, as homeowners understand the need for such facilities, amenities and green areas for self-sustained living within the community.
"Within the 87%, an additional 3.6% was dedicated to green areas — the government stipulates only 10% but we allocated 13.6% — and instead of just paved parking lots, we decided to use grasscrete to increase and maximise the green ambience all around the development," says Tan.
Seri Pinang also offers universal accessibility that caters for the disabled. All the units on the ground floor are reserved for the disabled and are purpose-built, with features such as wheelchair-friendly ramps and wider door openings.
Nature-inspired design
Unlike most affordable housing, Seri Pinang is an amalgamation of thoughtful, smart design, exclusivity and value creation. It is a testament to S P Setia's effort to redefine the public's perception of affordable housing.
Sheltered by the lush surroundings of the mature Setia Alam township, Seri Pinang emits a sense of arrival and grandeur. The main entryway is designed with rectangular motifs for the feature walls and finished in spray granite paint and backlit signages, with a proper guardhouse, driveways and boom gate security system.
Each of the three blocks has a covered entrance drop off, double-height entrance porch roof and entrance lounge leading to the lift lobby. An aluminium cladding motif continues up the group floor lift lobby and waiting area. A coordinated colour scheme and recessed L-box ceiling lightings further enhance the space.
"Our design was inspired by Malaysia's very own pokok pinang. The overall space organisation, interconnectivity and visual qualities are some of the key elements inspired by the pinang tree," says Tan.
In describing the development's façade, he says: "The rectangular elements throughout all three tower blocks converging around the central green space mirrors a clump of pinang trees in nature. The colour palette of the apartment is similar to the pinang tree, consisting of warm earthy tones (such as shades of brown and grey) with vibrant yellow accents.
"Imagine the pokok pinang — a typical tropical plant with lush green leaves and an abundance of small pinang fruits that are golden brown. It is a structured tree with a strong bamboo-like greyish trunk and strong grip by the roots. That is the basis of our colour theme for the project.
"Thus, our facade features rectangular frames running vertically across the tower blocks, reflecting ripe golden-brown palm fruits. Irregularly spaced grey metal screens flank these rectangular framing elements. The side walls have lines depicting pinang leaves. The three towers converge to a central green park, depicting a group of pinang trees."
The design of Seri Pinang is consistent with other developments in Setia Alam. "Most of the developments here are inspired by nature and its surroundings," he says.
Lowering its carbon footprint
Besides IBS, green spaces and design inspiration, S P Setia also includes features in the development that help lower the homebuyers' carbon footprint.
"Seri Pinang was planned and designed as a passive solar development with intelligent innovations. All three residential blocks are arranged in a north-south orientation, which creates an energy-efficient passive design without increasing development cost," says Tan.
"Naturally ventilated corridors also maximise their east-west orientation to increase internal daylight hours. This will reduce overdependence on artificial lighting. Ease of maintenance was a key consideration to minimise costs and resources required for Seri Pinang to function efficiently throughout its lifespan."
Tan adds that the maintenance cost is about RM180 per month (plus sinking fund).
"A double-roof configuration was also adopted by having a secondary metal roof above the primary concrete roof. The air cavity space between the two layers of roof minimises heat gain in the top floor units," he says.
In addition, a rainwater harvesting system is installed on the rooftop of the facilities building while energy-saving LED lighting is used throughout the facilities and amenities of the development.
"Although LED lighting is rarely used in affordable housing, it is much more energy-efficient and has a longer lifespan than halogen," says Tan. Meanwhile, T5 fluorescent lighting is used in the common areas, as it is both energy-saving and cost-effective.
S P Setia emphasises the prime location of Seri Pinang. As part of the Setia Alam township, a sprawling 4,000-acre freehold tract in Seksyen U13, Shah Alam, Seri Pinang is one of six parcels that make up the affordable housing enclave in Precincts 15 and 17, which has been rebranded the Urban Core in Setia Alam North.
"Seri Pinang is strategically located on the northern side of the township, namely in Precinct 17. In its immediate vicinity are Setia Taipan 1 and Setia Taipan 2 commercial centres, the urban park, wetlands park and forest reserve," says Tan.
Other amenities nearby include Setia City Mall, Setia City Convention Centre, Setia City Convention Centre 2, offices, petrol kiosks, neighbourhood shops, hypermarkets, and local and international schools such as SJK (C) Pin Hwa, SJK (Tamil) North Hummock, SK Bandar Setia Alam, SMK Setia Alam, Sri Tenby private school, Tenby International School, Idrissi International School and the Peninsula International School.
Setia Alam is easily accessible via the NKVE-Setia Alam Link as well as Jalan Meru, Federal Highway, New North Klang Straits Bypass Expressway and Lebuhraya Shah Alam (Kesas). The residential and commercial township has a GDV of RM20 billion and is about 80% completed.
"We have about 20% of landbank left to be developed in Setia Alam. The remaining 20% will be for the linkhouses, and a few parcels allocated for commercial and Rumah Selangorku. Seri Pinang is the final product of the low-medium-cost apartments of that price range," says Tan.
"Our primary goal for Seri Pinang was to create value for the homebuyers. Their investment is not just in a home, but also a lifestyle and future. We designed it in a way as far removed as possible from the mediocrity usually associated with the term 'mass affordable housing', by introducing and enhancing quality-of-life design elements as much as the budget permitted."