This article first appeared in The Edge Malaysia Weekly, on April 17, 2017 - April 23, 2017.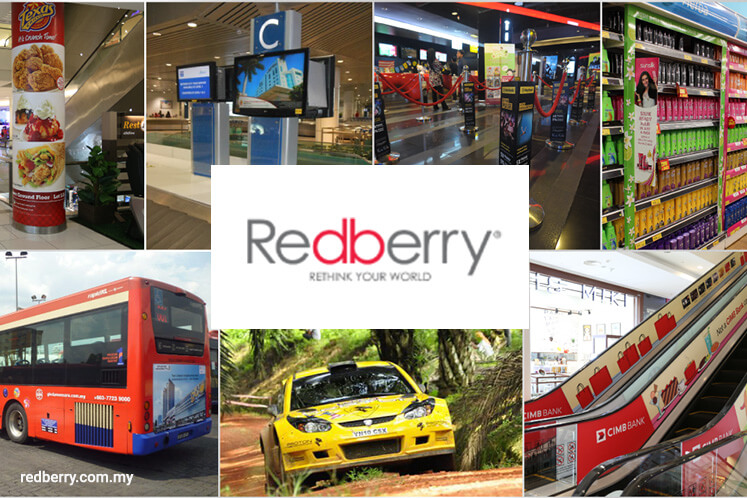 MEDIA advertising outfit Redberry Sdn Bhd, a wholly-owned unit of Ancom Bhd, could be injected into Ancom Logistics Bhd (ALB) as part of a group-wide restructuring exercise, sources familiar with the matter tell The Edge.
Redberry's assets include platforms such as airports, billboards along major highways, digital screens and buses plying major urban centres, as well as retail platforms such as cinemas, malls and hypermarkets. Redberry also has under its umbrella The Malay Mail — Malaysia's oldest English daily newspaper.
"Initially, the plan was to float Redberry's shares via an initial public offering, but it has now been tweaked and an injection into ALB is being looked at," says the source.
Details of the restructuring and the salient features of the injection of Redberry into ALB, which is essentially a reverse takeover, were not available at press time.
Ancom officials were not available for comment. Managing director Datuk Siew Ka Wei, who is also chairman of the Malaysian Tourism Promotion Board, is abroad.
ALB, in which Ancom has a 45.53% stake, has a logistics business and tank farm operations.
The only other substantial shareholder in ALB is Singaporean Lim Hock Heng, who resigned from the board in November 2015. It is not clear what Lim, who should be around 60 years of age, intends to do with his stake.
ALB has not been performing too well financially. For the six months ended November 2016, it suffered a net loss of RM1.17 million, from RM14.98 million in sales.
On its prospects, ALB says, "The economic climate remains uncertain amid oil price and currency volatility. The board is of the view that the financial performance and prospects of the group for the remaining of the financial year will be challenging. As a result, the board will continue to exercise caution in managing the business."
As at end-November last year, ALB had cash and bank balances of RM3.70 million and short- term deposits with licensed banks amounting to RM134,000. It also had short-term borrowings of RM131,000 and long-term debt commitments of RM494,000.
Trading volume on the stock has picked up over the last few weeks, nudging up the share price, which has gained more than 90% since end-October last year. ALB ended trading last Friday at 12 sen, giving it a market capitalisation of RM56.8 million.
A search on the Companies Commission of Malaysia (CCM) website shows that for its financial year ended May 2015, Redberry registered an after-tax loss of RM28.43 million from RM44.25 million in revenue. As at end-May 2015, it had current assets of RM10.82 million and non-current assets of RM10.06 million. The other side of the balance sheet showed short-term debt commitments of RM123.97 million and no long-term borrowings.
As at end-May, Redberry had negative reserves of RM47.09 million.
While its financials for FY2015 may seem paltry, Redberry's numbers are likely to get a shot in the arm, thanks to an advertising concession from Mass Rapid Transit Corp Sdn Bhd (MRT).
In September last year, Redberry's 51% unit, Titanium Compass Sdn Bhd, was awarded the station and train advertising for the MRT Sungai Buloh–Kajang Line (MRT1) on an exclusive basis for 10 years.
This involves advertising for a track length of 51km, 31 stations and 58 trains, with the first phase commencing commercial operation at end-2016, and the whole system by mid-2017.
Ancom, for its six months ended November 2016, made a net profit of RM1.56 million from RM759.90 million in revenue. As at end-November last year, it had cash and cash equivalents of RM109.91 million, long-term borrowings of RM36.29 million and short-term debt commitments of RM211.78 million.
The notes that accompany its financials revealed that for the six months in review, Redberry posted a segmental profit of RM1.2 million, from RM52.2 million in revenue.
Ancom's stock has gained more than 60% year to date. It hit its 52-week high of 55.5 sen last Thursday, and closed last Friday at 52 sen, giving it a market capitalisation of RM111.9 million.
However, the gains at Ancom can be attributed to share buybacks. It has been buying back its own stock, and as at Feb 20, had acquired 3.78 million of its own shares, held as treasury shares.
Diversified Ancom is the vehicle of businessman Siew, who has 20.22% equity interest.
Pacific & Orient Bhd is a substantial shareholder, with a 19.73% stake. Chan Thye Seng, who controls more than 60% of Pacific & Orient, is a director of Ancom.
Ancom's activities include the manufacturing and marketing of herbicides, pesticides and fungicides, manufacturing of chemicals, plastics and polymers, and logistics and warehousing, apart from Redberry's media and advertising business.