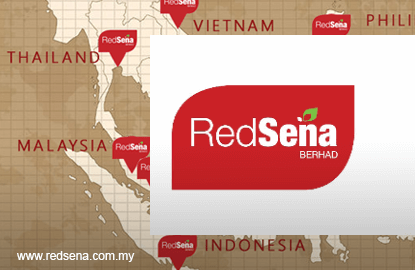 KUALA LUMPUR (Feb 14): Red Sena Bhd has yet to identify an asset to acquire for its qualifying acquisition (QA), said its business development director Ian Yoong Kah Yin.
The food and beverage (F&B) special purpose acquisition company (SPAC) has up to December 2018 to complete its QA.
Yoong said the SPAC has identified as many as 50 potential F&B companies so far and the board is confident of securing a QA within the next 12 months.
"Although the company is focused on (seeking its QA in) the Malaysian market, we also view Vietnam as an attractive destination due to its high growth potential (in the F&B sector)," he told reporters after the group's annual general meeting (AGM) today.
Yoong said F&B companies in Thailand and Indonesia are also viewed as acquisition targets while the group has yet to approach companies in the Philippines.
As the general F&B sector has seen profits peak in 2015 and 2016, there is likely to be more willing sellers looking to divest their stakes in companies, he added.
"Until a conditional sale and purchase agreement has been signed, we cannot disclose anything," Yoong said, adding that Red Sena has signed a number of non-disclosure agreements with a few parties already.
He noted that Red Sena's target acquisitions should generate a net profit of more than RM10 million per year.
Nevertheless, Red Sena corporate finance manager Johnny Tan Eng Gooi said the number of companies it deems a potential acquisition target changes as "discussions and screening are on an ongoing basis".
Listed on Dec 10, 2015, Red Sena's initial public offering raised RM400 million, 92% (RM368 million) of which is placed in a cash trust account to acquire operating companies or assets in the branded packaged F&B business.
Red Sena shares closed the morning session 0.5 sen or 1.14% lower at 43.5 sen, with 550,000 shares traded, for a market capitalisation of RM435 million.