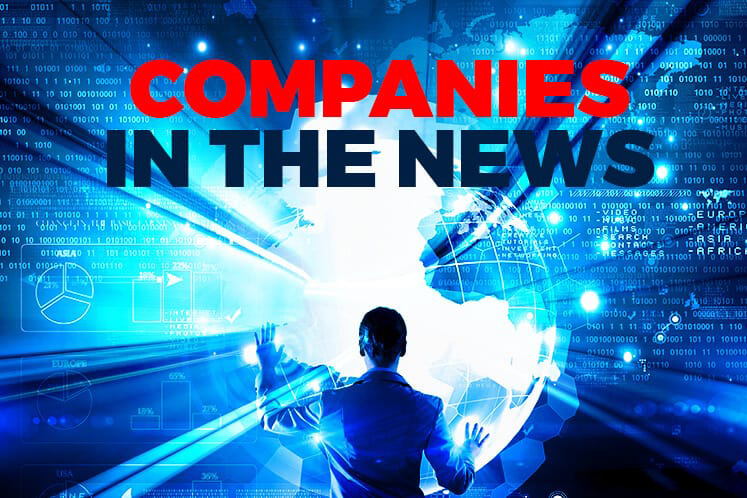 KUALA LUMPUR (Feb 6): Based on corporate announcements and newsflow today, companies in the spotlight tomorrow (Feb 7) may include: Red Sena, Hartalega, F&N, Talam Transform, Gadang, Sunway REIT, PJBumi, Ni Hsin and Eita Resources.
Canadian institutional investor British Columbia Investment Management Corp has emerged as a substantial shareholder of Red Sena Bhd, a special purpose acquisition company or SPAC looking to buy assets in the processed food and beverage industry.
According to Red Sena, British Columbia Investment Management now has a direct 6.89% stake in the company representing 68.94 million shares.
It emerged as a substantial shareholder after acquiring 148,400 shares from the open market on Jan 22, which brought its share tally then to some 49.98 million shares.
Then it topped up its stake via three further acquisitions: it bought 5 million shares on Jan 23, 7.84 million shares on Jan 24, and 6.12 million shares on Jan 25.
Synthetic glove maker Hartalega Holdings Bhd today announced a 70.7% year-on-year jump in quarterly net profit, together with a 4 sen interim dividend payout, and a proposed bonus issue on the basis of one bonus share for every one existing share held.
The four sen payout is the second interim dividend for the financial year ending March 31, 2018 (FY18), and is payable on March 28.
Its net profit rose to RM113.02 million in the third quarter ended Dec 31, 2017 (3QFY18) from RM66.23 million a year ago, driven by higher sales and improvement in production capacity, as well as lower costs due to improved operational efficiencies.
Quarterly revenue was up 32.2% y-o-y to RM603.14 million from RM456.29 million, due to a 36.2% rise in sales volume.
Fraser and Neave Holdings Bhd (F&N)'s net profit for the first quarter ended Dec 31, 2017 (1QFY18) falls 16% year-on-year (y-o-y) to RM106.83 million from RM127.28 million, mainly due to higher input costs in both its Malaysian and Thai operations.
Quarterly revenue shrank 2% y-o-y to RM1.07 billion from RM1.09 billion. Quarterly earnings per share shrank to 29.2 sen from 34.8 sen in 1QFY17.
F&N said its Malaysian food and beverage segment's operating profit fell — excluding a one-off item — 40%, because of the higher input costs which it said should ease from 2Q onwards, and lower volume. The decline was partly offset by operational cost savings and lower overheads.
Property developer Talam Transform Bhd has scrapped its plan to sell its 85% stake in its Chinese unit that is involved in hotel operations and management in Jilin Province, China.
The termination was due to the failure of the purchaser to obtain approval from Jilin's Trade and Industry Bureau on the proposed deal.
Talam's indirect wholly-owned subsidiary Malim Enterprise (HK) Ltd has inked a termination agreement with the purchaser — Jilin Province Zhuo Yue Investment Co Ltd to mutually and amicably terminate the share sale agreement, dated Jan 5, 2017.
If the deal had gone through, Malim Enterprise would have sold its its 85% stake in Jilin Province Maxcourt Hotel Ltd (JPMH), which is principally involved in the operation and management of the now defunct Maxcourt Hotel, for RMB84.66 million.
Gadang Holdings Bhd is acquiring two parcels of freehold land totalling 78 acres in Pontian, Johor from GP Views Development Sdn Bhd — a private company owned by Tropicana Corp Bhd founder Tan Sri Danny Tan Chee Sing and his family — for RM149 million cash.
Gadang's indirect wholly-owned subsidiary Splendid Pavilion Sdn Bhd today entered into a conditional sale and purchase agreement with GP Views for the proposed acquisition.
The group will fund the proposed deal via a combination of internal funds and/or bank borrowings, it said.
Sunway Real Estate Investment Trust (Sunway REIT)'s net property income (NPI) grew 10% year-on-year to RM103.37 million for the second quarter ended Dec 31, 2017 (2QFY18) on higher revenue mainly from its hotel segment.
Quarterly revenue increased 11.5% to RM141.47 million from RM126.88 million. The group has proposed an income distribution per unit (DPU) for 2QFY18 of 2.38 sen, payable on March 8.
The REIT reported NPI growth of 12.7% y-o-y for the first half of FY18, while revenue increased 10.5% y-o-y.
The Inland Revenue Board (IRB) has served a winding-up petition on PJBumi Bhd's wholly-owned subsidiary, PJBumi Composites Sdn Bhd (PJBC), over unpaid income tax.
PJBumi said the claim was for the outstanding income tax from 1998 to 2004, with the IRB claiming RM2.08 million in accrued balance as at Aug 21, 2017.
"An interest will be charged at 4% per annum from the date of judgement until full settlement and cost of RM6,563," the engineering and construction group said today.
PJBumi said PJBC had negotiated with IRB on a monthly instalment basis since 2014 and continued with the instalment payment until early 2017 due to weak cashflow.
Ni Hsin Resources Bhd has abandoned plans to fabricate and supply scaffolding, materials and accessories to Protection Rigging Access Services Sdn Bhd (PRA).
On Nov 2, 2017, Ni Hsin inked a Memorandum of Understanding (MoU) with PRA to undertake the proposed business. Ni Hsin said then the business, should it materialise, would contribute positively to the group's future earnings.
Today, Ni Hsin said the two companies have no intention to pursue any further negotiations with each other for the matter and mutually agreed that the MoU has since lapsed and ceased to have force and effect.
Elevator and busduct systems maker Eita Resources Bhd has bagged six contracts for the replacement of primary and ancillary equipment across the country worth an accumulated RM24.77 million from Tenaga Nasional Bhd (TNB).
The contracts were awarded to its 60%-owned unit Transsystem Continental Sdn Bhd, which received the letters of acceptance from TNB, the group informed in a stock exchange filing today.