This article first appeared in The Edge Financial Daily, on November 29, 2017.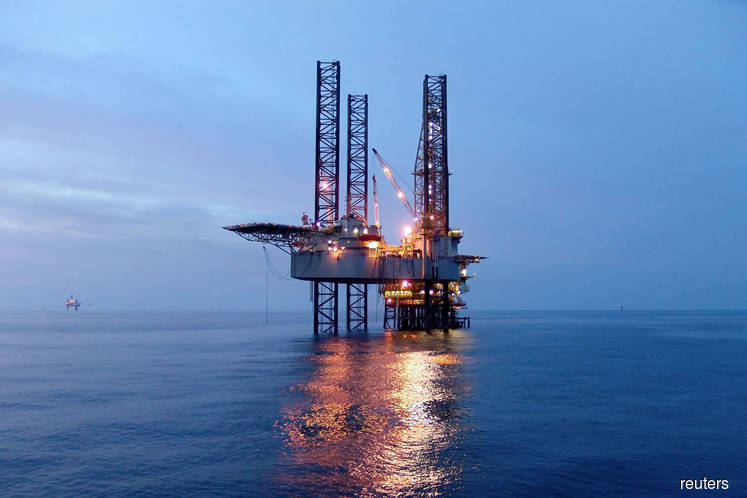 KUALA LUMPUR: UMW Oil & Gas Corp Bhd (UMW-OG), a stock that has fallen out of favour after the meltdown of crude prices in late 2014, beat estimates with its first-ever profitable quarter in two years in the third quarter ended Sept 30, 2017.
The performance brought fresh optimism about earnings recovery for other upstream players. But is the long wait finally over? Analysts are still sceptical, with no consistent work order flow in the local upstream segment with national oil firm Petroliam Nasional Bhd (Petronas) sticking to upstream capital expenditure (capex) cuts.
"The sector is at the crossroads. It looks like the recovery has started, but how strong and rapid will it be is what matters," Inter-Pacific Securities Sdn Bhd head of research Pong Teng Siew told The Edge Financial Daily.
"Until there is a definitive rise in work order flow or upstream capital expenditure by Petronas, profitability of upstream players operating locally will remain subdued," Pong said.
While a rise in capex is uncertain, UMW-OG did see the utilisation rate of its seven rigs increase to around 90% in the quarter under review. But that was hampered by low charter rates, which barely broke even for some of its rigs, said AmInvestment Bank analyst Alex Goh.
Despite the stabilising of oil price to date, the sum of contract awards by value to Malaysian oil and gas (O&G) players lagged in the first three quarters of 2017 — it is even lower compared with the first three quarters of 2016, when oil price slumped below US$40 per barrel, meaning the worst in the sector is not over yet.
"The utilisation rate cannot go much higher, and there are contracts expiring in this quarter," said Goh. "The risk is still high — it can easily go back into losses if no new contract is secured. The company has also warned of possible impairments in this quarter.
"Its performance does not necessarily reflect other players as they are at different stages of the value chain. But work visibility for upstream players in Malaysia is just not present at the moment," Goh added.
UOB Kay Hian analyst Kong Ho Meng shared a similar view. "Which is why I prefer companies that are internationally competitive players like Serba Dinamik Holdings Bhd," said Kong.
But that, too, is not always the case — Kong also cited Sapura Energy Bhd, which is a reputable international upstream contractor.
For its six-month period ended July 31, 2017 (1HFY18), the diversified O&G group's net profit contracted 74.6% to RM56.46 million, from RM222.58 million, while revenue declined 5.28% to RM3.43 billion from RM3.62 billion in 1HFY17.
"In this case, its earnings are still in a downgrade cycle due to declining rig utilisation and a significant gap in order book replenishment of about RM3 billion," he said. The same applies even after discounting the one-off financial impact from the cessation of the Berantai Risk Service Contract, which cost Sapura Energy RM52.76 million in the second quarter of financial year 2018.
Kong dismissed the recovering trend of oil price as a significant factor presently, amid the long gestation period before oil majors will again roll out capex, and subsequently, jobs.
For now, investors' money may be better off in other sectors. Analysts agree that O&G valuations are treading an all-time low — a fact that has prompted some to wonder if it can be taken advantage of.
"Definitely not for quick gains," said Inter-Pacific's Pong. "Relative to the earnings of counters with low valuation, it is still not enough to excite any significant trading opportunities. You need to be very, very patient."
Meanwhile, UOB's Kong advised investors to stick to earnings-based valuation when making investment decisions.
In the upstream segment, the research house has a "buy" call on floating production storage and offloading (FPSO) player Bumi Armada Bhd for its international exposure, and ahead of its earnings rerating upon the execution of two
FPSOs, Kraken and Olomendo, by the first quarter of 2018. "We also like Petronas Dagangan Bhd for its defensive nature in the low oil price environment," said Kong.
AmInvestment's Goh opined that a fruitful Opec meeting tomorrow to extend output cuts will help support oil prices at current levels, which may in turn strengthen the sentiment of sectoral recovery and upstream investment decisions by oil majors.
"But Petronas has already indicated its intention to spend more downstream, not upstream," said Goh. On that note, the house is sticking to Yinson Holdings Bhd for its visible revenue generating contracts, and Dialog Group Bhd amid the promising downstream prospects moving forward.