This article first appeared in The Edge Financial Daily, on March 17, 2020.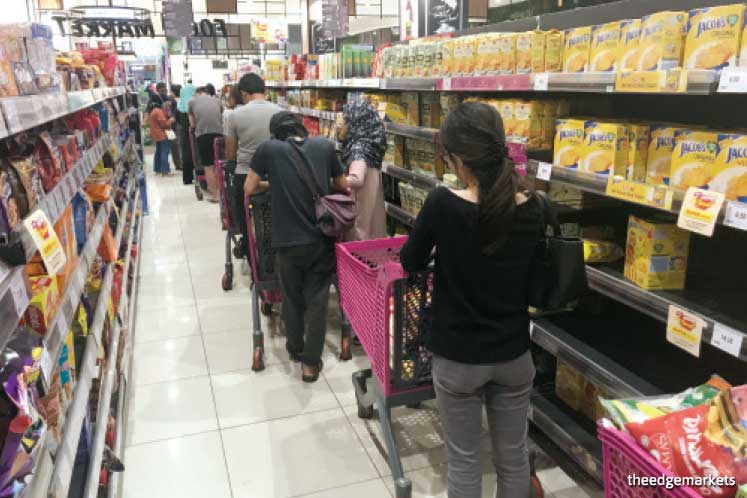 KUALA LUMPUR: Some grocery stores in the Klang Valley saw record sales over the weekend as Malaysians stocked up after the World Health Organization declared the Covid-19 viral outbreak a pandemic last Wednesday.
A spokesperson for 99 Speedmart Sdn Bhd said the outbreak has pushed not just its Klang Valley stores' sales past record high, but also its total store sales for Sarawak.
"Demand for cooking oil, sugar, salt, rice, toilet paper, canned food, instant noodles, cleaning detergent — all of it went up over the past two days," the spokesperson said.
When contacted, The Food Purveyor Sdn Bhd, which operates Village Grocer, Ben's Independent Grocer (Big) and Pasaraya OTK — altogether 30 stores — confirmed the situation.
The Food Purveyor group executive director Ivan Tan told The Edge Financial Daily that there appeared to have been some panic buying. "Yes, it is happening in every store of ours. We've been registering record sales every day since last Thursday. Suppliers were also caught by surprise. We are unable to cope with the sudden surge in demand," Tan said.
In particular, he said the Village Grocer outlets in Bangsar and Mont Kiara saw a major jump in sales.
As for the group's OTK hypermarkets, the Gombak and Sentul stores are experiencing some increases, but the situation at the Puchong store is almost the same as the Village Grocer and Big outlets, according to Tan.
Like at 99 Speedmart, items that have been flying off the shelves include toilet paper, canned food, instant noodles and frozen food, said Tan. Rice, flour, eggs, pasta and mushrooms are also selling fast, he said.
Local retailer Mydin Mohamed Holdings Bhd also reported that it has experienced panic buying at five outlets.
But its sales spike only started yesterday afternoon, Mydin's spokesperson said. Besides staple foodstuff, the sale of adult diapers also saw an increase both at the store and online, the spokesperson said.
"We have also continued to experience high demand for face masks and hand sanitiser. It is now a challenge to fulfil customers' demand for face masks. We still have hand sanitisers in stock but its sale has to be limited due to extremely high demand," the spokesperson added.
Tesco, when asked if its stores are also experiencing a jump in sales amid the viral outbreak, said: "We would like to assure our customers that we have sufficient stocks and [will] continue to replenish essential products in our stores so that customers are able to get what they need. We are working hard with our suppliers to maintain the supply of all key products such as food, water, toilet paper and soap."
Meanwhile, the spokesperson of Econsave said there had been a surge of buying activities across its stores yesterday. "This could be due to the viral information about a [possible]lockdown," the spokesperson said. "There is no need for customers to panic buy, because most of the staple groceries are sourced from Malaysia and there is no risk of running out. And based on what we have seen in countries where lockdowns have been implemented, all the supermarkets are still operating as usual — there is no shortage at all," the Econsave spokesperson added.