This article first appeared in The Edge Malaysia Weekly, on December 3, 2018 - December 09, 2018.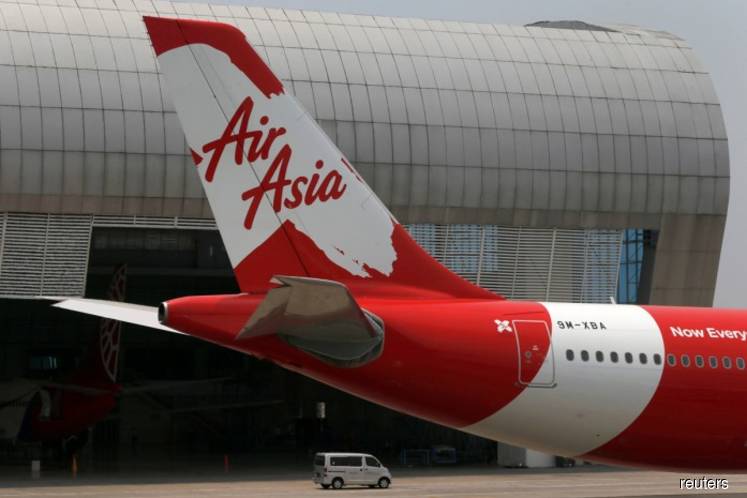 A record loss in the third quarter ended September is a clear indication that long-haul budget carrier AirAsia X Bhd is still being buffeted by a perfect storm of rising costs and stiff competition. Can the airline pass this acid test?
AirAsia X's net loss of RM197.47 million for the quarter was over four times that in the same period last year, while revenue slipped 4% year on year.
It is worth noting that the carrier's third-quarter (3Q) operating loss of RM202.5 million was the highest since its listing in July 2013. It burned through RM163.41 million in cash, leaving a cash balance of RM265.57 million as at Sept 30 — the lowest in 2½ years.
AirAsia X attributed the losses to rising jet fuel prices, which rose 40% to US$91 per barrel from US$65 a year earlier. The cost increase, while slightly mitigated by a strengthening ringgit, pushed its 3Q cost per available seat kilometre (CASK) up 12% year on year to 14.62 sen.
In comparison, its revenue per available seat kilometre (RASK) fell 1% y-o-y to 12.25 sen. This means its RASK has been below CASK for two straight financial quarters, and four out of the last six quarters.
To be fair, the second and third quarters are traditionally the weakest for the airline. That said, in 2016, it was profitable in both quarters as fuel prices were comparatively lower.
The immediate question is how much financial stamina can it summon if the turbulence continues. Analysts are divided on whether the carrier needs a cash infusion. It is important to note that AirAsia X recently took delivery of one new plane with another four expected by year end, which would bump up its total fleet to 36.
Theoretically, the five aircraft could be used in a sale-and-leaseback transaction to unlock cash as all other AirAsia X planes are already under similar arrangements. Gauging how much cash could be released via the five aircraft is difficult, but one industry executive  expects it would be no less than RM650 million.
But even such a cash infusion would only be buying time as the carrier faces headwinds beyond its control. AirAsia X remains at the mercy of market factors, such as jet fuel prices, that it can only respond to for now.
The volatility of jet fuel prices is a fact of life for the industry. Some airlines dance with surging fuel costs by imposing fuel surcharges. But AirAsia group as a whole has no such plans, declared AirAsia group CEO Tan Sri Tony Fernandes in September. That removes one avenue for AirAsia X to mitigate rising jet fuel prices, given the price sensitivity of its target market.
In addition to jet fuel prices, foreign exchange volatility is a constant problem for AirAsia X, given that its borrowings are mainly denominated in US dollars, but its revenue is not.
In theory, AirAsia X could mitigate both factors permanently if it had a wide enough profit margin, as evidenced by how its sister airline, AirAsia Bhd, has been able to roll with fluctuating jet fuel prices while maintaining profitability this year.
However, exacerbating the situation for AirAsia X is the stiff competition in a difficult Malaysian market, which puts heavy pressure on margins.
Its average base fare for the third quarter was RM473, the lowest 3Q figure in four years. Given the stable load factors AirAsia X is maintaining, charging lower fares would hurt yields.
It is also interesting to note that none of the long-haul players based in Malaysia are in the black at the moment.
National carrier Malaysia Airlines Bhd remains in the red more than halfway through its five-year, RM6 billion turnaround programme. It has already missed two deadlines to return to profitability owing to fuel and forex factors. Achieving the latest deadline of mid-2019 will be "tough", CEO Captain Izham Ismail told The Edge in September.
Malindo Airways Sdn Bhd posted a net loss of RM499.28 million last year and only expects its first profit in 2021.
Last Friday, AirAsia X's share price closed at 21 sen for a market capitalisation of RM871.11 million. It has lost 40% over the past year. Its lowest closing price since listing was on Aug 26, 2015, when it ended the trading session at 15 sen. In the intervening period, it rose to a peak of 53.5 sen on May 23, 2017, but has since been on a downward trend.
Only one out of 10 analysts tracking the stock has a "buy" call, with a 29 sen target price. Six peg the counter at "neutral" or "hold" and three rate it a "sell", with target prices ranging from 12 sen to 20 sen.
Some analysts believe AirAsia X will do fine without an immediate cash infusion amid expectations that fuel prices will weaken again. One analyst also noted that the airline does not have major capital expenditure requirements, so, recovering market conditions will naturally replenish its coffers.
In the long term, however, the real challenge for AirAsia X in the competitive Malaysian market is to come out ahead by raising fares and widening its margins.
Save by subscribing to us for your print and/or digital copy.
P/S: The Edge is also available on Apple's AppStore and Androids' Google Play.