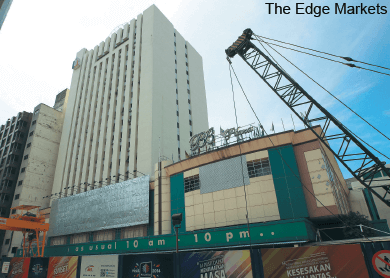 THREE years after talk emerged that Bukit Bintang Plaza in Kuala Lumpur will be demolished for redevelopment, the proposal appears to be finally getting off the ground via a 70:30 partnership between Tan Sri Syed Mokhtar Albukhary's Tradewinds Corp Sdn Bhd and Ministry of Finance-owned UDA Holdings Bhd.
Their joint-venture company — Zurah Ventures Sdn Bhd — will tear down the 18-storey building that was constructed in the 1970s at the intersection of Jalan Sultan Ismail and Jalan Bukit Bintang in Kuala Lumpur and erect in its place a 56-storey structure that will feature a 12-storey retail podium with duplexes and penthouses atop it.
However, even as the plan for the brand-new building is in motion, BB Plaza has to resolve some issues with the tenants of Sungei Wang Plaza. Anyone who has visited either mall will know that they "share" an invisible wall that both separates and connects them. In fact, to park in Sungei Wang Plaza, one has to go through BB Plaza.
The Edge understands that a contract between Sungei Wang and BB Plaza that was signed years ago gives the former the right of way through BB Plaza. "If BB Plaza is torn down, this right of way will be removed," says a source. "The solution would be for the right of way to be reinstated after the redevelopment."
Tradewinds group CEO Shaharul Farez Hassan did not respond to calls or messages from The Edge.
Sungei Wang Plaza is a stratified mall in which CapitaMalls Malaysia REIT owns 205 parcels, representing 61.9% of the aggregate retail floor area, and all the parking space. The mall also has 600 other lots owned by individuals. Global real estate consultant Knight Frank Malaysia acts as the property manager for Sungei Wang Plaza and represents all its owners.
When contacted, Knight Frank managing director Sarkunan Subramaniam says, "Negotiations are ongoing. We are confident that a good and reasonable settlement will be reached by the two parties." He adds that it makes sense for the retail sections of the two shopping centres to be connected because that would enhance their value and add vibrancy to the area.
UDA chairman Datuk Johari Abdul Ghani was previously quoted as saying that the redeveloped site will offer luxury condominiums with a gross development value (GDV) of RM3 billion. The Edge understands that the land area occupied by BB Plaza is 96,585 sq ft. So, a GDV of RM3 billion means Zurah Ventures is possibly hoping to obtain approval for a very high plot ratio of even 14 or has fixed a very high price per sq ft for its homes and retail space.
On April 23, the JV submitted its initial development proposal to Dewan Bandaraya Kuala Lumpur for approval. Documents sighted by The Edge indicate that the new building will comprise 44 floors of accommodation — 396 serviced apartments, six duplexes and
11 penthouses — that will sit on a 12-storey podium. The ground to the 9th floors will offer retail and parking space while one floor may be dedicated to restaurants. Additionally, there will be six basement floors — three for retail and three for underground parking.
A Companies Commission of Malaysia search shows that Zurah Ventures was set up last November with an issued and paid-up capital of RM1 million. The company's nature of business is described as "apartment hotels: development of building projects for own operation, i.e. for renting of space in this building, buying, selling, renting and operating of self-owned or leased real estate land".
The directors of the company are Shaharul and Arief Nasran Abdul Wahab, who is also Tradewinds Corp chief operating officer. The duo are also listed as the shareholders of Zurah Ventures with a share each. The remaining shares are owned by Zurah Permai Sdn Bhd, which was set up in November 2012. It has an issued and paid-up capital of RM10 million and is owned 70:30 by Tradewinds Corp and UDA. Shaharul and Arief are also directors of this company, the others being Mohamed Marzuk Mohamed Basir and Tan Sri Megat Najmuddin Megat Khas. Two other individuals — Raza Azmi Raza Nazuddin and Tengku Badariah Tengku Ismail Shah — are alternate directors of the company.
In the meantime, the market is eager to know who will operate the luxury accommodation. Based on past records, Tradewinds has hired international hotel operators, such as Hilton and Intercontinental Hotels Group, before and itself operates hotels such as The Danna and Hotel Istana. It is also not known if Zurah Ventures will hire a mall operator for the retail portion or if UDA will handle the management of the mall.
This is not the only redevelopment that is being undertaken in and around the Bukit Bintang area over the past 10 years. Apart from Pavilion Kuala Lumpur (opened in 2007), which took over the site of the Bukit Bintang Girls School, KL Plaza has also undergone a makeover and morphed into what it is known as today — Fahrenheit 88 (opened in 2010).
The then Regent Hotel is now the Grand Millennium Kuala Lumpur while office building Wisma KLIH has become The Wolo Bukit Bintang after some extensive renovations.
This article first appeared in The Edge Malaysia Weekly, on May 11 - 17, 2015.