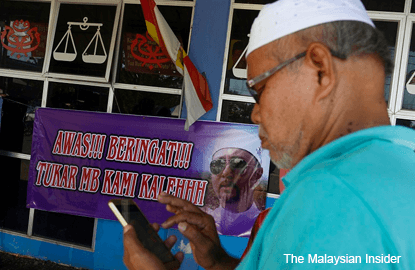 KUALA LUMPUR (Feb 12): A group of Umno grassroots leaders unhappy with party president Datuk Seri Najib Razak are ramping up efforts to lobby for his resignation by pressuring branches to submit a motion urging him to step down and for elections to be held immediately.
The Coalition of Umno Branch Chiefs Malaysia (GKCM) intends to do this when Umno branches across the country hold their meetings next month.
"GKCM will lobby the branch meetings beginning this March to submit the motion on Najib's resignation and that party elections be held," said GKCM vice-president Rushdan Mohamed.
"GKCM is targeting 20 to 30 branches per division to raise the motion. Once enough branches do it, we hope it will reach the division level and be debated."
Rushdan did not deny that Najib was gaining power by the day, but said they would not give up on removing him.
GKCM has gone on numerous roadshows nationwide to garner support and was even in Kedah at the height of the menteri besar tussle, he said.
The political strife in Kedah allowed them to touch base with the Umno grassroots leaders there, said Rushdan.
"What I can say is that most of the people and Umno do not want Najib to remain as the leader."
GKCM chairman Kamarulazman Habibur Rahman said while Najib has strengthened his position, he would not find it easy to remain in power.
"No matter what he does to consolidate his position, Najib will find that the people surrounding him are not very loyal to him.
"They only care about their own interests — just like the mercenaries who fled Malacca when the government was under attack by the Portuguese in 1511," he said.
The political struggle in Kedah saw another of Najib's critics, Datuk Seri Mukhriz Mahathir, stripped of power, following the dropping of Tan Sri Muhyiddin Yassin and Datuk Seri Mohd Shafie Apdal from the Cabinet last July.
Mukhriz resigned as Kedah menteri besar on Feb 3, two weeks after Umno division leaders said they had lost confidence in him.
The son of former prime minister Tun Dr Mahathir Mohamad said he was removed because he was critical of 1Malaysia Development Bhd (1MDB) and the RM2.6 billion transferred into Najib's accounts.
Kedah's Jalan Badlishah Umno branch chief Anuar Abdul Hamid said the grassroots would continue to fight to save the party from Najib.
"We have to save Umno, the fate of the party is in the hands of the grassroots.
"Najib will do anything to save his own skin. The country could go to the dogs and burn, and Najib wouldn't care," said Anuar.
Meanwhile, several branches are left paralysed after their leaders resigned in protest over the leadership.
Former Keliang Umno Youth chief Moohamad Faizal Abdul Raub said many branches in his area could no longer operate as the wings leaders resigned en masse recently.
"In my area, the Youth branches have all resigned. Only the leaders of the branches and the women's wings remain.
"The Youth are completely wiped out, they aren't operating any more at the branch level."
Last year was challenging for Najib as he weathered scandals, such as 1MDB and the RM2.6 billion donation, as well as an internal revolt spearheaded by Dr Mahathir.
But his rivals were eliminated one by one, and the prime minister ended the year on a high note, with the Umno annual general assembly pledging their support for their president and calling for an end to the attacks against him.
The new year has seen Najib consolidate his power further with Mukhriz's removal and the attorney-general's declaration that investigations into the prime minister were closed.