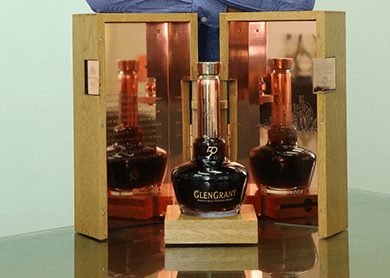 CHEK's advice on selecting whiskies is firstly to like the product you are buying. From the perspective of a drinker, he says, taste is important. But if you are just an investor, it doesn't matter as much."
Secondly, he recommends investors look for names people are familiar with, such as Scottish distillers Glenfiddich, Glenlivet and Macallan, which are the top producers of single malt whiskies.
Investors who are new to the market can also rely on whisky indices as a benchmark. While popularity indices can be consumer-driven, the Whisky Highland Index by single malt scotch valuation firm Whisky Highland bases its rankings on auction values (which it organises or from events around the world).
"However, every whisky critic will have his own opinion on what the top 10 single malt whiskies are in the world," he says.
 Chek observes that the curent trend is for people to invest in single malt whiskies, and reports a good build-up in the local market over the last decade. "The Malaysian collectors I have come across aren't just from Kuala Lumpur, they are also from Ipoh, Kuantan and Johor Baru. We also see the number of brands here increasing, especially with competitions and awards like The World Whisky Awards."
The World Whisky Awards is an annual event held by TheDrinksReport.com, an online resource for drink professionals. Launched in 2007, it promotes the best whiskies to consumers and traders worldwide.
Looking at the global market of whisky collectors, Chek notes that the Asian market is more enthusiastic about collecting than those in the West, with demand coming from Taiwan, Singapore and Hong Kong.
"The landscape has changed so much. In the past, whisky was only from Scotland. Now, you have brands from Japan, like Yamazaki, or from Taiwan such as Kavalan."
While the variety of whiskies is larger today, Whisky Highland still recommends sticking to the iconic distilleries to be safe, with limited and collector's editions as a good place to start. Its founder, Andy Simpson, says single-cask and smaller releases are the best and that cask-strength bottlings tend to appreciate more in value.
"Don't buy a bunch of standard 10, 12 or 15-year-old expressions and expect them to increase in value. Equally, some so-called 'limited editions' are actually released in massive quantities, so they don't tend to gain in value," he was quoted as saying in a news report.
"Stick with anything less than 10,000 bottles, but the fewer the better. Vintages from the 1960s and 1970s are incredibly valuable because there were so few single malt bottles released at the time. Anything pre-World War II will be tremendously valuable."
Chek says prices of renowned single malt whisky brands aged 25 years and above have increased at least 80% over the last four years. He finds that the Malaysian market is growing in sophistication and sees more people drinking whisky these days.
"In the past, only older men would drink whisky. Now, you see the younger generation and women drinking whisky at bars. People today know the difference between what is grown [in the] highlands or lowlands," he says.
Despite the country's growing thirst for whisky, the local market has yet to reach the maturity levels of places like New York and Hong Kong. There also aren't any auction houses in Malaysia for collectors to purchase or sell whisky. Malaysian investors usually buy and sell by networking in collectors' circles.
"Collectible whiskies are so rare, [they exist in only a] few hundred bottles so people don't usually sell them," says Chek. "If you want to buy from a reputable source, go to the principal company, which is the official distributor of the whisky brand in the country or region. Since there is a limited number of bottles, each bottle has a number so that you can track it."
Experts recommend buying two bottles of each whisky collected, one to drink and one for the investment portfolio. Chek says beginners can start their portfolio by picking up bottles in the 18 to 21-year range.
"There is another area of whisky investment — through a whisky fund (see box story), where they most likely buy into barrels and split the profits. Overall though, there are few risks investing in whisky. It shouldn't be an issue so long as you do your homework and know where your whisky comes from," he says.
"The 50-year-old single malt Glen Grant tells a good story. It was produced by its master distiller from start to finish and there are only 150 bottles worldwide. Right now, it costs RM56,888, and whiskies like this — in the five or six-digit price range — will only appreciate in value."
While Sunrise Wines & Spirits is a wholesale distributor, it is able to accommodate individual collectors. Whiskies for which it is the official distributor include the 50-year-old Glen Grant.
Chek expects the market for collectible whiskies to continue growing, especially as investors become more sophisticated. "The market and society are changing, especially the younger generation. They will be the driving force in commanding whisky volume."
The world's only whisky fund
An alternative way to invest in whisky is through the Platinum Whisky Investment Fund, the only investment fund of its kind in the world. Aimed at high net worth individuals, the fund buys and sells expensive whiskies and pays its investors dividends in cash.
Investors can also take about 10% of each dividend payment in the form of bottles of discounted rare whiskies from the portfolio. As the fund continuously buys and sells whiskies, it is considered an active trading fund as opposed to a long term "buy-and-hold" fund.
Set up by Hong Kong-based fine wines and spirits distributor Platinum Wines and managed out of Hong Kong, the fund started raising capital in March last year and was launched in June. The minimum subscription is US$250,000 and the portfolio carries more than 3,000 bottles of whisky, primarily from Scotland and Japan.
According to news reports, the majority of the fund focuses on single malt aged whiskies, but it also has a small collection of Japanese whiskies, Irish whiskies and American bourbon. In addition to renowned brands, such as Dalmore and Macallan, the fund targets "silent stills", which are from distilleries that closed in the 1980s, as well as rare vintages dating back to World War I.
This article first appeared in Personal Wealth, The Edge Malaysia Weekly, on May 4 - 10, 2015.