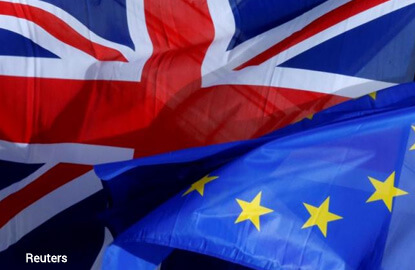 LONDON (Jan 17): Britain will leave the EU's single market when it exits the European Union, Prime Minister Theresa May said on Tuesday, putting an end to speculation that London might try to seek a "soft Brexit".
She said the government would put the final deal to a vote in both houses of parliament.
Following are some initial reactions to her speech.
FINNISH FINANCE MINISTER PETTERI ORPO, ON TWITTER
"Britain has laid out its plan for #brexit. Next, it is the job of #EU27 to find a common position. United we stand, divided we fall."
MARCEL FRATZSCHER, PRESIDENT OF GERMANY'S DIW ECONOMIC INSTITUTE
"Theresa May's promise to turn Britain into a 'global trading nation' after Brexit is an illusion, just like Donald Trump's promise to make America great again with the help of protectionist measures. May's compatriots need to prepare to be very disappointed. A 'hard Brexit' is the worst possible solution economically."
"With her announcement of a hard Brexit, Theresa May has set Great Britain's gradual economic decline in motion.
"Theresa May's announcement is a hidden threat to Europe and Germany that she will harm her European neighbours if they don't grant Britain any special treatment."
OPPOSITION LABOUR LEADER JEREMY CORBYN ON SKY NEWS
"She has said 'leave the single market' but at the same time said she wants to have access to the single market. I'm not sure how that's going to go down in Europe ... She seems to be wanting to have her cake and eat it."
IAN GUNNER, CURRENCY FUND MANAGER AT HEDGE FUND ALTANA, LONDON
"Some people will say this is a hard Brexit, however she wants to dress it up, and there will be criticisms from various politicians. But it's a clean Brexit, and that's the most important thing ... I think to start with a clean slate is a lot more constructive for both sides."
FRANCES O'GRADY, LEADER OF BRITAIN'S TRADES UNION CONGRESS
"Working people are worried they will end up paying the price of leaving the single market. There is real concern that it will be bad for jobs, bad for rights at work and bad for the living standards of British people."
UNILEVER CEO PAUL POLMAN
"What we need to do is make sure that we don't shoot ourselves in the foot and we have a solution that is good for the UK, good for Europe and ultimately good for the long term.
"My opinion unfortunately was different but that doesn't mean that we are not 100 percent focused now on trying to reduce the damage as much as possible."
GERMAN FOREIGN MINISTER FRANK-WALTER STEINMEIER
"We welcome that the British prime minister is today outlining her government's ideas for leaving and has finally created a little more clarity about the British plans. She has underlined that Great Britain is striving for a positive and constructive partnership, a friendship, with a strong EU. That is good.
"We too want the best, closest and most trusting relationship and wish for constructive negotiations with this goal. But our line is, and remains: the negotiations can begin only when Great Britain has given official notification of its desire to leave."
CZECH SECRETARY OF STATE FOR EU AFFAIRS TOMAS PROUZA, ON TWITTER
"Thorough speech by @theresa_may. At least now we know what UK wants #HardBrexit"
"UK's plan seems a bit ambitious - trade as free as possible, full control on immigration ... where is the give for all the take?"
FORMER SWEDISH FOREIGN MINISTER AND PRIME MINISTER CARL BILDT, ON TWITTER
"I regret the approach the UK government has taken. I think most of the EU would have preferred a closer relationship with the UK.
"Theresa May speech indicates that UK is seeking something slightly less than the Ukraine DCFTA (Deep and Comprehensive Free Trade Agreement) agreement with the EU. A retreat from Europe."
IRISH GOVERNMENT STATEMENT
"She made clear that her priorities include maintaining the common travel area and avoiding a return to a hard border with Northern Ireland, both of which are welcome...
"The Government notes that the British approach is now firmly that of a country which will have left the EU but which seeks to negotiate a new, close relationship with it. While this will inevitably be seen by many as a 'hard exit', the analysis across Government has covered all possible models for the future UK relationship with the EU.
"The Government is under no illusion about the nature and scale of the Brexit challenge. The Government is acutely aware of the potential risks and challenges for the Irish economy and will remain fully engaged on this aspect as the negotiations proceed.
"The Government is also very aware of the potential economic opportunities that may arise for Ireland, including in terms of mobile investment. Economic opportunities for Ireland will be pursued vigorously."
JAWAID AFSAR, SENIOR TRADER AT SECUREQUITY, UK
"The speech has given some direction, but the real test will come when Article 50 is triggered. Stay tuned for a bumpy Brexit ride."
SUNIL MITTAL, INDIAN BILLIONAIRE AND FOUNDER AND CHAIRMAN OF BHARTI ENTERPRISES, OWNS SEVERAL HOTELS IN BRITAIN
"India and the UK have been trying to do a lot of things together and I have been wishing and hoping for this to happen ... but we have been prevented from (doing a trade deal) by the UK being part of the EU.
"That's done, it is separate now ... and I am optimistic."
NAEEM ASLAM, CHIEF MARKET ANALYST, THINK MARKETS UK LTD
"Theresa May has shown today that she has no interest in staying in the EU and she wants to develop a completely new relationship. She is ostensibly optimistic, but not sure if investors are willing to buy her optimism, as you can see this clearly today by looking at the markets...
"The currency advanced as she said that the final deal will be in the parliament to vote. She has asked a lot from her EU partners in relation to have an access to the single market and pay a little fee. The ball is in their court."