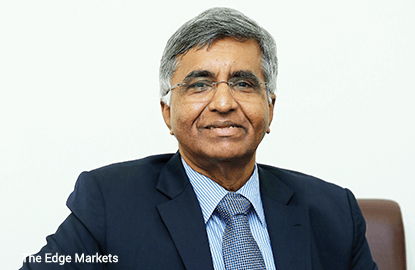 This article first appeared in The Edge Financial Daily, on March 14, 2016.
KUALA LUMPUR: Reach Energy Bhd's managing director (MD) Shahul Hamid Mohd Ismail foresees a bumpy journey ahead for the special-purpose acquisition company (SPAC) to secure its qualifying acquisition (QA).
It is not so much about obtaining the approval from the Securities Commission Malaysia (SC). "I am more worried about investors having a mental block as a result of some of the unfortunate things," he told The Edge Financial Daily in an interview.
News that CLIQ failed to obtain the SC's approval by the deadline has clouded the perception of the SPACs listed on Bursa Malaysia. The SC returned CLIQ's application as the regulator said it was not able to proceed with its review because the required information and documents were not available.
Sona Petroleum Bhd, meanwhile, has halved the proposed acquisition price of its QA to US$25 million (RM101.75 million) after the SC granted its approval, albeit noting that the purchase price was not fair at US$50 million.
That said, the management of Reach Energy is not giving up at all. According to Shahul Hamid, the SPAC aims to secure its QA by the third quarter this year.
Early this month, Reach Energy proposed to acquire a 60% stake in Netherlands-based Palaeontol BV that wholly owns Emir-Oil Fields in Kazakhstan for US$154.9 million from MIE Holdings Corp (MIEH).
The purchase consideration is equivalent to 84% of the RM750 million proceeds the SPAC raised from its initial public offering.
Palaeontol BV is wholly-owned by Palaeontol Coöperatief UA, which in turn is a wholly owned unit of Hong Kong-listed MIEH.
Reach Energy, said Shahul Hamid, has spent about four to five months to screen 40 candidates for QA.
RPS Energy Consultants Ltd, the independent technical and asset valuation expert appointed by Reach Energy, estimated the indicative gross proved plus probable (2P) reserves of the producing fields and development fields in the block at around 72.1 million stock tank barrels (MMstb) of oil and 102.4 billion standard cu ft (Bscf) of gas as at Jan 1, 2016.
The net 2P reserves attributable to Reach Energy upon completion of the proposed acquisition are around 43.3 MMstb of oil and 61.4 Bscf of gas, equivalent to total net 2P reserves due to Reach Energy of 53.5 million barrels of oil.
Shahul Hamid stressed that the oil asset is already yielding. "It's already [been] generating revenue over the last several years. So we are actually getting into an asset that is producing revenue," he said.
On the valuation of the oil asset, Shahul Hamid said the price is fair and competitive. It is getting the asset with US$3.4/2P barrel, lower than consensus US$6/2P barrel.
Reach Energy will be submitting documents and seeking approval from the SC in the next two months, according to Shahul Hamid.
"I think we all need to be given sufficient time to prove ourselves and each SPAC should be looked at in its own right. I don't want to make any comparison," Shahul Hamid commented when asked about CLIQ's experience.
Listed in August 2014 as the fourth SPAC, Reach Energy has 17 months to go before its three-year deadline for QA.
On oil price movement, Shahul Hamid said he is not concerned about the oil glut in the current market and believes that oil prices have reached the bottom. "It will go back up to US$70 to US$80 a barrel in the next few years ... The timing [of acquiring] is just right."
"We pick up an asset when oil prices are really at rock bottom and then you look forward to increasing its value when prices go up," he added.
As at Dec 31, 2015, 16 wells out of the existing 48 wells were producing. They have contributed about 70% of the total daily production of the Emir-Oil Fields, according to Reach Energy's announcement to Bursa.
Shahul Hamid added that the vendor has spent about US$150 million to upgrade the facilities to process crude oil. "That project is about 80% completed now and will be done by the end of the year ... There is very little capex (capital expenditure) that we need [going forward]."
With its licence expiring in 2036, he said Emir-Oil is at the prime of its youth currently.