This article first appeared in The Edge Financial Daily, on October 30, 2019.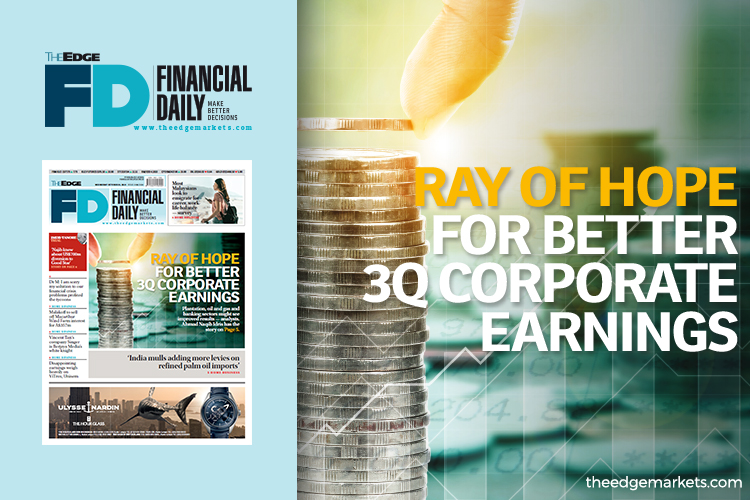 KUALA LUMPUR: In contrast to a dimming global economic outlook, some equity strategists are hopeful  of improvements in corporate earnings for the coming results season.
However, others have reservations considering earnings performance has been disappointing since last year. Further, the US-China trade tension is expected to put a brake on export-oriented companies' earnings growth.
CGS-CIMB head of research Ivy Ng Lee Fang is among those with hope.
She expects better earnings quarter-on-quarter (q-o-q) from plantation companies although the numbers may not be greatyear-on-year (y-o-y).
"We expect planters' earnings to improve q-o-q due to higher production and prices. However, y-o-y, we expect earnings to be weaker due to relatively lower prices, especially for palm kernel, down 35%, offsetting a 9% y-o-y improvement in production," she told The Edge Financial Daily.
Ng noted the third quarter (3Q) of the year is usually positive for the plantation sector, translating into better top-line numbers.
However, she said other sectors such as technology may not see much improvement, taking a hint at the weak results announced by two players recently.
"You can already see some of the companies were affected by weaker sales numbers and the trade war in the third quarter," Ng said.
Yesterday, Globetronics Technology Bhd joined the earnings downtrend announcing a 20% drop in net profit for the third quarter ended Sept 30, following ViTrox Corp Bhd and Unisem (M) Bhd (see stories on Page 8).
However, Kenanga Investment Bank head of research Koh Huat Soon said the results from semiconductor companies — ViTrox Corp Bhd and Unisem (M) Bhd — are not reflective of the sector's performance as a whole in 3Q.
"Yes, the external environment is still a bit weak but we see signs of improvements. Unisem's results are disappointing but they were due to severance payments that  it had to make, affecting its bottom line. This is a one-off event," Koh said.
He pointed out Unisem still sees q-o-q growth in revenue, up 1.4% at RM316.32 million, indicating sequential improvements in demand.
Koh said semiconductor demand is expected to improve in 4Q, driven by a recovery in Europe and China car sales, coupled with smartphone launches in the US.
Overall, Koh said, corporate earnings in general will do better in the second half of the year, compared with the first half.
Kenanga is forecasting average earnings per share of FBM KLCI component stocks to increase to 48.4 sen in the later half of the year versus 46.3 sen in the first half.
On the banking sector, Koh noted costs are expected to have stabilised in 3Q, after several banking groups cited higher overhead costs and the cut in the overnight policy rate (OPR) as the reasons for the dip in their 2Q earnings.
"The banks saw net interest margin compression in the first half, following the OPR cut in May. We might [still] see a bit of the tail-end effects of the OPR cut on the banks' results in the third quarter.
"However, we see costs generally stabilising in the third quarter. Banks should be doing fine in the third quarter. If there is no further cut [in the OPR] in November, then banks should see better performance in the fourth quarter," he said.
The banking sector's performance will set the bearing for the FBM KLCI given banking stocks' weightage on the benchmark index is more than one-third of the total.
Koh added that the oil and gas (O&G) segment has seen some improvements as well, noting Velesto Energy Bhd is expected to return to the black in the second half of the year.
Meanwhile, he expects the consumer sector to do well, pointing out breweries and convenience store operators are showing growth.
MIDF Research head of research Mohd Redza Abdul Rahman expects a slight improvement in earnings, particularly for commodity-related sectors such as plantations and O&G, as well as aviation.
He cited a recovery of palm oil price to above RM2,000 per tonne, stabilising crude oil prices and strong passenger numbers supporting these sectors respectively.
However, he said the construction sector could see mixed results.
"No big contracts were awarded [in 3Q] and the existing jobs have just restarted, but smaller players in Sarawak would likely see better results as works at infrastructure projects go on, on top of new awards during the quarter," said Mohd Redza.
He said property developers will continue seeing lacklustre results, given that inventories remain high, although he noted some players have "played it smart" by doing smaller launches at attractive prices.