This article first appeared in The Edge Financial Daily, on April 15, 2019.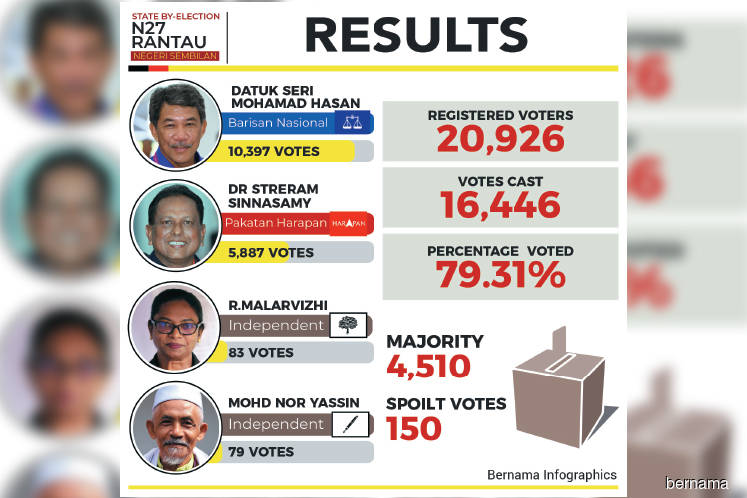 KUALA LUMPUR: According to a Malaysiakini report, a fight erupted among party campaigners at the Pakatan Harapan's command centre when it was getting clear that Pakatan's candidate would lose the Rantau by-election on Saturday.
The fight followed the blame game as the campaigners were obviously bitterly disappointed with the loss. And obviously also they really believed Dr S Streram could pull it off.
But he could not deliver the win that Pakatan needed so that it would not be the third straight loss in a by-election for the ruling coalition.
So, was Pakatan and PKR in particular, wrong in choosing the good doctor to contest Rantau, although he had a good track record, having done voluntary relief work in war zones in several parts of the world? No. As I wrote in an earlier article, Streram deserved a second bite at the cherry after being denied the chance to contest in the Rantau constituency in the 14th general election (GE14) last year.
As we know, Streram was unable to submit his nomination papers after being denied entry into the nomination centre because he did not have a pass issued by the Election Commission.
Second question — Would Pakatan have won had another candidate been fielded? Again I must say No. No matter who that candidate might be, and no matter what the race, religion or gender.
The reality is Barisan Nasional Nasional's (BN) Datuk Seri Mohamad Hasan was always going to win the seat. He's been the Rantau Yang Berhormat from GE11 back in 2004. And he was Negeri Sembilan's menteri besar right up to the point when BN lost the state in last year's national polls.
Therefore his victory was no surprise, but was expected by many.
Research outfit Ilham Centre chief executive officer Azlan Zainal and political analyst Dr Sivamurugan Pandian both agree the "Tok Mat factor" — referring to the name Mohamad Hasan is popularly known as — played a big role in BN securing Rantau.
Siva says Tok Mat's aura outshined his opponent while Azlan opines that the personal attacks on Mohamad backfired.
During campaigning, Pakatan had often reminded Rantau voters of the case of Mohamad transferring a large amount of money overseas using the services of a money changer and also about a house he is said to own valued at millions of ringgit.
Mohamad went to some great lengths to counter the onslaught. He need not have actually, as to most people in Rantau he could do no wrong.
The Pakatan strategy was for Streram to win enough Malay votes to add on to very solid Indian support and he would be home and dry.
That did not happen, and even the Indian votes were split.
According to Azlan, Pakatan was not successful in penetrating the Malay base and did not get the solid Indian support either.
Even the Anwar factor, says Azlan, could not help the Pakatan cause in Rantau despite the PKR president trying hard to woo Malays to vote for Steram.
To Siva, a lot of soul-searching is in order as Anwar was practically camped in Rantau.
Moments after the by-election result was announced, Datuk Seri Anwar Ibrahim responded by saying the defeat "is a reminder for Pakatan to focus on the people's plight".
In Rantau, the Pakatan focus was on issues that had already been played up during GE14, according to both Siva and Azlan.
Another factor according to Azlan was that the internal problems within Pakatan have not been resolved.
He sees the Pakatan machinery as disjointed with the component parties moving separately, on their own instead of operating as one effective and cohesive unit.
Siva describes the Pakatan machinery as weak.
Other factors contributing to the defeat, according to Siva, include the ineffectiveness of the state administration and bread-and-butter issues.
And of course Umno and Pas have been continuously fanning the "bangsa dan agama" sentiments to the hilt. Divisive as the ploy may be, it has worked thus far for the opposition, with a good number of Malays being taken up by the rhetorics.
Having said that, it would be good to note that the number of votes Mohamad won in the by-election as compared to the votes he got in the GE13 in 2013.
In Saturday's by-election he got 10,397 votes while Streram got 5,887. In GE13 Mohamad won Rantau with 10,126 votes. His opponent then was Aisah Lamsah. Aisah, like Streram, was from PKR, and she obtained 5,513 votes.
Draw your own conclusions but it looks like BN, in particular Mohamad, and PKR, via two different candidates, did not gain or lose drastically — going by the number of votes. Sort of maintaining the status quo?
Azlan has come up with a long list of factors on what went wrong for Pakatan and why. I would say the whys he listed and also the reasons cited by Siva as the cause of the Pakatan's loss are identical to the reasons they cited when Pakatan lost the Cameron Highlands and Semenyih by-elections.
These are the same reasons I had discussed in my earlier articles on Pakatan's losses in Cameron Highlands and Semenyih, apart from the Tok Mat factor as stated earlier.
I am sure Pakatan too through its think tanks and strategic analysts knows all too well the reasons for their defeats. After all after each defeat they admitted it was a wake-up call.
Hence I can only conclude that either Pakatan has not learned its lessons or they have learned them but are sluggish and have not acted upon the lessons learnt, that is to rectify the situation and overcome the weaknesses — until now.
And I say this, despite acknowledging the fact that Pakatan has a lot on their plate, to clear the leftovers — courtesy of the previous administration.
---
Mohsin Abdullah is a contributing editor at The Edge. He has covered politics for more than four decades.