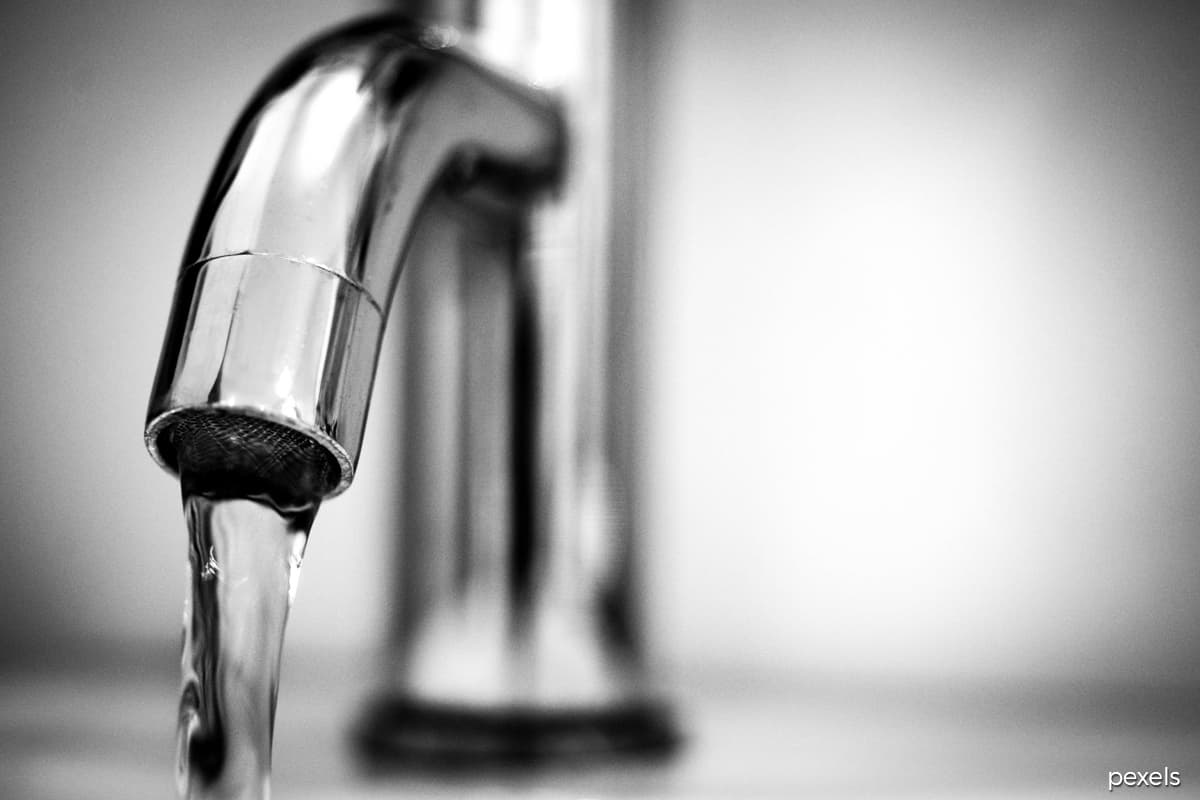 KUALA LUMPUR (Nov 10): The stoppages of the Rantai Panjang and Sungai Selangor Phase (SSP) 1, 2 and 3 Water Treatment Plants (LRAs) have resulted in an unscheduled water disruption involving 1,139,008 consumer accounts in the Klang Valley.
The disruption encompassed 1,279 areas in Kuala Lumpur, Petaling, Klang, Shah Alam, Kuala Selangor, Hulu Selangor, Gombak and Kuala Langat from 6pm today following the pollution of the raw water source.
Air Selangor Sdn Bhd (Air Selangor) Corporate Communication chief Elina Baseri in a statement today said the announcement was made following a statement by the Selangor Water Management Authority (LUAS) on odour pollution akin to solvent in Sungai Selangor. 
"Air Selangor wants to inform consumers on the halting of the LRAs at Sungai Selangor Phase 1, 2 and 3 and Rantau Panjang following the contamination of the raw water source at 12.45pm today.
"Up to 2.30pm today, the pollution at the Rantau Panjang intake was at 8 TON (threshold odour number) and SSP, 1, 2 and 3 at 4 TON.
"Effort to dilute and flush the contaminant in Sungai Selangor have been carried out by releasing 300 million litres of water a day from the Sungai Selangor Dam and 500 million litres a day from the Sungai Tinggi Dam," she said.
In the meantime, she said LUAS had also released 192 million litres of raw water a day from the KL Larut pool for the same purpose.
"Air Selangor truly understands the situation of the consumers who need clean water, especially during the increase in Covid-19 cases and the implementation of the Conditional Movement Control Order, (CMCO) by taking all measures to minimise the impact on the affected consumers," she said.
Further information on the unscheduled disruption would be announced from time to time through all mediums of communication of Air Selangor including Twitter, Facebook, Instagram, Air Selangor application and website at www.airselangor.com.
Earlier, LUAS, in a statement on Facebook, had informed that the LRAs at Rantau Panjang, Sungai Selangor Phase (SSP) 1, 2, and 3 had been stopped at 12.20pm to 12.45pm today following an odour pollution which was detected in Sungai Selangor.
"An odour of 8 TON was detected at the LRA at Rantau Panjang. Based on a monitoring by LUAS as of 6am, the final reading recorded was still at 0 TON.
"LUAS, Air Selangor and the parties involved are still conducting investigations and carrying out prompt mitigation measures. Any development will be divulged from time to time," said LUAS.
Read also:
Sabotage suspected in pollution which disrupts water supply in Selangor and KL 
Pollution levels at four water treatment plants drop — Air Selangor 
Source of odour pollution suspected to be from industrial area — Zaini Ujang 
Police open investigation paper on water pollution incident 
RM5,000 reward for information leading to arrest of Selangor water polluters