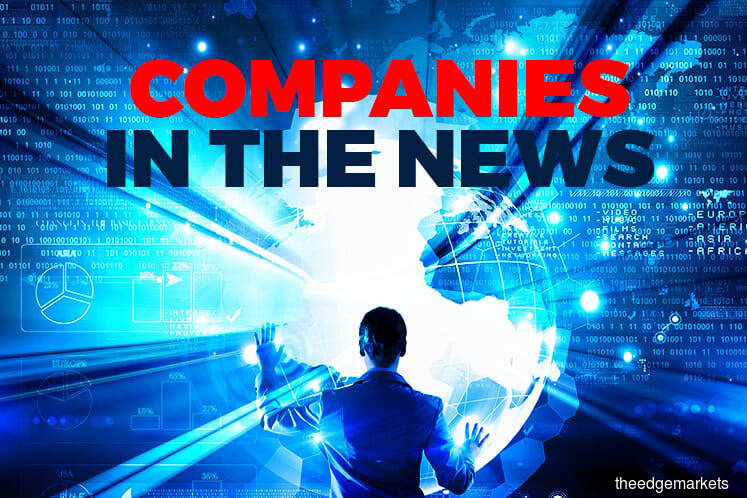 KUALA LUMPUR (March 3): Based on corporate announcements and news flow today, companies that may be in focus tomorrow (March 4) may include the following: Ranhill Holdings Bhd, Paramount Corp Bhd, Bermaz Auto Bhd, Malayan Banking Bhd (Maybank), CB Industrial Product Holding Bhd (CBIP), TDM Bhd, Cabnet Holdings Bhd, FGV Holdings Bhd, Axiata Group Bhd and Straits Inter Logistics Bhd.
Ranhill Holdings Bhd has secured three contracts worth a total of RM110.1 million including an RM87.9 million pipe-replacement job in Johor, to build an extension Package Plant at Sultan Iskandar Water Treatment Plant (RM19.95 million) and to supply five portable water treatment plants (RM2.25 million).
Paramount Corp Bhd has set its property sales target at RM1 billion for the financial year ending Dec 31, 2020 (FY20), helped by some RM1.2 billion worth of launches planned for the year.
Last year, the group sold some RM692 million worth of properties, below its RM1 billion target then, said its group chief executive officer Jeffrey Chew, blaming it on the weak demand for its commercial properties.
Bermaz Auto Bhd's wholly-owned subsidiary Bermaz Motor Sdn Bhd is introducing a range of 2020 Mazda vehicle models with updated features and conveniences, in conjunction with Mazda Motor Corp's (Mazda Japan) 100th anniversary celebration.
Malayan Banking Bhd (Maybank) said it will cut its base rate (BR) and base lending rate (BLR) by 25 basis points effective Thursday (March 5), in line with the reduction in the overnight policy rate (OPR) announced by Bank Negara Malaysia today.
The bank said its BR will be lowered to 2.50% per annum from 2.75%, while its BLR will be revised to 6.15% from 6.40%. 
Palm oil mill manufacturer CB Industrial Product Holding Bhd (CBIP) has acquired the remaining 0.62% stake in palm oil trader TPG Oil and Gas Sdn Bhd for RM7 million. Now, it will wholly own TPG Oil and Gas (TPGOG). 
TDM Bhd has proposed to raise up to RM38 million in a private placement to fund its ongoing projects such as the expansion of its healthcare business and the construction of staff quarters, as well as the acquisition of THP-YT Plantation Sdn Bhd. 
Cabnet Holdings Bhd has bagged a subcontract worth RM11.88 million to undertake extra-low voltage works and a fully-integrated environmental monitoring and control system. 
FGV Holdings Bhd has appointed Datuk Najmuddin Abdullah as group chief strategic communication officer. Before this, he was heading strategic communications at MRT Corporation Sdn Bhd, and prior to that, at Malaysia Airlines Bhd.
Axiata Group Bhd's unit edotco Group Sdn Bhd has partnered with the Telecom Infra Project (TIP) to advance connectivity in urban and underserved areas and communities.
With this partnership, edotco will deploy and test OpenRAN 4G sites at selected high traffic areas in Malaysia, and to conduct trials of Open Radio Access Network technologies and innovative smart poles with shortwave radio capabilities.  
Straits Inter Logistics Bhd signed a binding definitive agreement with Labuan Port Authority to operate and manage the Labuan Liberty Terminal, after announcing the six-year contract in January.
The contract serves as an opportunity for the company to venture into port management services, which complements its existing oil trading and bunkering services business.