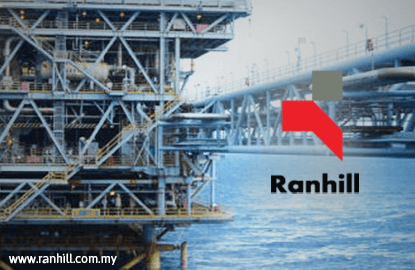 This article first appeared in The Edge Financial Daily, on March 15, 2016.
KUALA LUMPUR: Ranhill Holdings Bhd, which is en route to a listing on Bursa Malaysia tomorrow, is targeting to increase its capacity for water management in China by 66% to 1,000 million litres per day (MLD) in the medium term. 
Currently, the group operates 11 industrial wastewater plants and water recycling plants, and a water treatment plant in China, with total assets in the republic valued at US$128 million (RM525.83 million) as at Dec 31, 2015. The 12 plants have a combined capacity of 340 MLD.
"1,000 MLD is our mid-term target. Our main priority now is to expand our business in China," Ranhill Water Technologies Sdn Bhd executive director Ooi Kok Ping said during a media familiarisation trip to the group's wastewater treatment plant at Xiao Lan Industrial Park, in Nanchang, China, on Saturday.
Ooi said the group has now secured two industrial wastewater treatment plant projects, located one each in Liaoning and Jiangxi. The projects' respective concession period is 29 years. 
He said the group is also getting another project in Jiangxi, though that is still in the memorandum of understanding (MoU) stage.
"The three projects will give us an additional 40 MLD in capacity," he added. 
Geographically, Ooi said the group intends to expand its footprint in China's third-tier cities and provinces, such as Jiangxi, Anhui, Liaoning and Henan, which have the potential for accelerated industrial growth in the country.
"Industrial activities are moving inland, as costs in well-developed coastal areas are rising," he explained. 
He said the Chinese government is committed to developing the water management industry by encouraging industrial players to lessen impact on the environment.
"The Chinese government has allocated 5 trillion yuan (RM3.16 trillion) under the 12th Five Year Plan (FYP) for the water management industry, including for the sustainable management of resources and the expansion of the country's existing infrastructure.
"Under the plan, the government also targeted an additional wastewater treatment capacity of 45,700 MLD, while 26,100 MLD of existing capacity will be upgraded to meet stricter regulations," he said. He expects that to catalyse further demand for water treatment, wastewater treatment and recycled water treatment plants in China.
Ranhill ventured into China's wastewater business in 2006. Notwithstanding its prospects ahead, Ranhill's listing was not well received, as the retail portion of its IPO was undersubscribed by 87%. 
Subsequently, the group slashed its final retail price by 30% to RM1.20 from RM1.70. 
It originally intended to raise RM637.5 million with the issuance of 475 million shares, from which about 70% will be used to repay borrowings, about 18% for working capital, with the remaining 12% for its water business projects in China.
But as a result of the lower final price and a smaller issuance of 322 million shares, the estimated gross IPO proceeds would be reduced to RM386.8 million from the initial target of RM637.5 million, according to Public Investment Bank Research in a note of March 10.
The research house also maintained Ranhill's price to earnings (PER) multiple of 13 times for its power business and 16 times for its water segment, and gave a fair value of RM1.25 on the stock.