This article first appeared in The Edge Financial Daily, on March 7, 2019.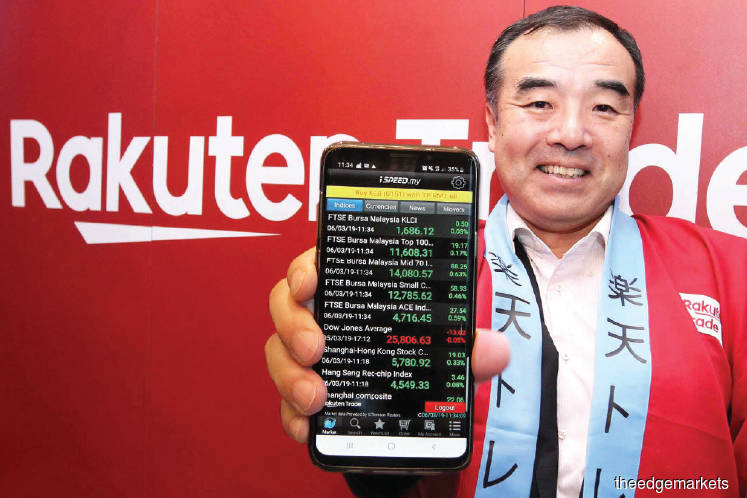 Arai at the launch of the Contra 2.0 platform yesterday. Photo by Kenny Yap
KUALA LUMPUR: Rakuten Trade Sdn Bhd has revamped its contra trading platform, offering a reduction in brokerage fees and a day trade rebate programme.
"Less than a year ago, we launched our contra trading platform for investors who wanted more trading options. As Malaysia's first fully digital equity broker, we were excited to be able to give our clients an additional platform to our existing Cash Upfront," said Rakuten Trade managing director Kaoru Arai.
"We are proud to add another milestone to our journey as we introduce our revamped contra trading platform – Contra 2.0," added Arai at the launch of the platform yesterday.
The new brokerage fees for the contra account mirror the Cash Upfront facility, with fees ranging between RM7 and a fixed maximum of RM100, compared with RM8 or 0.15% of trading value for amounts above RM100,000 previously.
Meanwhile, the day trade rebate programme offers a rebate on the "sell" brokerage fees for investors who buy and sell the same counter, within the same day.
"Contra 2.0 is game-changing. It completely revolutionises the contra trading platform currently available.
"Our objective [is] to encourage more people to trade online and we believe that by keeping things simple such as reducing our brokerage fees and adding a day trade rebate programme on top of the current contra trading platform, we can do exactly that," said Arai.
A contra account allows investors an extended spending limit based on the shares or cash placed as collateral. If an investor uses cash as collateral, the total amount will be taken as the collateral value.
On the other hand, if an investor chooses to pledge shares instead of cash, only a portion of the value of the shares will be used as collateral — 80% for Main Market shares and 50% for ACE Market shares.
For example, if the investor pledges RM10,000 worth of Main Market shares, the collateral value would be RM8,000. It would be RM5,000 if ACE Market shares are pledged.
Depending on the shares the investor wants to buy, Rakuten Trade will extend a multiplier of up to five times of the collateral. So if an investor has RM10,000 in collateral, the platform could potentially grant a limit of up to RM50,000 for contra trading.
Arai said Rakuten Trade's trading platform has seen continued growth since its launch two years ago, with over 27,000 accounts as at March 1, of which more than 10% are contra account holders.
He added that 45% of the account holders are first-timers in terms of investing in share, and 80% of the total accounts are held by those aged below 40 years old.