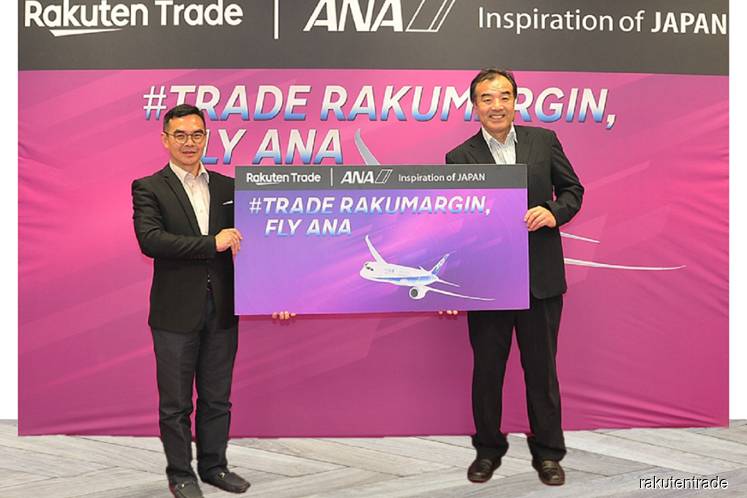 KUALA LUMPUR (March 20): Rakuten Trade Sdn Bhd has launched its third-party margin financing platform. 
Dubbed RakuMargin, Rakuten Trade said this is the industry's most innovative third-party margin financing platform to-date, as it offers several first-in-market features, namely a completely online sign up process, automated facility limit approval of up to RM100,000 and digital signature capabilities to accept the margin facility. 
"We are excited to begin our RakuMargin services, especially as this is the first time the product carries our brand name. Raku means easy and together, it describes how easy it is to trade using the product. We developed RakuMargin based on client feedback with the aim to digitalize current industry offerings and disrupt the online equities trading arena," said Rakuten Trade managing director Kaoru Arai. 
"As a fully digital platform, we must be nimble and flexible in the products introduced in order to pique the interest of potential traders. With a constantly evolving market landscape, our clients expect from us innovation and convenience, combined with an affordable and seamless trading experience. Driven by this, Rakuten Trade is once again raising the bar with our new RakuMargin trading platform,"Arai added.
In conjunction with the official launch of RakuMargin, Rakuten Trade also kicked off its Trade RakuMargin, Fly ANA Campaign with All Nippon Airways (ANA).
It said eligible RakuMargin traders will receive 1,888 Rakuten Trade (RT) points for a combo account opening (combination of a Cash Upfront and RakuMargin account), brokerage waiver on the first successful trade executed within 15 business days of account activation, and the chance to win two roundtrip tickets to Tokyo in Japan. 
Since its business inception in May 2017, Rakuten Trade said it has successfully created a new group of digitally-savvy independent investors, who are keen to trade equities completely online. 
"Its activated trading accounts have doubled in less than a year, bringing the figure to almost 60,000 accounts. Given that it caters to a growing digitally community, about 80% of its clients are below 40 years old with less than three years' trading experience," it added. 
"Our steep upward growth is testament to our unique FinTech business model, the ability to anticipate the fast-changing digital landscape and the committed concerted efforts of the talented people behind the company," Arai said.