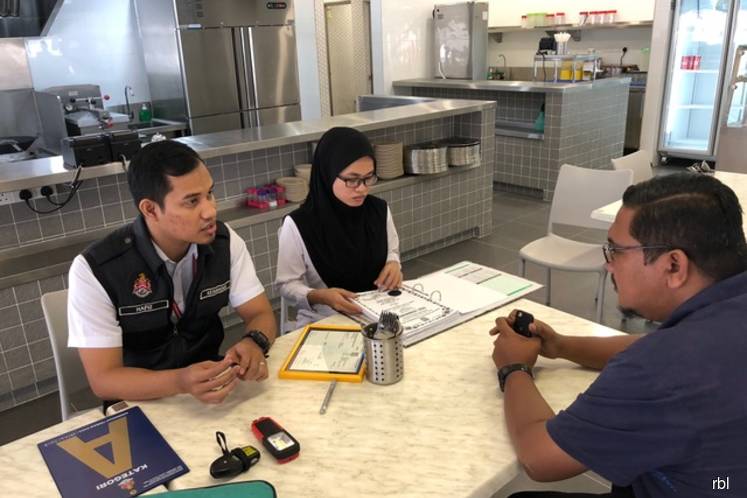 PETALING JAYA (Aug 29): Raj's Banana Leaf restaurant in Bangsar which starred in a viral video showing its employees washing dishes and cutlery in potholes full of murky water has passed rigorous inspections by Dewan Bandaraya Kuala Lumpur (DBKL) and the Ministry of Health and has reopened as RBL Banana Leaf.
In a press release today, the outlet said DBKL's Health and Environment Department officers completed their last round of checks and awarded the final grading marks and cleanliness certificate to the restaurant on Aug 27.
RBL said it has undergone major renovations in its kitchen, food and beverage preparation, washing and food serving areas.
"Featuring a more open layout for transparency, the roti canai area is an open kitchen facing customers whilst a large open window provides customers with an open view of how the washing is handled.
"The flow of food and pre- and post-wash dishes has been restructured to ensure better handling process," it said.
In addition, the restaurant had also upgraded its exhaust ventilation system, sinks, grease traps, acquired new dishwashing machinery which is able to wash up to 12 plates in 90 seconds and filled the potholes in the alley next to the shop.
In addition to the renovations, all its employees have completed courses on proper food handling conducted by a trainer who is certified and registered with the Ministry of Health (MoH) and is a member of the Malaysian Association of Environmental Health.
Moreover, all staff across all restaurants were also administered typhoid vaccinations throughout June and July, regardless whether they already took the injection earlier.
According to the statement, the RBL management had decided to revamp their operations and rename itself to reflect the lessons learnt.
"The debacle in May was a sobering wakeup call for us. We would like to offer our unequivocal apology once again to everyone affected by our oversight. The incident served as a lesson for us to work on our shortcomings, improve operations and adhere to all regulations and relevant standards to offer customers the best possible experience when dining at RBL.
"We anticipate these first two weeks of our reopening to be a soft period that will provide us the opportunity to fine tune our operations," said Raj's Banana Leaf director Muhamad Rizal Abd Rahman.
Click on this link to go to the original story on EdgeProp.my