This article first appeared in The Edge Malaysia Weekly, on May 13, 2019 - May 19, 2019.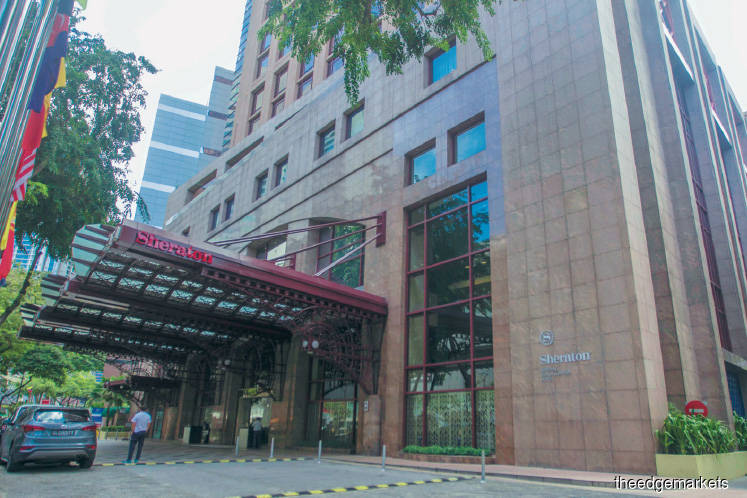 The 22-year-old Sheraton Imperial Kuala Lumpur recently completed a multi-million ringgit makeover. Photo by Patrick Goh/The Edge
INDONESIAN billionaire Tan Sri Peter Sondakh has put a 33-storey building in Jalan Sultan Ismail — comprising the newly renovated five-star Sheraton Imperial Kuala Lumpur and the Faber Imperial office tower — up for sale. Industry sources estimate that the building within the city's Golden Triangle, owned by Inter Heritage (M) Sdn Bhd, may fetch RM450 million to RM500 million.
Sondakh's Rajawali Group owns a 51% stake in Inter Heritage through Eagle High Properties Pte. The remaining 49% is owned by the world's largest hotel chain, US-based Marriott International, via Granton International Ltd. Rajawali is understood to have acquired its stake in 2005.
The 22-year-old Sheraton Imperial has 398 rooms and 138,000 sq ft of office space for rent. It is located directly opposite Quill City Mall and a five-minute walk away from the Medan Tunku monorail station.
Industry sources say the owners were looking to appoint an exclusive agent earlier this year and had hired real estate firm Knight Frank. A recent video advertising the asset, uploaded to YouTube on May 6, is increasingly being shared. The two-minute video, which concludes with the Knight Frank logo, states that the integrated hotel-cum-office building offers a "rare opportunity to acquire an excellent property".
It is unclear why the two shareholders decided to dispose of the hotel but it could be due to a combination of factors, including continued losses sustained by the property, a glut of office space in the capital, and increasing competition in the hotel space from newer hotels as well as alternative accommodation providers like Airbnb.
Significantly, industry observers say the sale may signal the possible exit of the Rajawali Group following less-than-favourable articles about Sondakh in the media recently. Last month, the Federal Land Development Authority lodged a police report, saying it had been cheated into signing a one-sided transaction in its purchase of PT Eagle High Plantations Tbk from the Rajawali Group.
As for Marriott International, its reason for deciding to cash out of the Sheraton Imperial may have to do with how it inherited the asset. The 49% stake it holds was originally held by Starwood Hotels and Resorts Worldwide Inc. In 2016, the hospitality giants decided to merge to create the world's largest hospitality group, and began to integrate their systems and loyalty programmes. With the US$13.6 billion merger now completed, the owners may have decided to make an exit.
Based on the latest available financials submitted to the Companies Commission of Malaysia, for the financial year ended Dec 31, 2017 (FY2017), the hotel recorded revenue of RM73.02 million but chalked up a net loss of RM3.87 million.
Over the past five years, its revenue has ranged from RM72 million to RM76 million.
Total liabilities as at end-FY2017 amounted to RM206.17 million, RM26.25 million of which were current, while accumulated losses stood at RM162.49 million.
Built by Faber Group Bhd, the building sits on 76,564 sq ft of freehold land and was completed in 1997. It is learnt that Starwood was Faber's partner in the project from its inception. In August 2004, Faber sold 49% of its 51% stake in Inter Heritage Sdn Bhd to its parent company, United Engineers (M) Bhd. Rajawali Group is believed to have purchased the stake from United Engineers later in the same year and acquired an additional 2% equity interest.
Late last year, the hotel which occupies the higher floors, underwent a multimillion-ringgit facelift.
Faber Imperial Court, which is also known as the Sheraton Imperial Tower, takes up the lower floors of the single tower and offers large floor plates of 13,800 sq ft. It is understood that the occupancy rate is more than 70%. According to its website, tenants include educational institution King College, accounting and advisory firm SJ Grant Thornton, The High Commission of Sri Lanka, Japanese firms Shimizu Corp and Taisei Corp, Tourism Australia and Rajawali Corp.
In Malaysia, The Westin Langkawi, St Regis Langkawi and the Langkawi International Convention Centre are also owned by Rajawali Group.
The Indonesian conglomerate acquired The Westin Langkawi, formerly known as Sheraton Perdana Resort, via a tender exercise from Faber in 2005 for an estimated RM77.5 million.