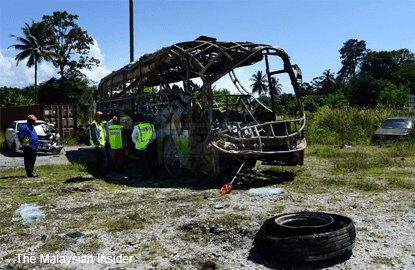 KUALA LUMPUR (Feb 12): Increasing traffic fines will not reduce road accidents because many offenders do not even pay their summons, say consumer groups.
Federation of Malaysian Consumers Association (Fomca) secretary-general Datuk Paul Selvaraj said safety, not traffic fines, was the main issue when it came to reducing road accidents.
"I think that before they (the police) raise the fines, they should think about the fact that many do not even pay it.
"Many do not even care that they need to pay their summons," Selvaraj told The Malaysian Insider.
He was responding to Inspector-General of Police (IGP) Tan Sri Khalid Abu Bakar's proposal to increase the maximum fine for traffic offences, as part of the initiative to reduce accidents.
Khalid said the current rate of RM300 was "peanuts" to some motorists.
Selvaraj said the authorities should instead focus on making sure traffic offenders did not escape punishment.
Malaysian Islamic Consumers Association (PPIM) activist Datuk Nadzim Johan said the proposal would not be very effective, as some offenders could not afford to pay the fines.
"If they (the police) can guarantee that there will be no accidents if they raise the rate to RM3,000, then I'll support it.
"I don't think it's right because I believe people get into accidents either because they are careless or do not care about the rules," he said, adding that the authorities should instead focus on making sure traffic offenders paid their fines on time.
"Even when the fine is RM300, some only want to pay up when the police offer discounts. So I'm worried that if it is raised any further, they'll give the excuse that they can't afford to pay," he told The Malaysian Insider.
He suggested that the authorities implement the "Kejara" demerit point system to reduce road accidents.
"With the Kejara system in place, motorists will know that they could lose their licences if they flouted traffic rules."