This article first appeared in The Edge Malaysia Weekly, on August 13, 2018 - August 19, 2018.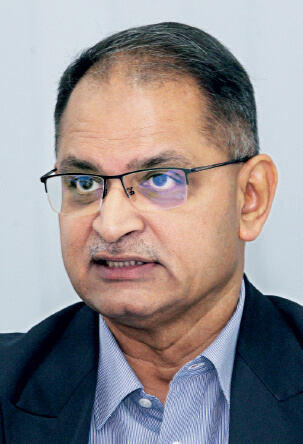 We should be entrusted with what needs to be maintained on a day-to-day basis, and be the adviser ..." — Mohan
DESPITE the government putting several rail projects on hold due to budget constraints, AWC Bhd believes that the sector still presents a lucrative business proposition for the facility management and engineering group to venture into.
This is because the country's railway tracks, especially those operated by KTM Bhd, are ageing fast, hindering the interstate rail operator from operating at an efficient level.
"The rail industry is a growing industry. It is a good sector to be in. It has lost a bit of its lustre because of the recent bad press surrounding the projects. But we don't play in the civil and infrastructure areas," says Mohan Kumar, CEO of AWC Rail Sdn Bhd, a subsidiary of AWC.
"We are one of the best maintenance companies in Malaysia, and that is what we have been doing. We are going to do the engineering and maintenance of the tracks."
AWC Rail was set up on March 29 last year and has since entered into a conditional share sale agreement with the vendors of Trackwork & Supplies Sdn Bhd (TWS) for the acquisition of a 60% stake in the latter for RM43.5 million.
The agreement was entered into on Feb 28, but was delayed for several months due to a claim of RM19 million by Fajarbaru Builder Sdn Bhd against TWS and Gemac Engineering Machinery Co Ltd, due to the latter supplying defective machines to the company.
On July 26, Fajarbaru, Gemac and TWS entered into a supplemental agreement with regard to the supply of the machines, with Gemac agreeing to fully settle the claim sum and discharge TWS from all liabilities and obligations.
This has allowed AWC to continue with the acquisition. The group is planning to convene an extraordinary general meeting by end-September to get its shareholders to approve the purchase.
The acquisition will allow AWC to participate in the maintenance of railway tracks in the country. According to Mohan, there are more than 2,500km of tracks in the country, and they will need to be maintained.
"Everybody knows the loss-making situation of KTMB. And Prasarana is not in a good financial position. So, we are going to position ourselves using our expertise in facility management and engineering to help them maintain their equipment," he says.
"We should be entrusted with what needs to be maintained on a day-to-day basis, and be the adviser, so to speak, to the asset owner on what it takes to maintain its assets to get the highest efficiency and productivity."
The government has invested billions of ringgit in developing rail infrastructure and, depending on the outcome of the suspended mega rail projects such as the East Coast Rail Line and the Kuala Lumpur-Singapore high-speed rail, RM150 billion more may be invested.
AWC is targeting to maintain RM1.5 billion worth of railway assets through AWC Rail.
Besides AWC's expertise in facility management and engineering, TWS' relationship with the principals of railway machinery and equipment will also stand the group in good stead when it comes to bidding for railway asset maintenance contracts, says Mohan.
"The reason why we have chosen to buy into TWS is because AWC by itself does not have the expertise in the rail sector. So, we need the expertise and that is where TWS comes in. They have the competency in terms of knowing the customers and asset owners," he says.
However, there is a question on whether the Pakatan Harapan government will prioritise railway asset maintenance spending as it is grappling with high debt level and a smaller revenue base following the abolition of the Goods and Services Tax.
This is because at the end of the day, it is the government that is going to be the paymaster for any asset maintenance and life cycle programmes, being the owner of the railway assets, especially for KTMB.
KTMB, with its mounting accumulated losses of about RM2 billion, is hardly in a position to conduct a thorough and wholesome asset maintenance and life cycle programme on its own, without the backing of the government.
To this, AWC group managing director and CEO Datuk Ahmad Kabeer Mohamed Nagoor says he believes that as the government has developed a lot of railway infrastructure in the past, there is a need for local players to maintain the assets.
"Definitely, local players are needed to take up the slack in the area of maintenance because at the end of the day, the infrastructure has been built, what happens next?
"Somebody needs to maintain these tracks and [undertake] the engineering part of it and the purchases, so there are more than ample opportunities for domestic players," he says.
AWC is not new to facility management concession. It has been given the concession to manage and maintain 31 federal government buildings in the southern region and Sarawak since 1998.
The original 10 years plus five years agreement, which ended in 2013, was renewed in 2016 for an additional 10 years plus 10 years. Under this concession, AWC has to undertake a critical asset refurbishment programme (CARP) worth RM140 million for the government.
"These buildings are very old. Typical of any building you have critical assets like the central air-conditioning system, building automation system, lift course and escalators," says Richard Voon, AWC's chief financial officer.
"So, we took stock of all the assets and pitched to the government that it needed to manage their life cycles. As a result, CARP came about, as well as the renewal of the concession."
The concession is worth RM52 million a year for the first 10 years, and RM59 million a year for the following 10 years, on top of the CARP contract value.
Apart from the prospect of maintaining RM1.5 billion worth of railway assets, the acquisition of TWS is also earnings accretive as it comes with RM20 million worth of profit guarantees for two financial years.
The profit guarantees are expected to boost AWC's earnings per share by 2.3 sen for the financial year ending June 30, 2019 (FY2019), a significant increase of 27.6% over AWC's EPS in the financial year ended June 30, 2017.
On AWC's core business of facility management and engineering, Voon says that it will stay intact. AWC had an outstanding order book of RM1.06 billion as at March 31.
Its facility management business contributed RM774 million to its order book while its engineering business contributed RM154 million. Meanwhile, its environment business contributed RM132 million.
AWC's share price has been on a downward trend for most of the year. It closed at 78 sen last Friday, 12.36% lower than the start of the year. However, since hitting the year-to-date bottom of 61 sen on June 19, the stock has rebounded, rising 27.87%.
At last Friday's closing price, AWC is trading at an end-June estimated earnings of 9.29 times, lower than its counterpart UEM Edgenta Bhd's 14.58 times. Meanwhile, Damansara Realty Bhd is trading at 7.12 times its financial year ended Dec 31, 2017 earnings. 
 
Save by subscribing to us for your print and/or digital copy.
P/S: The Edge is also available on Apple's AppStore and Androids' Google Play.