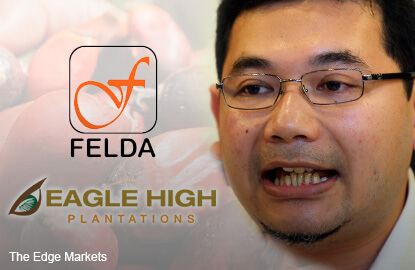 KUALA LUMPUR (Dec 27): Claiming the Federal Land Development Authority's (Felda) financial position is in "dire situation", PKR lawmaker Rafizi Ramli has questioned the wisdom behind the agency acquiring a 37% stake in Indonesia's PT Eagle High Plantations Tbk for US$505.4 million (RM2.26 billion).
 
"No sensible person would agree to acquire 37% stake in Eagle High at such a high price," Rafizi told a press conference today. "However, what I can't accept is [that] this acquisition comes at a time when Felda's financial position is in dire situation."
 
Citing Felda's financial statements, he said the statutory body suffered a net loss of RM1.02 billion in 2014, which is 55.84% less than the RM2.31 billion loss recorded in 2013.
 
But its total cash holdings in the bank came down 57.45% to RM291 million as at Dec 31, 2014, from RM684 million a year earlier.
 
"It seems Felda would have to seek borrowings to finance the acquisition," said Rafizi. "But which institution is willing to provide the financing since the price is three times the premium of Eagle High's 52-week average share price, or 195% higher than the latter's share price currently?"
 
The Pandan member of parliament added that Felda might resort to using its settlers' landbank as collateral to seek financing.
 
"I don't rule out that possibility, but there are other avenues like bond issuances and private placement. But who is going to take up the bonds or placement when they (Felda) are buying at a price this high," he said.
 
Rafizi also posed a question to Prime Minister Datuk Seri Najib Razak as to who gave the order to acquire the 37% stake in Eagle High at three times its market price.
 
Eagle High is owned by PT Rajawali Corpora, which is controlled by Indonesian tycoon Tan Sri Peter Sondakh, who is an acquaintance of Najib. In Malaysia, Rajawali has interests in hotels such as the Westin Hotel Resort and Spa Langkawi and St Regis Langkawi.
 
Rafizi said he would lodge a police report on Thursday against Najib, Felda chairman Tan Sri Isa Samad, and the board of directors of FIC Properties Sdn Bhd, a special purpose vehicle used to perform the acquisition.