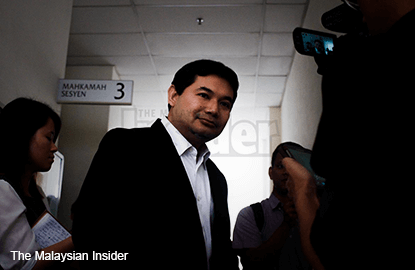 KUALA LUMPUR (April 5): PKR secretary-general Rafizi Ramli has been arrested by Bukit Aman police, as he was about to exit the Parliament gates at 6.15pm today.
Sungai Petani Member of Parliament (MP) Datuk Johari Abdul told reporters that Rafizi is being investigated under Section 8 of the Official Secret Act (OSA), which relates to wrongful communication of an official secret.
Johari said Rafizi was ordered to come out from his car, along with his driver.
"I have been trying to contact Rafizi and the driver, but cannot reach them," Johari told reporters at Parliament lobby today.
Johari added that the police's move to arrest Rafizi in such manner was regrettable as Rafizi has said that he was willing to give full cooperation to the police on the issues he raised.
Meanwhile, Inspector-General of Police Tan Sri Khalid Abu Bakar tweeted that Rafizi was arrested under the OSA, but did not provide further details.
Last month, the Pandan MP had cited the Auditor General's report on 1Malaysia Development Bhd (1MDB), which is a classified document, claiming the delays in gratuity payments to non-pensionable veteran soldiers could be the result of dealings between the Lembaga Tabung Angkatan Tentera (LTAT) and 1MDB. LTAT had refuted the claim.