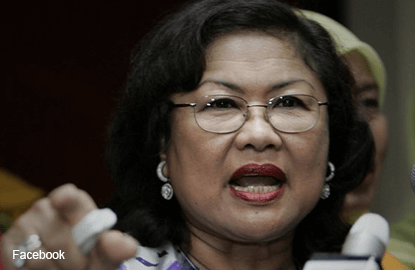 KUALA LUMPUR: The civil service must rise to the occasion as politicians seem to have lost their grip on running the country, said Tan Sri Rafidah Aziz.
The former international trade and industry minister said there are economic problems that need urgent attention, such as the ringgit's fall, attending to the private sector and Malaysia's overall competitiveness.
"I urge all levels of [the] government to please get on with the governance of the country. If in the political sphere, we seem to be losing it ... let the rest of the government, starting with our ... civil servants, hold the fort.
"Please, get on with governing this country. Do not allow anyone to perceive it as being rudderless," she wrote in a post on her Facebook page yesterday.
Rafidah, who is also former Wanita Umno chief, said she was troubled by developments stemming from controversies involving state investment firm 1Malaysia Development Bhd (1MDB).
"It has been a while now since the fiasco started, and my worst fears have been confirmed," she said.
Rafidah urged the authorities to "get on and continue with every aspect of investigations" without fear or favour. She has taken to Facebook recently to express her concerns about the state of the country, as Prime Minister Datuk Seri Najib Razak comes under mounting scrutiny over RM2.6 billion found in his personal bank accounts from 1MDB-linked companies.
The Malaysian Anti-Corruption Commission (MACC) confirmed that the money was a political donation. 
Police are still probing 1MDB which has debts of RM42 billion, while the MACC is investigating former 1MDB subsidiary SRC International Sdn Bhd for taking a RM4 billion loan from the government pension fund, Retirement Fund Incorporated. — The Malaysian Insider
This article first appeared in digitaledge Daily, on August 13, 2015.