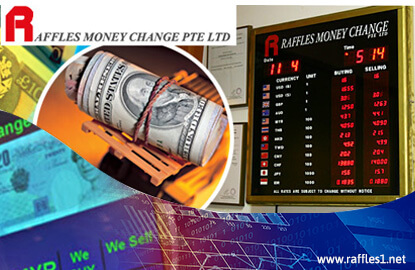 SINGAPORE (July 22): Licensed money changer and remittance agent Raffles Money Change (RMC) has issued a statement in response to queries from members of the media, in light of the Monetary Authority of Singapore's (MAS) press release dated July 21.
To recap, MAS on Thursday named a number of financial institutions under investigation in a joint statement together with Attorney-General's Chambers, Singapore (AGC) and Commercial Affairs Department, Singapore Police Force (CAD).
This included a mention of RMC, which MAS says it is finalising regulatory actions against.
MAS said its investigations of RMC revealed "weak management oversight, inadequate risk management practices and internal controls".
In a Friday announcement, RMC says it is "focused on carrying out its business on the basis of high standards of honesty and integrity, corporate governance and transparency as well as compliance with all necessary laws and regulations to ensure long-term sustainability".  
The company highlights its management "has always cooperated with the MAS, assisting fully in providing any information requested for", and claims that any suspicious transactions have been reported by RMC to the relevant authorities over the years.
Additionally, RMC says it management believes in having "strong internal controls and risk management policies" in place, and is constantly working to improve its compliance procedures.
"It has always, and will continue to, work closely with the MAS to address any issues as required."