This article first appeared in Personal Wealth, The Edge Malaysia Weekly, on December 31, 2018 - January 06, 2019.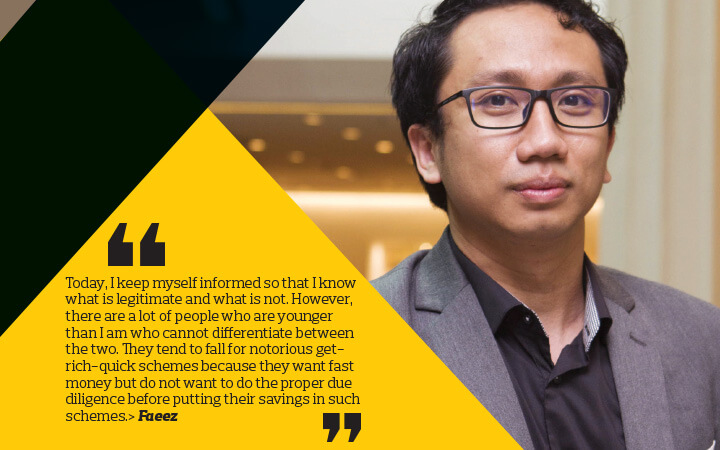 When Faeez Fadhlillah — co-founder and CEO of Muslim-friendly travel portal Tripfez — was still a student, he experimented with investments that could provide him with some quick cash. One of them was foreign exchange (forex) trading.
"I knew it was something that could give me swift returns. So, I signed up. The service providers were smart to make the registration process a breeze. This motivated me to quickly try it out," says Faeez.
"I thought I knew everything about it — how it works, how I can profit and when to cash out. But I failed to understand the factors that affect the value of currencies. When I lost RM10,000 in a day, I knew it was time to stop."
To avoid being in the same situation again, he now makes sure that he fully understands the investment products being offered to him. "So, if a unit trust agent, for example, comes to me to push a product, I will ask him multiple questions, such as what is the investing strategy? What is the asset allocation? What is the expected return?" he says.  
The problem with unit trusts is that the people who sell them do not seem to understand what they are selling, says Faeez. "They have difficulty explaining them to me, which makes things worse when I don't think I am getting the better end of the deal. I am the type of person who stops believing in something if I do not see results — or in this case, returns — quickly.
"They assured me by saying that the fund could give stable returns of more than 5% per month. What they fail to tell me is that there is a sales charge of about 5%. So, now I know that I need to make at least 5% a month to be profitable. That is very rare in the short term, so I tend to pull out of my unit trust investments."
The 32-year-old says there is currently an abundance of products, platforms and schemes in the market that claim to be able to provide high returns in a short period of time. This has led to young investors only wanting to invest in something that could give them attractive returns quickly, he points out.
"Today, I keep myself informed so that I know what is legitimate and what is not. However, there are a lot of people who are younger than I am who cannot differentiate between the two. They tend to fall for notorious get-rich-quick schemes because they want fast money but do not want to do the proper due diligence before putting their savings in such schemes," says Faeez.
"I know a lot of my peers who are suckers for these products that promise instantaneous returns. In my opinion, if it looks too good to be true, it probably is. If the operators promise returns of more than 30% or 50% within a couple of months, or even weeks, then there has to be something wrong with it."
Effort and persistence
Faeez has made a name for himself as a successful entrepreneur. He was on Forbes magazine's 30 under 30 list in 2016, among other accolades. He currently serves as deputy honorary secretary-general of the Malaysian Association of Tour and Travel Agents and is on the executive board of the Pacific Asia Travel Association.
Despite his current career in the travel and tourism industry, Faeez has a totally different background. He studied mechanical engineering and started his career building race cars for Formula SAE, a student design competition organised by Society of Automotive Engineers International.
As head of suspension design, Faeez played an important role in ensuring that the race cars were in tip-top condition. His team won a few competitions overseas. After being on the scene for almost two years, he decided to throw in the towel. He wanted a breath of fresh air.
Having a strong passion for travel, Faeez launched LagiSatu.com in 2013, which was the world's first metasearch engine to help Muslim travellers identify Muslim-friendly hotels. The platform was a hit and was ranked one of the fastest growing travel sites in Malaysia.  
Following the success of the platform, Faeez launched Tripfez, an innovative, state-of-the-art travel portal dedicated to the rise of the global Muslim traveller. Launched in November 2016, the portal aims to provide Muslim travellers with shariah-compliant options and book accommodations that cater for both their religious and personal needs. Tripfez currently features more than 150,000 properties worldwide.
Faeez hopes to tap into the global Muslim market, which is expected to represent a quarter of all global travel expenditure in 2020.  Tripfez's patented Salam Standard certification process reviews hotels and scores them according to how Muslim-friendly the rooms and amenities are.
Hotels with prayer mats and praying direction (kiblat) available upon request, for example, receive a bronze certification. If the hotel provides halal-certified food, a list of halal restaurants nearby and an alcohol-free minibar, it receives a gold certification. The hotel receives a platinum certification if the entire premises are alcohol-free, on top of everything else. Thus far, Salam Standard has data for more than 93,000 hotels.
Tripfez is currently one of the largest Muslim-friendly online travel agencies (OTA) globally following its merger with Middle Eastern OTA Holidayme. According to its press release dated Nov 21, Holidayme and Tripfez are building a next generation Umrah solution to cater for potentially 30 million Umrah visitors by 2030. The two parties will work together to roll out this solution in Malaysia and Indonesia.
While Faeez believes that technology has made it a lot easier for millennials like him to create wealth and success, he stresses that it is not without effort and persistence. "Anyone at all can start selling on e-commerce sites to gain profit, but how many can turn it into a sustainable business?
"My sister graduated last year. But, instead of finding a job, she started selling medicines online with a friend who is a licensed pharmacist. She actually makes very good money doing so, with a profit margin of 30% to 40%. It is a sizeable business with commendable returns.
"But it does have its challenges. If you recall, there was a time when a picture of Tun Dr Mahathir with a tube of Vitamin B and C next to his dining plate went viral. My sister received 1,000 orders following the hype, but she was out of stock.
"At the time, I was at an event in South Korea. She texted me to buy some of the vitamins for her. Unfortunately, she later found out that she could only sell those with Jakim's logo on them, which is only available in Malaysia. It was a real challenge that she had to face."
Despite being very good at his full-time job, Faeez admits that he is not the best at managing his personal finances. "I spend a lot. I used to actively use my credit card and not keep track of my expenses. So, I was shocked when I saw my credit card statement. Being aware of how much debt I had created really sobered me up. Since then, I have only used my debit card. It is, after all, money that I know I own," he says.
That is why Faeez believes there should be some sort of curriculum in Malaysian schools to teach students proper wealth management. Hopefully, the next generation will be better at managing their finances if they are taught early, he says.
"I know someone in Generation Z. When he finished school, he wanted to own the latest iPhone, which is definitely not cheap," says Faeez.
"So, he started selling water filters. The company promised a basic salary of RM2,000. If he managed to sell five water filters, he will be given another RM2,000.
"He believes he is getting quick and easy money, but I think it is just a matter of time before he realises that it is not that easy. Soon, he will realise that it is not sustainable and will need to look for a more stable job."
Faeez also hopes that schools could teach students not to fall for get-rich-quick schemes that are currently rampant in the country. "There is a boy who contacted me, wanting me to join a get-rich-quick scheme. It was something that promised a 30% return to investors. I told him from the outset that it sounded like a scam, but he would not believe me," he says.
"Months later, the scheme was busted by the authorities, proving that it was indeed a scam. He texted me, saying that he should have listened to me. I hope that the next generations will not be as gullible."
Faeez is currently trying to focus on long-term investments and is slowly shifting to more low-risk ones to preserve his wealth. However, he believes in the security of having cash in hand, in case of emergencies. So, he makes sure that he holds a certain amount of cash and that 30% of his portfolio is invested in highly liquid assets and those that generate quick returns.
"For this portion of my portfolio, I ask those trying to sell me an investment product a lot of questions to ensure that when I need to, I can cash out. It is important to me that it is able to generate tangible, realistic, short-term returns," says Faeez.
"Liquidity is very important to me. That is why I choose not to invest in properties despite the fact that I once enjoyed a huge profit doing so," he adds.
"A few years ago, I bought an apartment in Shah Alam for about RM400,000 to please my parents, who thought I should invest in properties as I was able to afford them. After two years, I sold it for RM550,000 — that is a return of about 40%! However, it was not very liquid. I had to wait two years before I could sell it. So, I stopped there.
"I have a friend who makes a lot of money from property investment though. He and his friends pool their money to do so. Now, he has eight properties and RM1.5 million to spend. But I think it is inconvenient and risky."