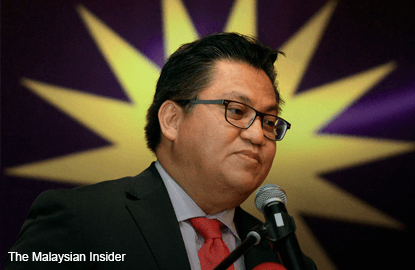 (Dec 1): A question on the status of police investigations into an alleged draft charge sheet against Datuk Seri Najib Razak led to a shouting match between lawmakers from both sides of the divide in the Dewan Rakyat today.
The outburst erupted when Deputy Home Minister Datuk Nur Jazlan Mohamed, in winding up debates on Budget 2016 at the committee level, said the investigations into alleged draft charge sheet were ongoing.
Nur Jazlan was answering a question from Puchong MP Gobind Singh Deo, who wanted clarification if there was indeed a draft charge sheet against Najib after a report by the Malaysian Anti-Corruption Commission (MACC).
Gobind: Can I confirm that you are saying that although MACC has made report (in August), police investigations are still ongoing and there is no conclusion as to whether the charge sheet exists or not?
Nur Jazlan: I said it was still under investigations.
Gobind: Have the police taken the statement of (former attorney-general) Tan Sri Abdul Gani Patail? Besides (former deputy public prosecutor Datuk Anthony) Kevin Morais, the person who would know most about the draft charge sheet is Gani. Has his statement been recorded yet?
Nur Jazlan: Whether or not his statement is recorded depends on police investigations.
Gobind: Since the existence of the charge sheet has yet to be proven, do you agree with me it is not proper for Najib to remain as prime minister if there is an investigation against him as he has powers over many offices.
Nur Jazlan reiterated that the investigations were ongoing but an incensed Gobind said there would be a conflict of interest if Najib remained as prime minister during a probe into him.
A shouting match erupted at this juncture after Baling MP Datuk Seri Abdul Azeez Abdul Rahim stood up in defence of the prime minister.
"It is not a charge. It's not yet a charge. It is only an accusation from the opposition. How can you ask this?
"If there was proper evidence, the A-G will prosecute. But here, he is the lawyer, the prosecutor, the police," Azeez said, as more opposition lawmakers stood up to object to this.
Gobind: So my question whether he (Najib) still should remain as prime minister, your answer is 'yes, he should carry on'. I am just asking for your answer.
Nur Jazlan: No, I did not say if he can carry on or not.
This led to another shouting match.
Bukit Gelugor MP Ramkarpal Singh stood up and asked the deputy minister if he understood that "justice must not only be done, but must be seen to be done".
"Do you understand what that means? Does that not apply here? Do you think justice is seen to be done if the prime minister is the boss of the person investigating him? Is that justice seen to be done?"
However, Azeez interjected, saying: "What justice? He has not been charged, so what justice?"
"Don't you know what is a charge sheet?" Kapar MP G. Manivanan asked Azeez.
The issue was put to a rest after Deputy Speaker Datuk Ronald Kiandee urged the lawmakers to follow the Standing Order and ordered the deputy minister to continue with his speech.
On July 30, Sarawak Report uploaded what it claimed was a draft charge sheet of a corruption charge against Najib in relation to SRC International Sdn Bhd, a former subsidiary of debt-ridden state investor 1Malaysia Development Bhd (1MDB).  
SRC International is now owned by the Finance Ministry, which Najib heads.  
MACC later lodged a police report, denying the existence of a draft charge sheet against the prime minister and another person.
It also denied that the commission was responsible for the leak in its probe into 1MDB.
However, Kevin's brother Charles alleged in a statutory declaration that his older brother's murder was linked to a charge sheet he was preparing against a "high-ranking government official".
Charles said the draft charge sheet on Najib, an alleged copy of which was released by Sarawak Report, had Kevin's initials on it. – The Malaysian Insider