This article first appeared in The Edge Malaysia Weekly, on August 6, 2018 - August 12, 2018.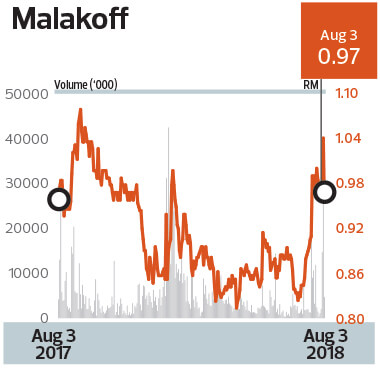 MALAKOFF Corp Bhd's share price has been on a slide since October last year. Investors have been shying away from the power producer mainly because there is no earnings growth catalyst in sight, at least in the near future.
 Possibly to counter this notion, Malakoff has proposed to acquire a 97.37% stake in Alam Flora Sdn Bhd from DRB-Hicom Bhd for RM944.61 million cash — in order to diversify into solid waste management and fuel earnings growth.
The related party transaction (RPT), however, does not seem to be going down well with shareholders, as Malakoff came under selling pressure after the announcement. The two companies have a common controlling shareholder in Tan Sri Syed Mokhtar Albukhary. Through his flagship MMC Corp Bhd, the tycoon controls 37.7% of Malakoff and holds a 55.92% stake in DRB-Hicom.
On the falling share price, the question being asked is why would a power producer want to be involved in garbage collection? 
Malakoff CEO Datuk Ahmad Fuaad Kenali is expected to have an uphill task persuading uninterested shareholders to approve such a major takeover.
Fuaad will first have to convince them that solid waste can be transformed into energy — a concept that is not unfamiliar  to Malaysians. However, there are reservations about how viable it is commercially, especially compared with the group's conventional power producing business.
Alam Flora has a 22-year concession to provide integrated solid waste collection and public cleansing services for Pahang and the federal territories of Kuala Lumpur and Putrajaya, which has been providing steady recurring income to DRB-Hicom. There is also a possibility Alam Flora could be tapped to provide similar services in Terengganu and Kelantan, but this has yet to take off.
In addition, Alam Flora owns a recycling business and landfill operation, both of which complement the solid waste management.
For its financial year ended March 31, 2018 (FY2018), Alam Flora registered an after-tax profit of RM99.4 million while its net assets as at end-March this year were pegged at RM283.3 million.
Independent valuer Deloitte Corporate Advisory Services Sdn Bhd, utilising the discounted cash flow method, has an indicative value of RM852.2 million to RM1.02 billion for the 97.37% of Alam Flora.
Malakoff is expected to raise debt to finance the proposed acquisition. On its balance sheet as at March 31, the power producer had total borrowings of RM15.5 billion against a cash balance of RM1.29 billion, plus other investments amounting to RM3.68 billion.
Most of its loans are project financing for its power plants.
Return on investment and future capital expenditure requirements are crucial for Malakoff's management to convince its shareholders that it has done the math right to ensure handsome returns.
Analysts appear divided on the merits of the deal.
Among the brokerages that were pessimistic on the acquisition is TA Securities, which says, "We are less than enthused on this acquisition."
The research house highlights that the waste management business has marginal synergies with Malakoff's core business of power generation, and Malakoff does not have experience in waste disposal and waste-to-energy power plants.
"We believe Malakoff should ideally bid for waste-to-energy projects on a standalone basis, without the need to acquire Alam Flora. We reckon direct purchase of waste feedstock for waste-to-energy projects would have been a more prudent option.
"According to Malakoff, there are potential awards of 220mw worth of solid waste renewable energy projects in Malaysia by 2020. However, we note that this pales in comparison with Malakoff's existing total effective generation capacity of 6,346mw," TA Securities says in a report released last week.
The research house also highlights that Alam Flora's profit was boosted by tax incentives that are available only to companies within the DRB-Hicom group, and it is "uncomfortable" with the RPT.
Similarly, Public Investment Bank highlights that Alam Flora will no longer qualify for tax incentives upon the acquisition by Malakoff, and will be subject to 24% corporate tax.
"Valuation-wise, Malakoff would be paying a FY2018 price-to-book value of 3.4 times and a FY2018 price-earnings ratio of 12.8 times (excluding tax incentive), which appear expensive compared with our valuation of 8 times PER.
"Although the acquisition is earnings accretive, we feel it is expensive and Malakoff could still embark on its renewable energy initiatives without having to own the entire waste assets of Alam Flora," Public Investment Bank comments.
TA Securities has a "sell" call with a target price of 85 sen, while Public is calling a "trading sell" on Malakoff's shares with a 12-month target price of RM1.09.
One of the more bullish brokerages, Kenanga Investment Bank says, "Despite some initial scepticism given it is a related party transaction, after further study, we ultimately think the acquisition valuation to be reasonably fair."
Kenanga adds that the valuation range of 9 times to 11 times PER is acceptable compared with some Bursa Malaysia-listed waste management-related companies, and that Alam Flora is sitting on about RM400 million in cash and RM80 million in borrowings, rendering Malakoff's net-cash outlay for the acquisition at only about RM545 million, implying enterprise value/earnings before interest, taxes, depreciation and amortisation of about seven times.
Kenanga has an "outperform" call and a target price of RM1.20 on the shares.
Maybank Investment Bank, meanwhile, has a target price of RM1.15 and a "buy" call on the counter. Maybank says, "With renewables increasingly becoming an area of focus, Malakoff's acquisition of Alam Flora could strengthen its case for future waste-to-energy bids.
"The implied transaction multiple of 12.8 times historical PER (for a cash-generative entity) appears non-excessive and should mitigate potential related party concerns."
Save by subscribing to us for your print and/or digital copy.
P/S: The Edge is also available on Apple's AppStore and Androids' Google Play.