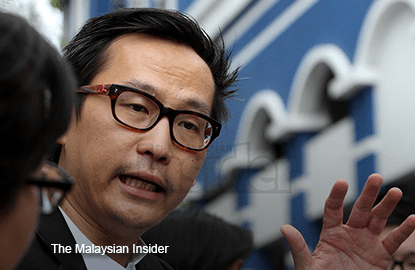 (Nov 30): A lawyers' advocate group has expressed concern over a police plan to question lawyer Americk Sidhu over his client Charles Morais's statutory declaration claim that the murder of his brother, former deputy public prosecutor Kevin Morais, was linked with his prosecution work.
Lawyers For Liberty executive director Eric Paulsen said investigating lawyers representing clients was a serious assault on the independence of the Bar and the fundamental principle of lawyer-client privilege.
"It is basic that all communications and consultations between lawyers and their clients within their professional relationships are confidential and privileged," he said in a statement.
Paulsen said lawyers should not be identified with their clients or their client's causes as a result of discharging their functions.
"The government has a duty to ensure that international standards such as the United Nations Basic Principles on the Role of Lawyers (1990) are complied with," he said.
Paulsen was responding to Inspector-General of Police Tan Sri Khalid Abu Bakar's statement in The New Straits Times today that Americk had a bad reputation when it came to SDs.
Khalid said this was not the first time Americk's client had disappeared after making an SD.
The top cop was referring to Charles who left for the United States on Thursday after releasing an SD that Kevin's murder was linked with the preparation of a charge sheet to prosecute a highly-placed political leader for corruption.
In 2008, Americk had prepared the first SD for private investigator P. Balasubramaniam which implicated Prime Minister Datuk Seri Najib Razak and several others in the 2006 murder of Mongolian Altantuya Shaariibuu.
Khalid was reported as saying the police wanted to know why Charles had selected Americk to represent him.
The IGP said as a court official, Americk had a responsibility for his client and was answerable to questions pertaining to the SD.
Paulsen said earlier this year, lawyer Matthias Chang was arrested and later charged with attempting to sabotage the national banking and financial services together with former Umno leader Datuk Seri Khairuddin Abu Hassan.
Chang, Khairuddin's lawyer, had accompanied his client to lodge reports overseas on corruption and money laundering relating to 1Malaysia Development Bhd (1MDB).
"Americk must be allowed to carry out his work freely and without improper interference," Paulsen said.
He added that police must recognise and respect the vital function played by lawyers in upholding the rule of law and constitutional rights, including the right to legal representation to their clients. – The Malaysian Insider