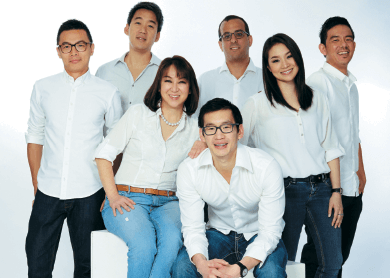 THE youngest son of Tan Sri Quek Leng Chan, Quek Kon Sean, admits that there is pressure in being the offspring of a tycoon but is also grateful for the opportunities that have come his way.
"There is pressure because I want to succeed, pressure that we put on ourselves," he tells The Edge in his first one-on-one media interview.
Kon Sean has big plans for his venture in the e-commerce sphere — an online shopping website called GEMFIVE.
Together with his team, he plans to grow the shopping website into a top regional e-commerce destination.
"We are the first homegrown online marketplace that is eyeing the regional pie," Kon Sean says. The website is scheduled to be launched in Malaysia on May 18, with plans to expand to Singapore and Indonesia early next year.
"For the countries that we choose to go into, we aim to be in the top three," says Kon Sean, 34.
"In more established e-commerce markets globally, online retail spend is between 8% and 10%. In Malaysia, we are at 0.5%. The infrastructure is in place, logistics, internet penetration, people love to shop … There is just no reason for it," he notes. "The competitors are there but the market is just so much bigger, which allows us a lot of opportunities to grow beyond the current market share."
He expects online retail to make up 0.5% of total retail spend in Malaysia this year, and it could increase to 5.1% in 2020 and 8.1% in 2025.
Asked how his father viewed the idea when it was first mooted, Kon Sean says: "He can see the trend. Even the other businesses within the group, they all have their own digital agendas because that is where the future is to be."
After completing his master's degree at the London School of Economics, Kon Sean spent some years working as an investment banker in London. His first job was as an investment analyst at Goldman Sachs International. Later, he joined HSBC's debt capital markets division.
He then came back to Malaysia to join family firm HL Management Co Sdn Bhd as a management executive, and also helped the senior Quek at Heong Leong Bank. However, he left the operations side of the banking business over a year ago to focus on strategy and investments at the family's private arm.
Kon Sean now sits as a non-executive and non-independent director of the Hong Leong Financial Group Bhd, Hong Leong Bank Bhd and Hong Leong Capital Bhd. He is also the managing director, centre of business value, of Hong Leong Management Co Sdn Bhd.
He shares that he knew he would eventually join and help out the family business. "Here is my home, I've been back [from London] for 10 years."
He notes that the family's private arm is always on the lookout for new opportunities and trends.
"The trend [e-commerce] is just quite obvious. We did a 2.5-month market study and then we decided to go in October. We built the team in November, so between November and now is the execution stage (for GEMFIVE)," he says.
GEMFIVE is operated by GuoLine eMarketing, which is owned by the private arm of the Hong Leong group. The team comprises 60 people and the management is led by leaders with more than 15 years of experience in various industries, including marketing, branding and internet platform design.
CEO Moey Tan is no stranger to corporate Malaysia, with over 30 years of experience in consumer business, marketing and branding.She was previously Hong Leong Bank Bhd's chief operating officer for group consumer banking.
GEMFIVE co-founder and chief marketing officer Lam Swee Kim has over 18 years' experience in marketing and was part of the core team which started 8TV, while COO Ken Timsit has over 15 years' experience with the Boston Consulting Group. Chief technology officer Sean Liao has spent more than 19 years designing and building internet technology platforms.
"What gave us more confidence that this is something worth going into is the team that was willing to come in and share the ride together," says Kon Sean.
"The differentiating point on our site is the curation and recommendation that we are building, so it is not just transactional where you go and buy a product. It is about discovering what trends are, what you might want and need. It is not just about pushing products at discounted prices," he explains.
At a media preview last week, CEO Tan says the team will build a sufficient database that will springboard the website to personalised shopping.
"We realise that in such a mobilised and transparent world, personalised engagement is very critical to make the differences between GEMFIVE and the other sites. In our strategy to be different, we will invest to build up our business intelligence engine," she says.
As consumers leave digital footprints across websites, mobile apps and social media, Tan says one has to know how to harvest the data and engage customers on a personal level continuously, and on subjects that are relevant to them, to win at this game.
She points out that over US$1 billion has been invested across the Southeast Asian e-commerce industry since 2013 and that the regional market could be valued at US$100 billion (RM361 billion) to US$200 billion in 10 years.
"We would like to drive more than 50 million cumulative page views in the next 12 months," she says.
GEMFIVE's website has five categories — fashion, electronics, home and living, beauty and health, and mothers and children — and 250 to 300 brands offering about 15,000 items.
"Every day, we will add new items to our site to keep it dynamic," Tan says.
She reveals that investment in GEMFIVE to date is less than RM5 million, and the team expects a gestation period of two to three years before breaking even or becoming profitable.
This article first appeared in The Edge Malaysia Weekly, on May 11 - 17, 2015.