This article first appeared in The Edge Malaysia Weekly, on December 18, 2017 - December 24, 2017.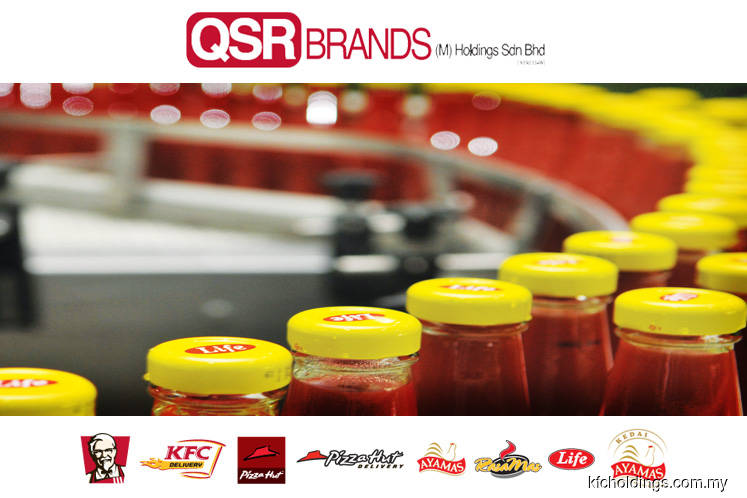 IT looks like it may be a while yet before investors can buy into the popular Kentucky Fried Chicken franchise business on Bursa Malaysia. The plan for an initial public offering (IPO) of QSR Brands (M) Holdings Bhd, operator of the KFC and Pizza Hut restaurant chains, has been put on the back burner, sources say.
"It's not off, it's being 'KIV' (kept in view) for the time being," a source familiar with the matter tells The Edge.
The IPO, work on which had started as early as last year, was expected to be one of the biggest this year, with previous reports indicating that it could raise between RM1.6 billion and RM2 billion.
QSR, 51%-owned by Johor Corp, had picked Maybank Investment Bank, Citigroup and Credit Suisse to manage the flotation, with Maybank IB as the principal adviser.
The other shareholders of the country's largest fast food operator are the Employees Provident Fund (EPF) and private equity firm CVC Capital Partners, with stakes of 25% and 24% respectively.
Sources say there are several reasons the IPO plan has dragged. For one, it is understood that US-based Yum! Brands Inc, the owner of the KFC and Pizza Hut brands, has a key say in the planned listing. Its approval is required for many things, right down to the prospectus, which slows things down somewhat.
One of several issues being bandied about with Yum! is whether QSR's upstream asset — an integrated upstream poultry feed/farm/processing business in Malaysia — should be included as an asset of the listed company. According to sources, it was initially proposed to be carved out of the listing.
"There are pros and cons to having it in, one of the pros being that it provides certainty of supply to the restaurants," a source says. On the other hand, including it in means that QSR will not be a pure play on the quick service restaurant business and it may alter valuations as well.
Another reason cited for the delay in listing is Thai Beverage PCL's reported interest in acquiring a substantial stake in the KFC and Pizza Hut business in Malaysia.
Thai Beverage — controlled by Thailand's third richest man, Charoen Sirivadhanabhakdi, and the brewer of Chang beer — was reported in October to be keen to acquire the EPF and CVC's combined 49% stake in QSR.
This was after Thai Beverage's move in August to acquire more than a third of the KFC outlets in Thailand. It had agreed to buy some 240 restaurants from Yum Restaurants International (Thailand) at a preliminary price of THB11.3 billion in a deal that was expected to be completed by the end of this year.
EPF and CVC declined to comment on whether they were in talks to sell their stakes to Thai Beverage.
Come January, it would be five years since CVC first invested in QSR, which is typically the timeframe when private equity firms look to make an exit.
"Assuming EPF and CVC were looking at a full exit from QSR, it would make better sense for them to sell their stakes outright. With an IPO, given the size of their stakes, they may not get a full exit," observes an investment banker.
It may not be a bad idea for QSR to push back the IPO, some say.
"From a market perspective, I suspect they'd struggle to get the valuation they want. The KFC franchise is not what it used to be, there's so much new competition out there — there's the Korean fried chicken craze, the increasingly popular McDonald's fried chicken, to name but a few. I wouldn't be surprised if all of that plays into the whole equation," an industry source tells The Edge.
QSR has nevertheless performed decently despite the competition. A search with Companies Commission of Malaysia shows that QSR's profit after tax grew to RM127.19 million on revenue of RM4.24 billion in its financial year ended Dec 31, 2016 (FY2016). This compares with FY2015's RM69.67 million and RM4.02 billion respectively. In FY2014, it made a loss of RM54.24 million on revenue of RM3.85 billion.
QSR managing director Datuk Mohamed Azahari Kamil, who was appointed to the post in August, declined to comment on the IPO.
"It's up to the shareholders to decide. As for management, we're busy working on our growth plans," he tells The Edge.
"We're looking at expanding and optimising our geographical presence in order to be more efficient, and coming out with new products for customers."
QSR is the sole KFC franchisee in Malaysia, Singapore, Brunei and Cambodia.
According to Azahari, QSR currently has 1,247 KFC and Pizza Hut stores in the four markets, most of which (1,060) are in Malaysia. The plan is to open 23 KFC outlets in Malaysia next year.
The quick-service restaurant group had previously been listed on Bursa. In 2012, Johor Corp, together with the EPF and CVC, took KFC Holdings (M) Bhd and its parent QSR Brands Bhd private in a RM5.2 billion deal that was completed in early 2013.
Save by subscribing to us for your print and/or digital copy.
P/S: The Edge is also available on Apple's AppStore and Androids' Google Play.